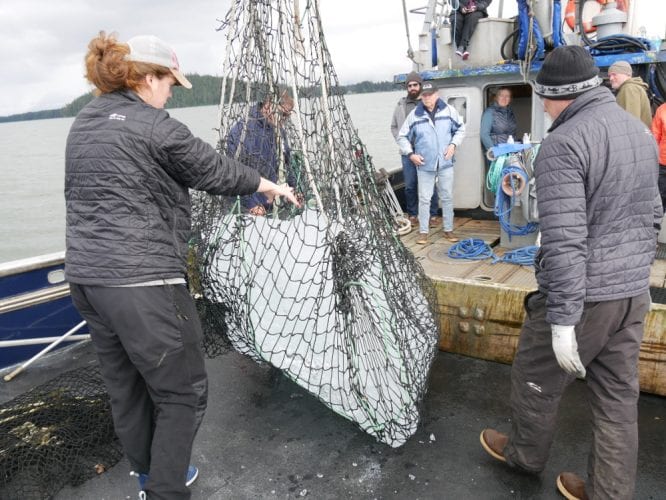 For the past half dozen years, locals and visitors attending Petersburg's Little Norway Festival may have noticed those ice bergs slowing melting in the sun on main street, a center piece for the week-long celebration of the town's Norwegian culture. Gathering those bergs from the chilly waters of Frederick Sound is a relatively new part of the festival and honors the founding of the town.
This is a story about bringing home a few blocks of ice from the nearby LeConte Glacier, which in some ways is really the story of Petersburg. The town got its start around a cannery in 1898, with the site chosen because of easy access to glacier ice and fishing streams. And grabbing a little ice to chill a beverage is a common pastime for people out boating in the area. It's become a tradition for the Vikings and Valkyries who help put on the festival each year. During the May celebration, local resident Andy Wright takes on the persona of Androg king of the Vikings.
"We just started deciding we wanted to do something downtown and we started having a little seafood feed downtown and just trying to invite people to come and join us that, a lot of people in the community that do a lot of selfless work for the weekend and we try to invite them over and have fun with them and show appreciation," Wright explained. "It kind of turned into more than we thought it was going to and we thought it was a nice touch to throw some ice bergs on the street. We thought it was a nice touch to throw some ice bergs on the street. And it is also a little symbolic seeing as how Petersburg the original fishing community that settled here primarily because of the ice. So there's historic symbolism and then just the new tradition of having it downtown for our little feast and it seems to be a popular things for us so we have fun with it."
Wright is on the back deck of the fishing vessel Island Girl as we motor out into Frederick Sound.
"It seems like usually we can go closer to town and for some reason the ice even with the big tides hasn't flowed out from LeConte Bay as much as usual so we might have to go a little further," he said. "But it's really great to be on the Island Girl with Kurt and Janet Kvernvik's boat. And it's kind of also symbolic of a community family's work vessel that you know really part of the town. They do such a great job with it and their daughters Carolyn and Adanna, it's a family fishing operation. So it's really fitting to me be able to bring this boat out and bring the ice home on it."
Inside the galley of the Island Girl the Kvernvik sisters take time out to reflect on the upcoming festival. Its maybe the fourth year for older sister Carolyn to be serving as a Valkyrie and the first year for younger sister Adanna. So, any advice for little siser going into her first festival?
"Oh goodness, pace yourself," Carolyn said with a laugh. She also explained what it meant to be a Valkyrie during the festival.
"Being a Valkyrie to me I mean it's almost like you're a mascot for the community. You're involved in all the community events, you're just, you're there to represent Petersburg and have fun and cause chaos I would say at the same time," Kvernvik said.
Meanwhile, Adanna has wanted to be a part of that for a while.
"Oh year I've been in a bunad for quite some years now but helping out with the Vikings on the side and watched my Mom do it as a kid and then Carolyn doing it. She loves it," Adanna said. "I've always been like, oh that looks like so much fun. Kind of a good entrance into 21 I guess," she laughed.
The sisters are excited to be helping out again with this part of the festival.
"Absolutely, I love getting the piece of ice. It's so fun to have an ice berg chunk on the side walk and see either tourists or little kids go over and poke it or lick it," Carolyn said.
Finding the right piece can be the challenge, so the Island Girl checks out a few that look like the right size. The old cliché proves to be true, we're just seeing the tip of the ice berg. But a little help from the boats engine wash, and some in water ice sculpting readies a piece that large enough to display but not too large for the Island Girl's crane.
After loading a couple big chunks on deck, the boat heads back to town. The ice will be stored at Petersburg Fisheries before it's moved onto main street right after the parade. From there it provides countless photos for visitors and hours of entertainment as youngsters hack away with Viking swords. And no doubt some of it will even chill a few drinks on this festival weekend.