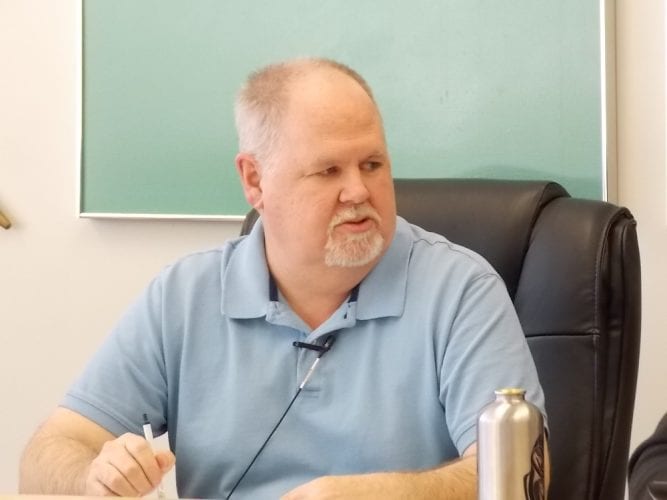 Petersburg's borough assembly approved an annual evaluation for borough manager Steve Giesbrecht June 10 following a closed-door executive session. This year's review included feedback on the job he's doing along with some goals for him to accomplish.
Giesbrecht is nearing the end of his eighth year as manager and says he's happy here.
"I love it here," he said during a recent phone interview. "Love the job, love the people and love Petersburg."
The manager was rated on his job performance by supervisors of borough departments along with the mayor and assembly. He was rated on a number of categories from on how he represents the borough government, interacts with the public, staff and elected officials and solves problems. For all those marks, 26 percent fell under the heading of the exceeds expectations, 63 percent in meets expectations, three percent in needs improvement and the remaining eight percent with reviewers saying they had no basis to score him.
"It went kind of status quo other than I'm really happy about the goals and objectives portion of it," Giesbrecht said of his evaluation. "We've not done that in the past, just couldn't get to it and this year I think there was a couple members of the assembly that really liked that idea and we were able to make that happen. Just got to refine that a little bit and it'll be something we can basically put out there for the community to look at and weigh in on it as well."
The assembly weighed in on a draft list of around a dozen goals and objectives for the manager. Some, like a monthly radio show on KFSK, he's already implemented. Another is looking for ways to operate the assisted living facility at Mountain View Manor more cost effectively. The assembly this year agreed to hire a consultant to come up with options for that goal.
Others have yet to be done, like researching options to privatize borough snow removal and coming up with a plan to fill key borough jobs once they become vacant. A couple others relate to the fire department.
"Really we need a plan that talks about staffing overall, the equipment needs and what we're going to do about declining volunteers," Giesbrecht said. "And rather than me coming up with that that really needs to be a joint effort with the fire department and the volunteers and talking to them and saying hey, what can we do?"
Department volunteers this spring urged the assembly to hire an emergency medical services coordinator to help with some of those issues. The line item made it in the budget but the assembly wants to give final approval before filling that job. Giesbrecht has also been tasked with looking for options to move the department's storage building and training structure at Scow Bay to a different location. Another goal is to reduce or eliminate overtime in the police department. Again the assembly this spring agreed to budget for the hiring of a second police sergeant but is holding off on final approval for that position, which would reduce overtime for the rest of the police department.
"You know the overtime's a symptom, not really the problem," the manager explained. "So the language I'm recommending is more about you know let's come up with a staffing plan that says at this level of staffing here's the services we can provide and here's what the cost is and at this level of staffing here's some different scenarios."
Other goals address contracts work for local businesses, services at Parks and Recreation, local purchasing for the borough, budget cutting measures. Giesbrecht is under contract through September of 2023 and makes an annual salary of 121-thousand dollars.