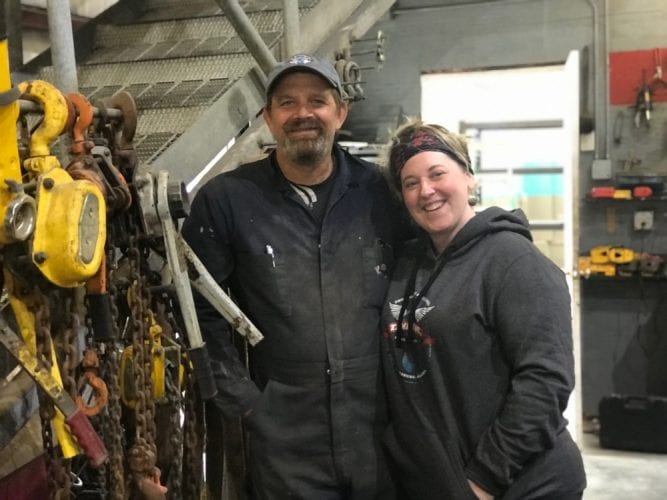 Another Petersburg business has been named a finalist in a regional business development competition. This one isn't a new idea or start up, but a long established company that is branching off into a new direction.
Tamico is about four miles south of downtown Petersburg with a convenient waterfront location that has served the company's focus on heavy marine construction, building dock projects around Southeast. Jim and Carrie Martinsen are co-owners of the company, started in 1976 by his parents.
"Jim's had the idea to diversify and get more into fabrication, the welding supplies," Carrie Martinsen said during an interview at the business this week. "So that's been something that he's tossed around, since we've moved back to town and owned the business now, it was like I think we can do this."
This new direction aims to tap into potential new workers for the company, like local high school students who have flourished in welding and fabrication.
"Why don't we figure out how we can provide certification services and some training and when these kids get out of high school if this is something they like, there's some place to go and practice and see what's actually happening and gain more certifications, if that's what they want to do," she said. "And they can do it right here. That's like our main goal."
Tamico and 12 other businesses were recently named as finalists in the Path to Prosperity business development competition. It's put on annually by Spruce Root, the community development non-profit started by the regional Native corporation Sealaska. The companies take part in a business boot camp in Juneau, this year at the end of September, and develop a business plan before the end of the year. Two winning businesses win grants of up to 25,000 dollars that can be used for consulting and technical assistance. Other local businesses have been finalists and the deli-cafe Salty Pantry was a winner in 2015. It was an informational session held there this year that peaked Martinsen's interest in the competition.
"So as I was listening I'm like oh hey I think we can do this, learning that it was not just for new businesses but also for ones that are growing or diversifying," she said. "So yeah it was just a series of questions and I went home after doing that and I said you know what, that was so worth it, just answering those questions about our business and where we want to take it. That of course, it's really exciting to be a finalist and I really wanted to get to their business boot camp and get the help with building a solid business plan but I just thought it was really valuable just to go through those questions so it just seems, I mean really excited."
Tamico has already started to make some of the changes, like selling propane. They also hope to offer welding supplies and plan to get the fabrication shop started this year. That shop could offer support for Petersburg's busy commercial fishing fleets and Martinsen said it would be a dream to build boats, at least smaller skiffs.
"Right now we're just trying to be available for the fishing fleet so if they have something they need they don't have to leave town for it and try to fit those needs," Martinsen said. "And then do the fun stuff on top of that. You know we have a high school son who wants nothing more than to have a custom jet dingy and so I keep telling him he has to build his own."
Tamico will still continue with heavy marine construction work but there are also plans to offer bins of scrap metal for purchase and welding kits for people to use at the fabrication shop. The company has four full time employees and plans to bring on three more.
Spruce Root made its first awards in 2013. Other finalists this year are a seaweed company in Juneau, short term sustainable lodging in Wrangell, a dry bag company in Kake, a business that sells seeds in Haines, a plant nursery in Craig, a gourmet donut shop in Ketchikan, coffee businesses in Saxman and Yakutat, shellfish farms in Hoonah and Whale Pass, along with a food cooperative and a commercial fishing tourism business in Sitka.