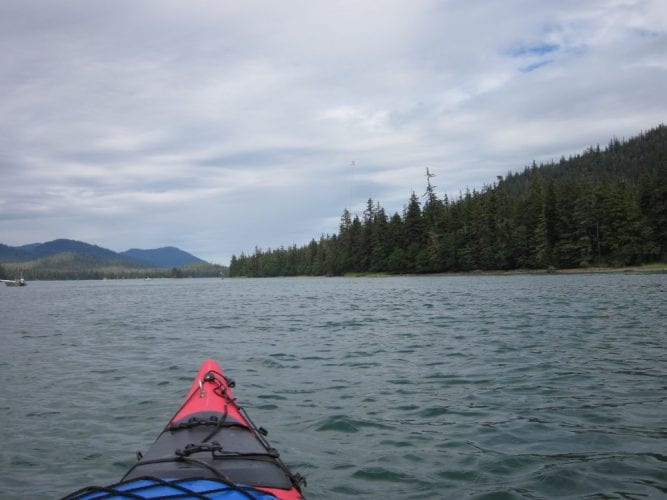 A Petersburg Medical Center Foundation fundraiser later this month will be a race this year and will be raising money for education of care givers.
It's the sixth year for the Paddle Battle in the Narrows, with participants soliciting donations and paddling their way to Sandy Beach from three different starting points.
"So you're going to get a bib, a bib number, you're going to be entered in the race from whatever starting point you are, that group will compete for first and second place prizes," said the medical center's Liz Bacom. She's on the foundation's board and explained the change in a radio show this month.
The paddle takes place on Saturday, July 27 this year. Starting points are at Papke's Landing, Scow Bay and South Harbor. A couple dozen kayakers, canoers, stand up paddlers and rowers usually take part.
The medical center foundation is a non-profit formed to support the local hospital. The paddle battle is the largest fundraising event for the foundation each year. Bacom said proceeds will again go to pay for education of people who work or could work at the hospital.
"So we are battling for education, battling for better education, more opportunities for our staff and more opportunities for scholarships for people to come and work, get educated and come here and work," she explained. "Recruiting is a big thing and then retaining people so that's, education is a big part of the paddle battle. A lot of staff that have benefitted from it, so that's where the money's going."
Last year paddlers raised around seven thousand dollars for the same cause. The foundation also has a raffle this year for two Alaska Airlines roundtrip tickets.
The day is capped off with a barbecue open to the public at 1 p.m. at Sandy Beach Park.
Local resident Emma Engell designed the logo which will be on shirts given out to participants. Sign up online at the hospital website or the hospital business office
There will be a safety briefing the night before, Friday, July 26 at the medical center.