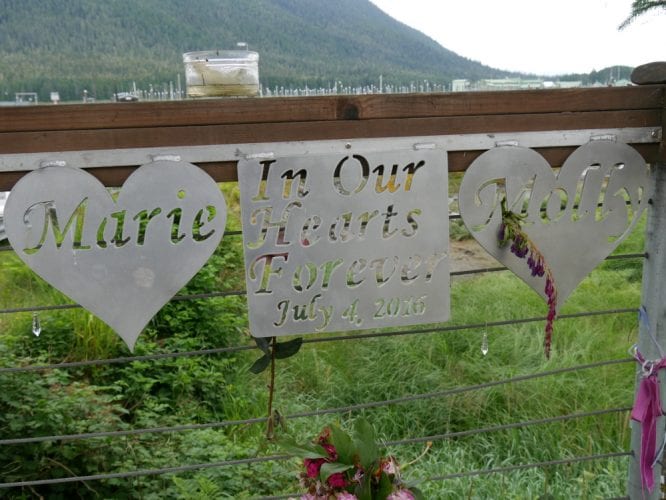 A judge has dismissed the case against one of the defendants in a wrongful death lawsuit from the van wreck that killed two people on July 4th, 2016 in Petersburg.
The estate of Molly Parks, one of the young women killed in the crash, brought the suit against the Petersburg borough, the state of Alaska and the driver of the van, Chris Allen. Superior court judge William Carey on July 2nd dismissed the claim against the Petersburg borough. Carey ruled that the state's workers' compensation law was the sole remedy for an employee injured or killed while working. Under that law, workers can receive medical benefits and lost wages but for the most part give up other legal action against their employers.
Allen was driving a borough van that went off the road and flipped over just south of downtown. He and the three other borough employees were helping to set up for a running race for the borough's Independence Day celebration. The crash killed 18-year-old Molly Parks and 19-year-old Marie Giesbrecht, the daughter of the borough manager.
Allen was sentenced to jail time last year after pleading guilty to a manslaughter charge. This separate civil suit sought damages from Allen, the borough and the state.
Following, Carey's decision, an attorney for Allen argued that the case should also be dismissed against him. If that happens it would leave only the state of Alaska as a defendant. The plaintiffs named the state in the lawsuit for the construction, reconstruction and maintenance of South Nordic Drive. The plaintiffs contend the crash would not have happened if state had installed a higher guard rail on that road.
The state has denied liability in the claim. State attorneys are also asking to move the case from Petersburg to Ketchikan, questioning whether an impartial jury could be seated in a trial here. Assistant attorney general Benjamin Hofmeister argues that emotions have run high from the criminal case and civil lawsuit and that media coverage and social media commentary have made it less likely that jurors could be found in Petersburg.
Al Clayton, an attorney representing the borough in the suit says Petersburg believes the judge's decision was correct under Alaska law. He believes the dismissal ends the borough's involvement in the case, although the borough is seeking an award of attorneys' fees following Carey's decision.
Attorneys for the plaintiffs were in a trial this week and not immediately available to comment on the ruling.