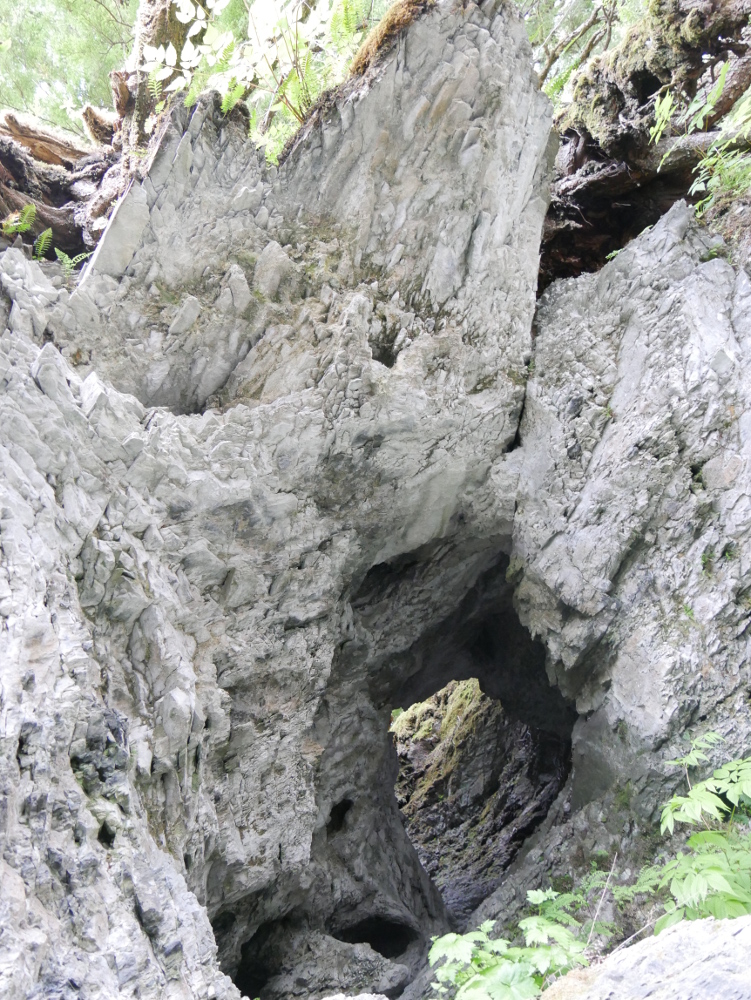 The U.S. Forest Service is proposing its first significant change to the 2016 planning document that guides logging, road building and other uses of the Tongass National Forest. This change would relax logging restrictions on some parts of the forest that are supported by intricate and sometimes fragile limestone formations.
This land with soft and soluble rock underneath is called karst. As the region's abundant rainfall flows through this limestone, it dissolves the rock forming, fissures, caves and sink holes. Karst land is scattered about the region but the highest concentrations can be found on Prince of Wales Island. The federal agency rates this land on its vulnerability to logging, road building and other development.
"So it can have anywhere from just some surface type features that are well protected by deeper soils all the way up to like caves," said Cathy Tighe, the Forest Service's planning and GIS (geographic information system) staff officer for the Tongass. "So there's a whole range of different types of karst, which is why the forest assigns a vulnerability level."
This change to the 2016 forest plan addresses places that fall in the middle of that scale, specifically areas with no sink holes or caves. The agency proposes removing limits for the size of second growth logging that could happen on these lands. Those limits are 10 acres and 35 percent of a forest stand that was originally cut. Another part of the change would allow clear cutting, instead of selective harvest, for these parts of the forest. Tighe explained there are a couple reasons for the changes.
"Well currently we have a difference in the way we're managing old growth harvest and young growth harvest on moderate vulnerability karst, so that's one reason," Tighe said. "And then it's better aligning with the recommendations from the Tongass Advisory Committee for this transition to young growth, which was one of the main reasons for the 2016 forest plan amendment that we did. So this is better aligning the goals for that transition."
That advisory committee was made up of stakeholders on the forest and met in 2014 and 15 to come up with recommendations for a mandated transition to young-growth harvest. The mandate for a quicker transition away from logging old growth came from the Secretary of Agriculture during the Obama Administration
Steve Lewis of Tenakee is on the board of the Southeast Alaska Conservation Council, a regional environmental group. He's a former director of the Tongass Cave Project, a research effort centered around the region's underground features.
He thinks the change is a little poorly thought out and doesn't think anybody really knows if these areas have been impacted by past logging.
"In general they seem to be more covered in glacial till or something like that, that makes it relatively immune to damage on the surface, we think but we really don't know because you can't tell what's down there under the surface," Lewis said. "So unless we have baseline data on what was coming out of the different springs and streams, we don't really have any way to tell that we haven't already damaged it."
Lewis thinks the agency should err on the side of caution before removing restrictions and allowing more clear-cutting on these lands.
The Forest Service's Tighe noted these proposed changes do not approve any project activities for logging or road building on these lands.
"What it's going to do is allow us to have better adaptive management and be able to use best available science for each project," she said. "We always send a geologist out to assess those karst lands before any activities are approved. And this is going to allow the geologist to better assess on the ground, in order to have the best possible protection for these karst areas for the natural processes. These lands are known to be highly productive."
The Forest Service is making these changes under what's called a categorical exclusion, a level of review with less analysis and public input than more stringent environmental reviews for other activities. A 30-day comment period in August is the only chance for public input. August 26th is the comment deadline.
Here's an interactive map of Tongass karst land along with second growth timber areas.