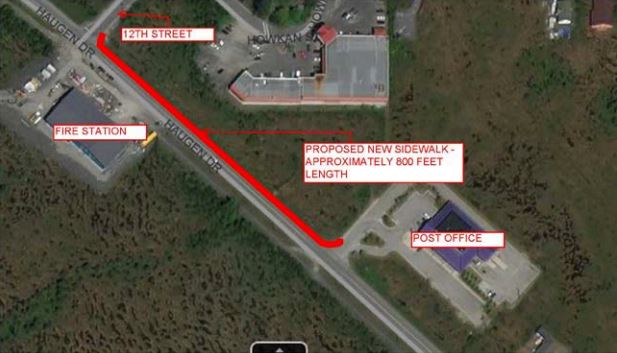 Petersburg's tribe revealed its long-term transportation plan at a meeting Friday. As Angela Denning reports, it includes several trails and bike paths on Mitkof Island.
Petersburg Indian Association's Tribal Transportation Program maintains several roads, trails, and sidewalks in and around Petersburg. The tribe uses federal funding for the projects and employs local residents to do the work.
The tribe's long-term transportation plan looks at the next 20 years.
"This is our guiding document for our transportation program, " said Susan Harai, PIA's Transportation Director. "We put our hopes and dreams of everything we want to do in transportation in this document."
PIA transportation department employs two full-time workers and two temporary full-time employees in the summer.
The long-term plan prioritizes a few dozen proposals and puts safety projects at the top.
Top projects include constructing a sidewalk along Howkan and 12th Streets leading up to the Hammer and Wikan Grocery store and Tlingit and Haida Housing. Harai says that project is going out to bid soon. The tribe also plans to construct another sidewalk along Haugen (How-gun) road between 12th street and the post office.
Also at the top of the list is building a 1200 foot long board walk trail near the assisted living facility, Mountain View Manor. The trail starts at 13th Street and will tie into the new Hungry Point Loop Trail.
"The materials are here, they're in our back lot, and I hope we're going to start that this winter depending on the weather and if it's open construction," Harai said.
That means the project can be adjusted as the trail gets built.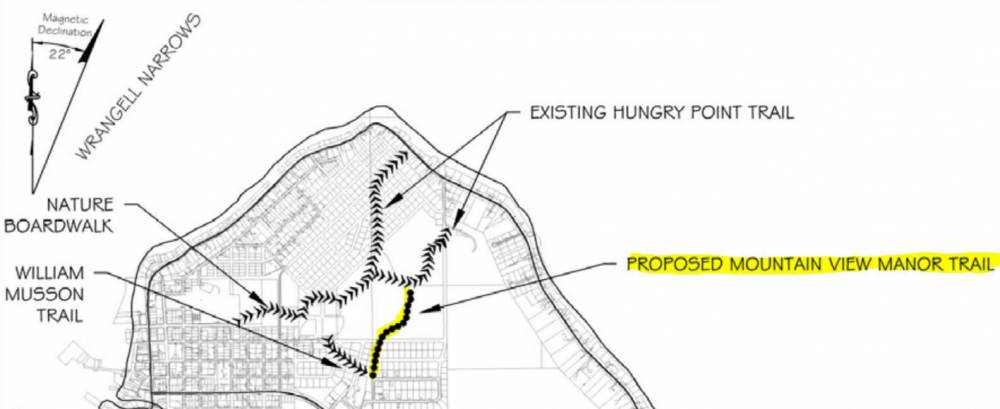 Another project coming up is constructing a sidewalk on Balder and Wrangell Avenues behind the auditorium near the middle school. Harai says it will help gets kids safely around the tight turn in the road. She says the space is challenging.
"It's going to be very hard to wiggle that sidewalk into that area but we have looked at it and we think it can be done," she said.
PIA also plans to work with the borough to upgrade sidewalks near the harbors.
Also in the tribe's long-term transportation plan is a proposal to extend City Creek Trail about ¾ of a mile, all the way to the creek. Right now a boardwalk runs about 800 feet from its start at Sandy Beach.
"I've had bird watchers ask me and they would like the trail to actually be closer to the beach so they could access that area and watch the birds," Harai said. "So, we were thinking about having the trail go from a boardwalk to a gravel trail to come out closer onto the beach line for part of the way and then maybe come back into the trees. But that's the plan right now, we'd actually design it to go along the beach."
PIA plans to make the beginning of the City Creek Trail ADA compliant.
They're also considering having short connecting trails along the roadway so that people can get on and off the trail without having to go all the way to the creek.
Another proposal would create a new loop to that trail connecting it to the reservoir road. The new loop would run along the opposite side of the road up to the old ski hill area with views of Frederick Sound.
The tribe is also looking into maintaining Green's Camp at the southern part of Mitkof Island. PIA council president, Chris Morrison, says they're working with the borough and hope to start annual maintenance next spring.
"This year the pot holes are terrible," Morrison said. "They are that way every year, but they're a lot of them this year, and we thought, 'Gee, it would be nice if somebody was maintaining that road.' The alders are growing over the road and then there's also crowding on the road."
A new trail proposal that was in the works that's been put on the back burning is one connecting the south part of town to the existing trail system by the new fire station. The trail would've run about one mile from Severson's Subdivision to Haugen Drive bypassing downtown. The proposal has been brought up in past public meetings and has had residents for and against it. One stumbling block was the State's airport boundary and Harai says the State won't give the tribe an easement.
"So, the trail would have to be on the borough land and it will fit but it's very, very tight and it comes up closer to the residential areas so that's why we haven't pursued that," Harai said.
There are several projects in the 20-year plan that are years away from being designed.
One would be constructing a bike path along Sandy Beach Road and North Nordic Drive.
Another project is upgrading Cabin Creek Reservoir Road and building an overlook there with picnic tables and fire pits. The proposal would improve the last 3.5 miles, clearing brush and widening the road in some areas. That project is dependent on a future grant.
PIA also has a few proposed marine projects. One would be putting life jacket stands at Blaquiere and Banana Point Boat launches.
PIA is also giving out more information about their plans to open a mini-bus system this fall for seniors 60 and over and people with disabilities. The program is for the general public and not just tribal members. It's expected to cost about $100,000 a year to operate. The mini bus is supposed to arrive next month and will be finished in artwork by local Native artist, Janine Gibbons.
"I'm excited because Petersburg doesn't have this type of service yet," Morrison said. "I'm excited to see how it's going to develop. I think we're going to have a few kinks to work out, a few bumps in the road if you will, but I think we'll get it into full service very quickly."
There are no established routes for the bus and it will run on an on-call basis. Riders will just need to make a reservation for pick up and for where they're needing to go.
PIA is working on a Code of Conduct for passengers for the bus system.