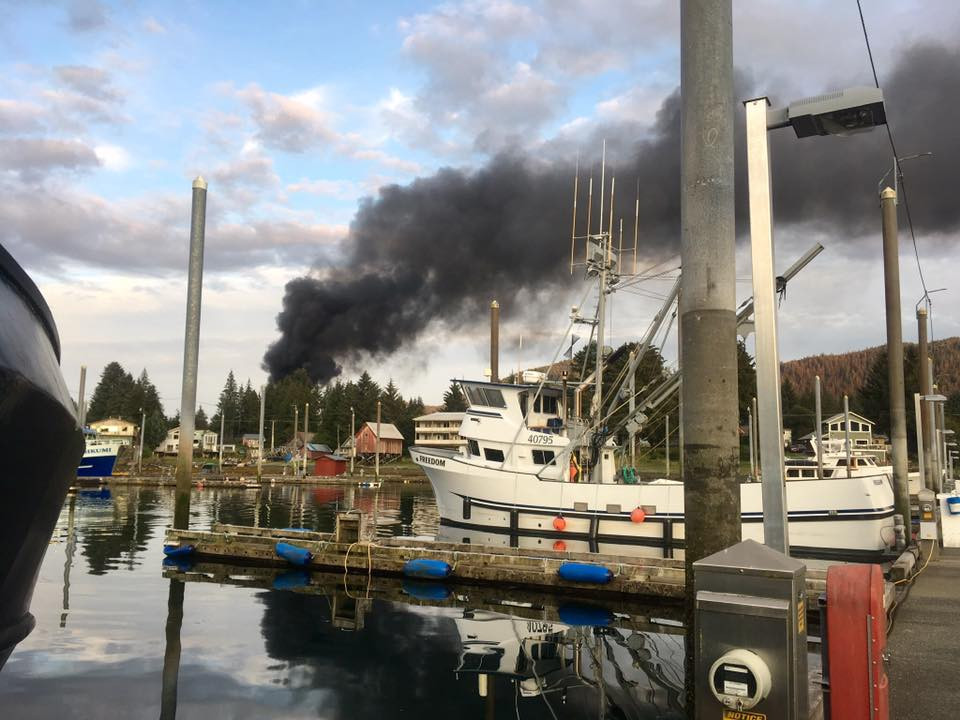 Billowing black smoke and the sound of explosions filled the air in downtown Petersburg Monday night.
A fire damaged buildings and vehicles at the Petersburg borough's maintenance facility for heavy vehicles on South Second Street.
David Berg is public information officer with the Petersburg Volunteer Fire Department. He says the department was called to the scene around 7:40 p.m.
"When we arrived on scene there were a number of loud explosions which we later determined, which were tires that were stored in a shed alongside the building and that's where we suspect the fire started, at least it's under investigation as to its location," Berg said. "We were somewhat concerned with the level of these explosions but it turns out they were just tires. There was no gas explosions, no propane. There was some acetylene cutting torch around that area but it was not impinged by fire."
An earlier version this story attributed the cause to exploding tires. The cause is unknown at this point and still under investigation. Local and state fire marshals along with insurance investigators were looking into the cause Tuesday. The burning tires did cause thick black smoke and loud explosions heard by those nearby. Berg explained that fire fighters were able to reduce the flames quickly.
"When we got there, the building that had the tires in it was fully engulfed and it was impinging on the larger structure itself, the maintenance shop and the fire had gotten into the upper level structure of that building," he said. "But fortunately we were able to get a large amount of water on the building right away and it knocked down the fire considerably within the first minute or two."
Volunteers were on scene until around 11 p.m. cleaning up and extinguishing hot spots.
Berg said there was significant damage to the shop, a two story metal structure that is the main maintenance building for vehicles and machinery. There was also damage to borough vehicles; some may be a total loss.
The borough's public works director Chris Cotta writes in an email that it's too early to know the full extent of the damage and his department is waiting until the fire investigation is complete. The building and vehicles are covered by the borough's insurance. Cotta writes that motor pool operations are essentially shut down for now but could be back up and running in the next few days in a garage area nearby in the public works building. The motor pool replaces and fixes borough vehicles and equipment.
The borough manager says one fire fighter suffered some minor smoke inhalation but otherwise there were no injuries. Listeners have posted video and photos of Monday night's blaze on KFSK's facebook page.