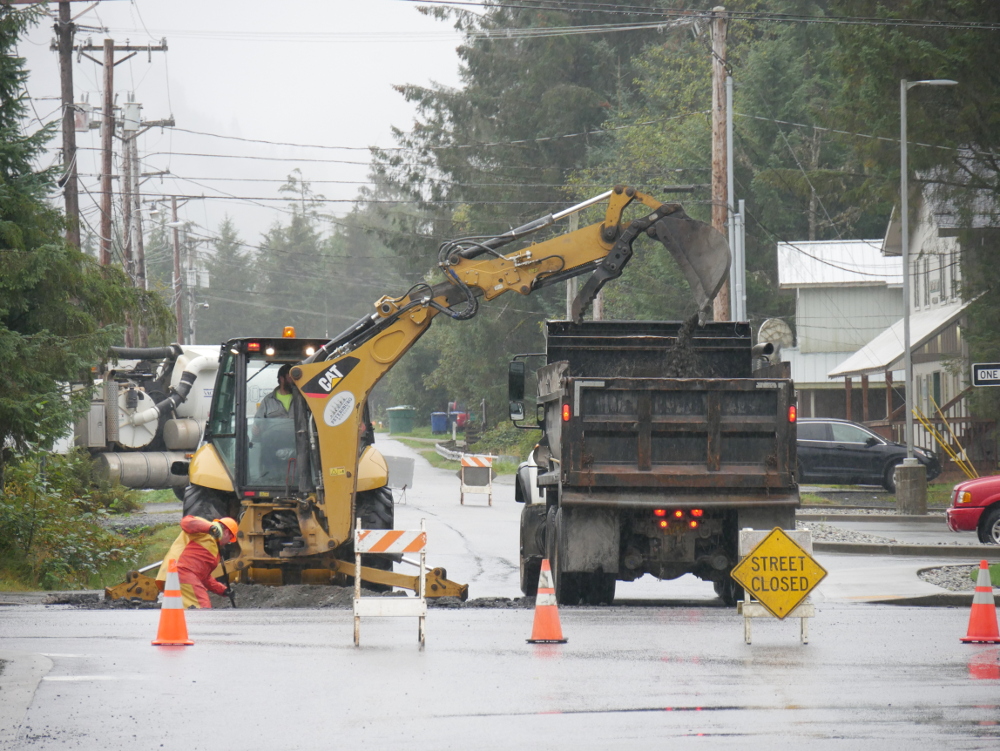 The only question on Petersburg's ballot next month will decide borrowing for water and sewer projects totaling up to eight million dollars. That money would pay for replacing water lines and a tank along with multiple sewer pump stations. And unlike past borrowing, if voters say yes, the borough would only have a five-year window to do that work.
The money would come from the Alaska Department of Environmental Conservation's revolving loan fund for water and sewer projects and would be for up to eight million dollars. The borough would not necessarily use that entire amount.
"I'm trying to be optimistic and positive and think that this will pass," said Petersburg's utility director Karl Hagerman in a recent interview with KFSK. "This is important infrastructure that really does need to be addressed."
"If it doesn't pass, we'll just have to scale back our expectations on some capital projects and we'll continue to maintain these projects as well as we can, hopeful that no major failures happen," he continued. "If they do, this is the kind of infrastructure that you can't just, oh well, it failed, walk away. You have to fix it. So an emergency repair of a station, especially these larger pump stations is going to be extremely expensive, much more expensive than if we planned for the project and just did it in the first place."
The borough's charter requires voter approval for borrowing money. The municipality has been completing major work on the water and sewer systems under a 1996 vote authorizing up to 15 million dollars in projects, mostly for water and sewer extensions to Scow Bay. Hagerman has a priority list of eight new repairs and replacements and wants a new OK from voters to do that work.
"The 1996 ballot initiative was kind of open ended," Hagerman said. "Well this one has a five-year sunset on it if you will. If we don't get this work done in the next five years we'll have to reissue, go through the ordinance process and look for additional debt authorization at that time. I wanted to do that as a message to the rate payers that we're not looking for a blank check and an open-ended agreement forever. We'll do the best we can with the money that's authorized and if we don't get there completely then we'll go back to them in five years and seek additional authorization."
Topping the priorities is the one-million dollar replacement of a tank used at the water treatment plant for backwashing filters. The Alaska DEC has directed the borough to put a cover on the tank to ensure the water isn't contaminated during the treatment process. Hagerman explained it makes more sense to replace it with a covered tank, rather than retro fit it with a cover.
The most costly project could be replacement of the water main along Sandy Beach Road. That's believed to be 1970s-era iron pipe buried ten feet underground in places. Last year a section of that water main failed near Sandy Beach Park, requiring five days of digging and another two days of road repair, with over $10,000 dollars  in labor costs alone.
Replacing the entire waterline from Sandy Beach to Hungry Point could cost four point one million dollars. But the borough will do some digging to investigate the condition of the existing main and may find the full replacement isn't needed.
"If we find that the pipe is not right on the beach per se or the groundwater isn't as much of an issue as it is at Sandy Beach Park and the pipe is in good shape then of course we won't have to replace that," he said.
Another section of old asbestos cement water line that runs under Hammer Slough would also be replaced. The waste water department's priorities are replacement of the computer monitoring for the sewer systems. Pump stations that move the community's waste water to the treatment plant would also be replaced. Those are near Petersburg Fisheries, Hungry Point and a half mile south of the ferry terminal. Other upgrades would be done for pumps on Lumber Street.
These are the most pressing needs for the water and sewer but Hagerman explained that could change.
"You never know," he said. "There could be a curve ball right around the corner that something pops up that we didn't know about, maybe a water line starts leaking really badly that we weren't aware of and so, priorities change."
Hagerman noted the ballot question is written so that the utilities could use the money for another unforeseen project. The work would all be done by private contracting companies, which could include local construction firms, depending on bids.
Hagerman expects rate studies will recommend rate increases for the utilities to do this work. Those recommendations are expected out later this month. He plans to be posting more information about the projects that could be completed on the borough's website this month.
The last time the municipality sought approval for water and sewer line work, the vote was about 2-1 in favor.
There hasn't been much opposition to this latest borrowing at least at the assembly level. At a recent candidate forum mayor Mark Jensen said four million dollars for the water line along Sandy Beach sounded like a lot of money.
"Sign of the times I guess," Jensen said, comparing it to a past road project in town. "I hope there's a way we can inspect all these projects and realize the need and prioritize them amongst the eight that there are. And what should we bond for and what should we build and what's the most important and move forward in that fashion."
Jensen and the rest of the assembly supported putting the measure on the ballot. At that same forum, assembly member and Jensen's challenger for the mayor's seat Jeff Meucci said he was voting for it and referenced Wrangell's recent water shortages.
"I mean we have neighbors to the south who have had problems with their water system and they're struggling to make things right," Meucci said. "And we need to continue to keep our infrastructure sound so that as the community grows and/or develops and if we want to encourage business in town we need to make sure that we have that infrastructure in place so that people can rest assured that we're looking out for the future."
A yes vote will give the borough the green light to pursue that funding. A no vote would mean the municipality couldn't borrow from the state. Each individual project also needs additional approval before the borough assembly at a later date.
The borough plans to hold a public meeting to present the findings of rate studies for water and waste water on Thursday, September 26 from 6-7 p.m. at the public library's community room.