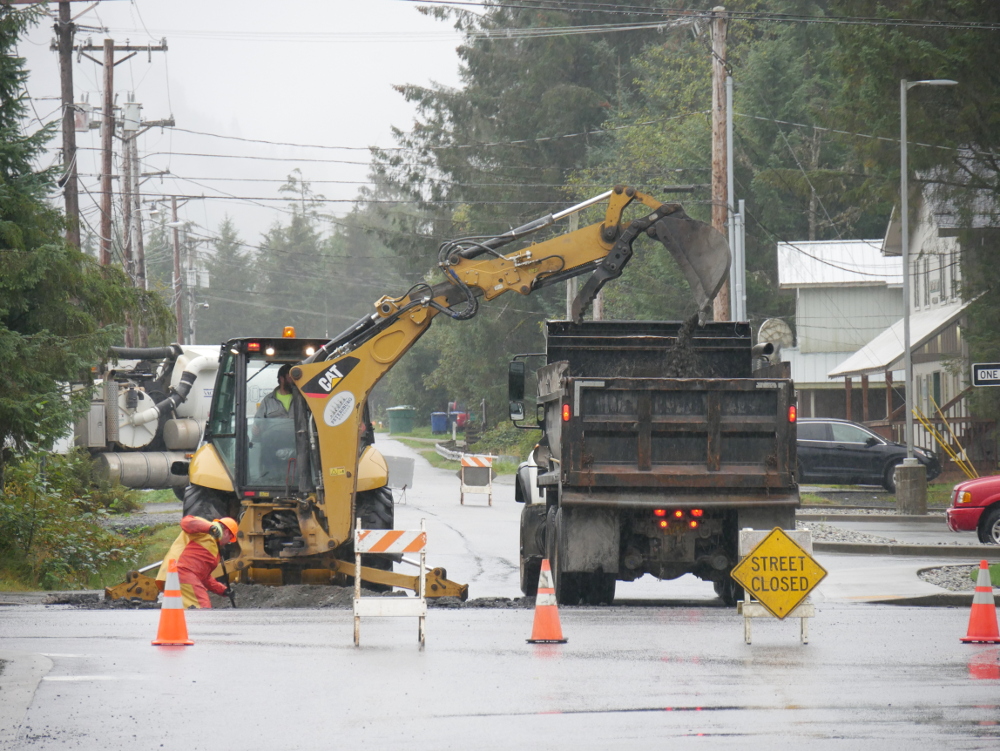 Petersburg public works crews Tuesday were cleaning up after repairing part of the borough's water system on Haugen Drive early this week.
Public works director Chris Cotta explained this problem started last week.
"There is a small, really small water leak in the vicinity of the Presbyterian Church that the water department has been trying to track down for a while," Cotta said. "In the course of looking for that leak last Friday they were shutting off one of the main valves, just in the street there and they felt something that didn't feel normal, kind of a pop when they were exercising that valve and water started welling up out of the valve box cover. So we knew we had a leak there and after discussing it realized we had to dig on it."
Workers dug up that eight-inch valve and replaced it Monday. Water was off for a small number of customers along Haugen Drive until 7 p.m. Monday and traffic was re-routed off that main road for most of the day. Tuesday the crews were preparing the area for repairing the road surface. Cotta said the initial very small leak near the church remains.
"It comes up as testing positive for fluoride at the same level as our treated water so we suspect it is a potable water leak but thus far we've been unable to determine where the source of that leak is," he said. "And I understand there's some folks coming in from the Alaska Rural Water Association sometime in the next few weeks. And they're going to do some listening with their higher-tech devices and see if they can help us out figuring out where that leak's coming from."
With the water shut off on that part of the system, the borough also found it had low water pressure for customers on Lumber Street and was investigating that problem as well on Monday.