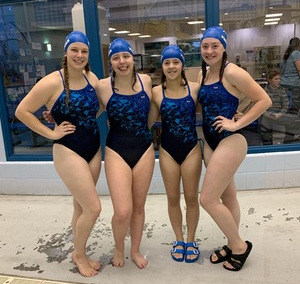 Petersburg High School's swim teams had their second meet of the season in Juneau Friday and Saturday, with some swimmers taking top spots.
Peter Kowalski took first in the 200 free style on Friday and third in the 500 free. He was first in the 200 individual medley on Saturday and second in the 100 backstroke.
Sean Spigelmyre was fourth in the 50 free and 100 butterfly that day
The boys 200 free relay team of Spigelmyre, Kowalski, Latham Johnson and Bruno Caetano was fourth that day. On Saturday, the 200 medley relay team took fourth. Spigelmyre was joined by Colby Snovell, Kovi Kovacs and Bruno Caetano in that race.
Another relay team of Spigelmyre, Kowalski, Caetano and Caleb Pfundt took fourth in the 200 free relay Saturday.
For the girls, Kate Bisset was fourth in the 200 IM Friday. Relay teams of Bisset, Brynn Lister, Maddy Whitethorn and Maria Pfundt took a couple of fifth places that day as well. Joe Viechnicki spoke with coach Andy Carlisle about his team's latest effort.
Next up, the teams are on the road again in Ketchikan the first weekend in October.