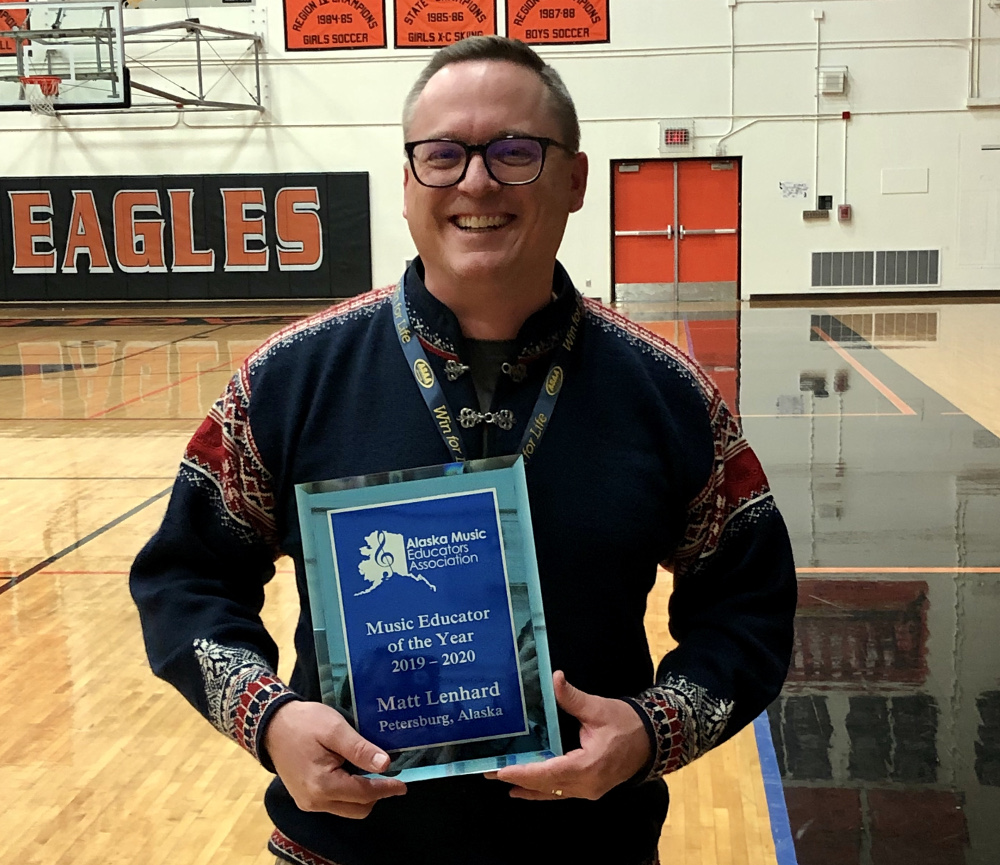 Petersburg School District music teacher Matt Lenhard was honored over the weekend as Music Educator of the Year by the state branch of a national professional organization.
Lenhard was presented with a plaque during the all state music festival concert on Saturday, November 23 at West High in Anchorage. He was honored by the Alaska Music Educators Association in front of his peers and the top high school musicians in the state.
Lenhard said the award came as a surprise and he learned about it through an email.
"It was a lot of compounding emotions in that moment at my desk, one of the most memorable emails to ever open," Lenhard said. "I'll just say that after I believed what I was reading, no I think this is legit, is that a lot of gratitude for just having this experience and gratitude to people like my mentors of the past that helped me become who I am. Lots of good feelings, my community, my family, my parents, all that."
The honor has been given out since 1986. Before Lenhard, only three teachers from Southeast had received it. Lenhard said he is also thinking about all the other teachers who deserve an award.
"There are so many teachers in all disciplines that deserve recognition and I feel lucky and grateful to be recognized but just, there are lots of, if people are out there and they know there's a teacher making a difference in a kid's life, they should tell them," Lenhard said, adding, "And it's just great to be recognized."
Lenhard started teaching in Petersburg in 1998 after working in two different districts in Seattle. He started teaching in 1993.
He attended the state music festival this year with one of his students. Senior soprano Brooklyn Dormer was selected and performed in the mixed choir. She was one three local students who auditioned for the all state festival but the only one chosen.
"She certainly is one that is diligent and pursues her craft in a way that she wants to get better in it and obtain excellence," Lenhard said.
The school music program is getting ready for a busy December. High school and middle school winter concerts are Tuesday, December 17 and Thursday, December 19 at 7 p.m. On that Wednesday, December 18 at 9:30 a.m. elementary students will also be performing for their parents. And the high school pep band is scheduled to play at homecoming basketball games against Wrangell the weekend before Christmas.