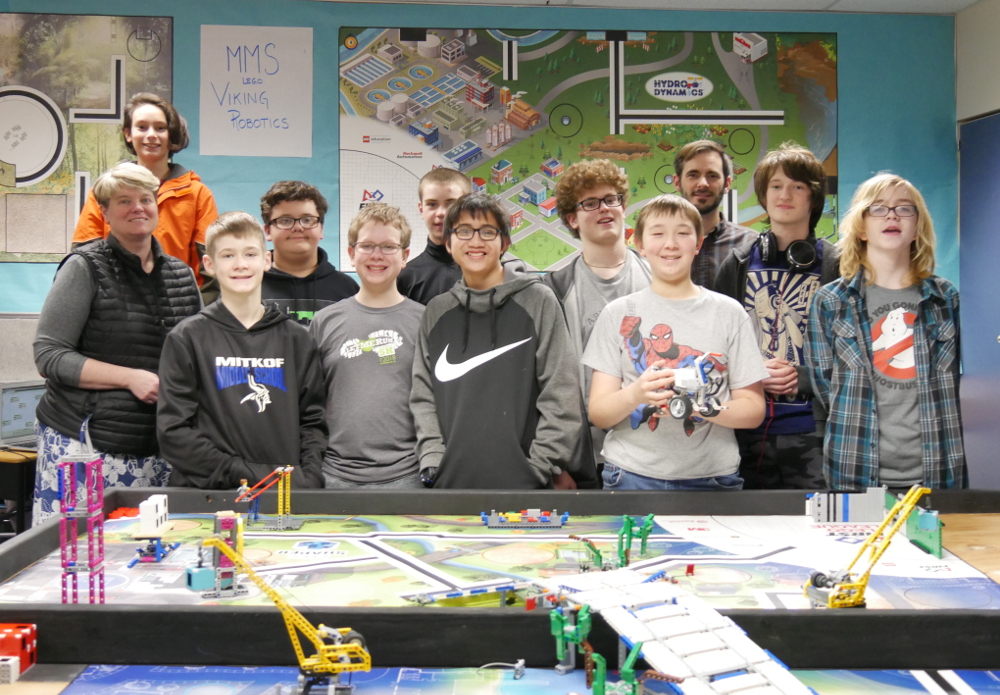 Teams of programmers and problem solvers are competing in middle school-age robotics competitions this month. A team of sixth graders from Mitkof Middle School in Petersburg was in a virtual competition December 7 and two teams of seventh and eighth graders head to Juneau to compete in-person December 14.
A second floor classroom at the middle school is busy with activity as students take apart Lego buildings and run a programmable robot through its paces. Students are finishing up their programs, writing code to lead the team's robot through missions or tasks.
"We need it to do different things," explained seventh grader Andre Poole. "It's not exactly a course where we get it to go and do something, like flip a switch or flip a couple switches.
"A lot of the time when I do it, I'm the crane over there, where you have to flip one switch and then you have to move over to flip another one," Poole said. "The first one is what turns it. If you flip it too far then it goes too far and then the other one makes the piece drop down. You have to get it to land in a blue circle, which doesn't always work…"
The competition has eight tables set up and teams face off against each other at adjacent tables. There's also a commentator during the matches with music and a cheering crowd. Eighth grader Logan Haley will be traveling for his third year with the team. And he explained the head-to-head against other teams is more difficult than students expect.
"So you want to make the robot run this program," Haley said. "You're having to deal with a bunch of noise and people yelling and its harder to focus on what you're doing and you feel like you're being rushed through it."
Another eighth grader Rowan Olsen explains a little more about how the competition works.
You have two minutes and you can squeeze as many programs as you can get in there," Olsen said. "Some teams what they decide to do is that they put multiple programs into one. You know they'll flip the elevator maybe or they'll hit this and then they'll come back so they have extra points. That's usually what some teams do but it does take a lot more time and a lot more coordination. So it's a bit more difficult to do but it does pay off in the end."
Elias Ward is another seventh grader on the team.
"Right now I'm making a program that is meant to go up a bridge and by stepping on these two pedals (the robot) lifts up two flags," Ward said. "Each flag is 15 points. And if you complete the program that's 20 points even if you don't raise any flags. And right now I'm just fine tuning the program to make sure it'll work smoothly."
Coach Cyndy Fry is giving instructions to her two teams of seventh and eighth graders in the final weeks before the competition.
"So no more extra pieces on the table," she told the team at a recent practice. "Make sure that we're running the missions accordingly. Decide the order of the missions you're going to be doing as a team. Remember there's two people on a table at one time for the travel teams. And so you want to start thinking about that too. But refinement is where we're at, OK, not innovation right now, refinement and consistently, predictably getting those missions done."
The robotic missions are just one of three parts of the competition. Students are also judged on a project they develop to help their community. They also are judged on how well they reflect core values of the competition.
"During the core values judging, not only do they have to talk about how they collaborated, how they had an innovative project, how they came up with that idea, but then also do a task that they are not aware of, to see how they work together as a team," Fry explained. "And so depending on what that task is, depending on you know how they communicate, how they collaborate and how quickly they can get through that assigned task. It might be a problem solving. It might be a physical task. It might be a mental task. We don't know until we get there."
Each year the competition table has a different theme for the missions to complete and projects that the teams develop. Last year it had a space theme. This year's theme is cities.
For projects, one of Petersburg's teams designed a greenhouse.
"It's like a little greenhouse that's affordable," said eighth grader Olsen. "It's not that hard to build and it can, it makes food and it also has chickens, this little fish tank inside it."
The other traveling team developed a project that generates electricity from wave power. The sixth graders worked on a floating platform could be used for building on muskeg.
Students are having fun with the activity and looking forward to the competition. Here are seventh graders
"It's pretty fun, just to challenge your brain a little after school, I mean once you finish your homework," said Sean Toth.
"It's really good for problem solving and teamwork, kind of thinking of solutions that could affect people, not that are kind of real work innovative problem solving and then coding," agreed fellow seventh grader Issac Litster
"I think our team has a chance against all the other teams," said seventh grader Cayden Turland. "Our last year's sixth grade team actually won and I think we got this."
The traveling teams of seventh and eighth graders, about 10 total, are scheduled to compete in Juneau December 14.