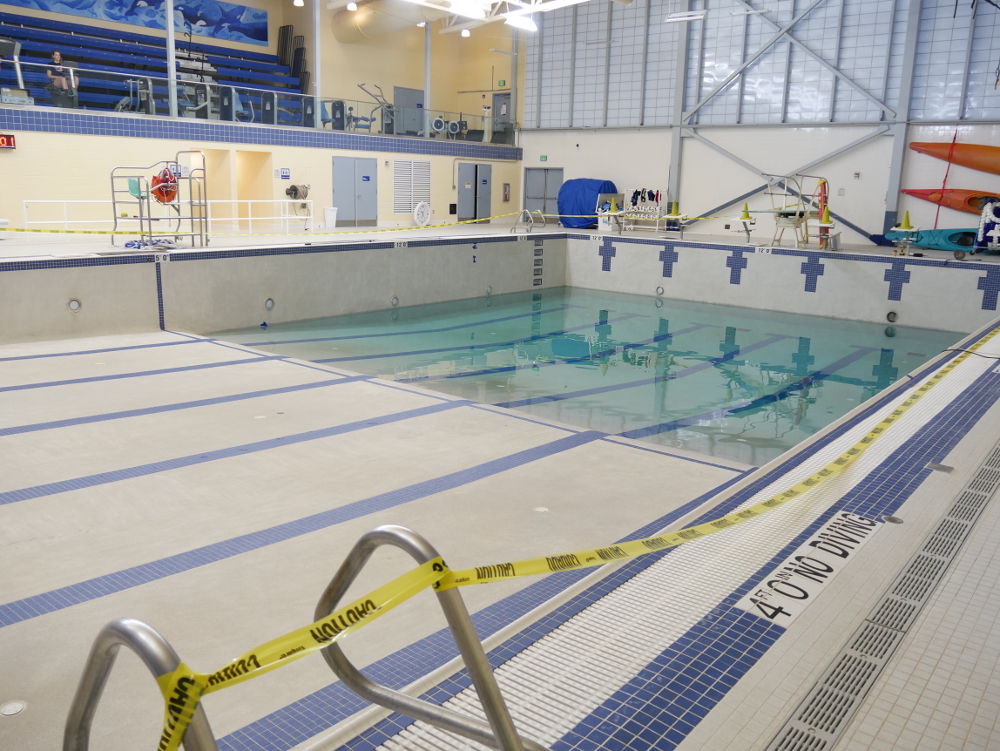 The Petersburg Parks and Recreation Department thinks it may have located a leak in the lap pool that is one of the problems keeping the facility closed this month.
Parks and Rec director Chandra Thornburg Wednesday afternoon said she's 99 percent sure they've located the problem spot, an underwater light.
"The water has dropped past the lights," Thornburg said. "It has stayed at the same level since 11 p.m. last night and we have removed some of the lights from out of the pool and found a location where it could possibly be coming from. Our backup, right now, Justin Haley is working on draining our exterior drain to just verify and make sure that we have no more water coming out from any other source but right now the lap pool is maintaining its water level. So that's good."
Employees pumped out most of the pool after finding a significant leak. The suspected problem spot is on the deep end of the lap pool and may be an original light fixture.
"So there was a conduit line that we couldn't replace when we put in the new lights," Thornburg said. "The speculation that I heard was that the lines were broken. They had tried for a good amount of time to try and get the new light structure through and it just wasn't, it didn't go through. So we ended up putting back in the old light. That one light never got fixed."
Parks and Rec staff is looking into the best ways to patch this leak. That patching material needs time to cure and the pool will have to be refilled and warmed. Thornburg still thinks the best case scenario for reopening is a week from Saturday, February 1st.
There are still other outstanding problems with heat exchangers that are used to bring the water temperature up in the pool. Those need to be fixed and parts have been ordered. Meanwhile, the facility's air quality has improved. There's now one air handling system running and another that still needs repairs.
But there was more bad news Tuesday night. Another leak was discovered in the heating unit for the community gym Tuesday night. That was discovered when a fire alarm went off around 10 p.m. Tuesday and Thornburg found water leaking out of a smoke detector in the high school weight room.
Parks and Rec is leaving the doors open to the community gym to allow in warmer air from other inside spaces. The pools have been closed since the week of January 13th after multiple problems were found during a week-long cold snap.
The pool closure is impacting youth swim programs. The Viking Swim Club has between 50-60 kids signed up this year, between the ages of five and 18. Coach Andy Carlisle said they're trying to keep up conditioning.
"Well we're trying to do dry land and things like that," Carlisle said. "It doesn't transfer very well. It keeps the kids in shape."
Carlisle said the team has age-group championships in Ketchikan in mid-February and hopes to get in some pool time before then.