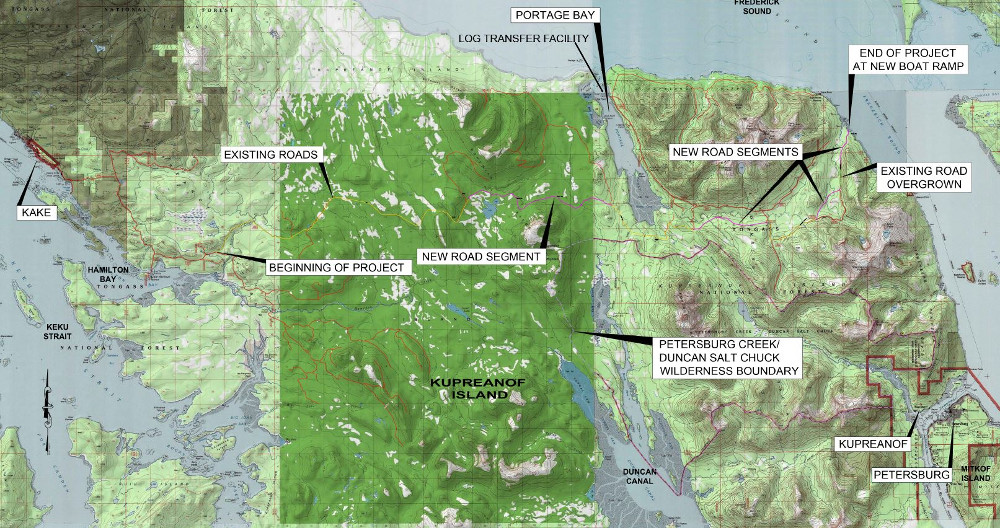 Petersburg's borough assembly Tuesday voted to send a letter to the Alaska Department of Transportation seeking a meeting with the state agency over a remote road project on Kupreanof Island near the neighboring community of Kake. The Kake road project is moving forward this year at the same time a state report raises the possibility of ending ferry service to that community.
The borough's letter seeks a meeting with officials with the Alaska Department of Transportation, possibly as soon as February. It calls the project one of major interest to the community and says assembly members and residents have many questions about it.
Assembly member Chelsea Tremblay supported sending that letter. She called into the assembly meeting from Juneau after testifying at a House committee hearing on the Alaska Marine Highway System.
"Some people were pretty surprised that this was in the draft AMHS report that was just released, from the latest report instead of all the other reports and that this is a topic being considered," Tremblay said. "So I'm excited to send this letter and I'm hoping that they're able to respond with some urgency."
The state's draft report on reshaping the ferry system mentions a Kake road project several times as a possible cost saving measure. The report concludes that building a road between Kake and the north end of the Wrangell Narrows near Petersburg and also having a shuttle ferry would eliminate the need for ferries to stop in Kake. It estimates cost savings at 745,000 dollars by eliminating that service to Kake. But that does not include costs of building or operating a shuttle ferry or maintaining the road. Those numbers have been looked at by the state before and discarded as too costly an option. A 2004 state estimate put the cost of that building new roads, shuttle ferries and terminals to connect Petersburg and Kake could at more than 143 million dollars, with another half a million dollars a year just to keep that road open year-round.
In the wake of this latest draft report, Governor Mike Dunleavy established something called a ferry reshaping work group. That's meant to come up with recommendations with the goal of reducing the state financial obligations for the ferry system to a sustainable level. Dunleavy was asked for his definition of sustainability.
"That it's being run as efficiently as possible, potentially where there are roads on the islands in Southcentral, coast Alaska and Southeast Alaska," Dunleavy said. "Will those roads make it less costly so that cost savings could be shifted into potential boats that are going to transport people where there are no roads? I think we need to look at routes, if we are leaving port at certain times of the year in which there are not that many passengers, how do we consolidate potentially those routes?"
The governor expects to name the members of that new nine person work group by mid-February.
Meanwhile the state is going forward with construction of one lane gravel road on northern Kupreanof Island that would end at a boat ramp 12 miles north of Petersburg. It's important to note, that project does not include any ferry connection or terminal and does not reach the north end of the Wrangell Narrows. The road has support from Petersburg's mayor Mark Jensen, along with state senator Bert Stedman, who secured 40 million dollars in state funding for it in 2012.
But other Petersburg assembly members are questioning why the state is spending that money. Jeff Meucci said he's been unable to get answers.
"You know I just want to know what the urgency of this road project is, when we have other projects within the borough, whether it's the ferry system, and it's just, it's hard for me to get an answer from DOT or Senator Stedman's office about what the importance on this small portion of road is that's going to cost 30-40 million dollars," Meucci said. "So I'm hoping Mr. Lockwood or Mr. Mearig might come here in the next couple weeks to kind of answer some of our questions."
Lance Mearig is the director of the Southcoast region for the state agency and Greg Lockwood is DOT's group chief for the project. State workers are doing helicopter survey work on the route this winter and the DOT hopes to choose a contracting company to build the road segments as soon as February.
Other assembly members supported sending the letter.
Jeigh Stanton Gregor questioned the stated purpose of the project for providing access to the forest.
"There's quotes in the newspaper about people, or about wanting to use that as a corridor for electricity and potentially other activities and that kind of flies in the face of the Department of Transportation's stated goals," Stanton Gregor said. "I would love to speak with them about it to maybe clarify some of these vagaries both in terms of project scope and maintenance and liabilities."
The vote was 7-0 to send that letter to DOT.
Here's a 2015 study on Kake transportation needs prepared for the Federal Highway Administration and the Alaska Department of Transportation:
(Editor's note: Alaska Public Media's Andrew Kitchenman contributed to this report.)