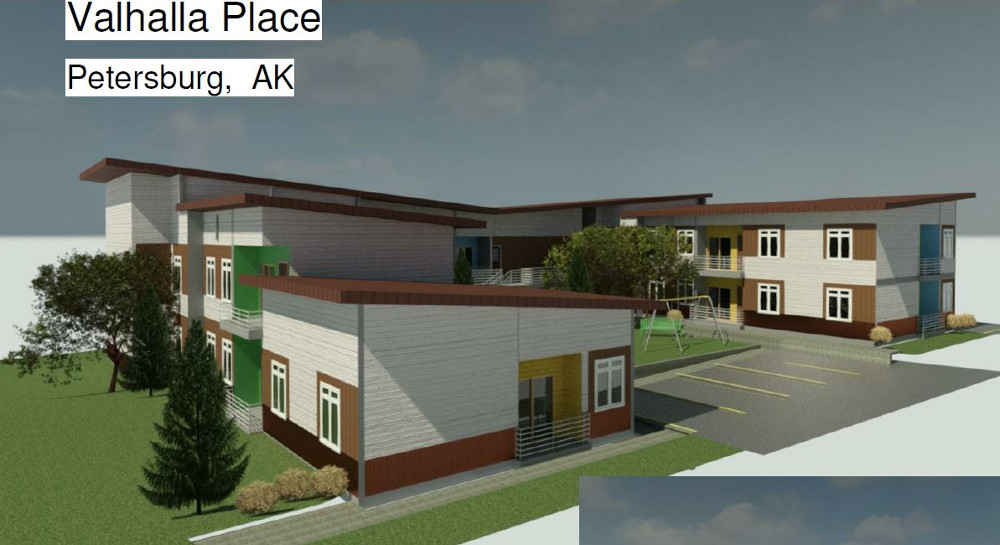 An affordable housing project proposed for Petersburg has been awarded millions of dollars in financing. The construction of 15 new apartments near downtown is expected to start this year.
Developers Glenn Gellert and John McGrew are business partners with a company called Swell LLC. They were in town in late January meeting with neighboring property owners after securing financing for the project through the Alaska Housing Finance Corporation. Gellert said the company was able to make a case that the housing project is needed here.
"AHFC really focuses through this funding application process to award projects that are in some of the outlying places, what they would define as rural," Gellert said. "So we're used to getting funded and so we were pretty confident that we were going to get it but whenever you do finally get it, it's always a big day for us."
Swell LLC was awarded two grants totaling $1,249,212 as well as tax credits with a value of just over 4.4 million dollars. The company can sell those credits to investors looking to reduce their federal taxes. Then that money's available to build the project. The Petersburg project is expected to cost around five million dollars and take about a year to build. The developers say these projects are rare in more remote parts of the state because of the high cost of construction.
The developers met with neighboring property owners during their visit and presented preliminary drawings of what the building could look like. They're using the name Valhalla Place.
Swell plans a 15-unit apartment building on three lots next to the medical center on Excel Street. They plan 13 two-bedroom units and two one-bedroom apartments. It's initially been drawn out as a two-story building, but may go to three stories based on input from neighbors.
"It won't just be a box, it'll have a nice design element and we're working with possibly a local architect, the bids out right for the architect but we think it's going to be a real nice modern kind of design that I think people will really like," McGrew said. "I think it will be colorful and well thought out."
Three units will be rented for market rate and the others will be rented to people who fall below certain income limits. One of the apartments will also be used for transitional housing and Swell plans to work with local organizations WAVE, Petersburg Mental Health and the Salvation Army on identifying possible tenants.
Neighbors spoke of losing privacy and the noise from those new apartments. They also asked about parking space, landscaping and traffic flow around Excel and Second streets.  And neighbors also wondered how much the out of town developers would be overseeing the property once it's built.
"We've been criticized for being too involved in the property management by some of our property managers because Glenn and I will own the property and we're very due diligent about making sure it's run well and we have a strong management team and we'll have a local person here that's also working with us," McGrew said.
The plans include parking spaces along the Second Street side and Excel Street. The developers hope that the apartments will eventually house some of the people who work in downtown or others who need easy access to the hospital. Gellert noted that future tenants will have to meet income standards and go through an application process.
"The income restricted units everybody will have to income qualify for and that takes some patience from the tenants," Gellert said. "There's a bit of paperwork to fill out, there's a lot of verification that takes place. So it can be a little bit of a lengthy process but we're hoping that there's enough interest here that people will be patient and work through those applications. We'll get them housed. We'll start trying to lease units a couple months before we finish so that once we're done we can move them in right away."
The two say they'll have rents starting at 465 dollars a month including utilities, up to around 900 dollars a month. Swell hopes to sign an architect to design the building February and is also hoping some local contracting companies will be interested in the job. There's still permitting and geo-technical review to take place but Swell hopes to break ground on the project as soon as June.