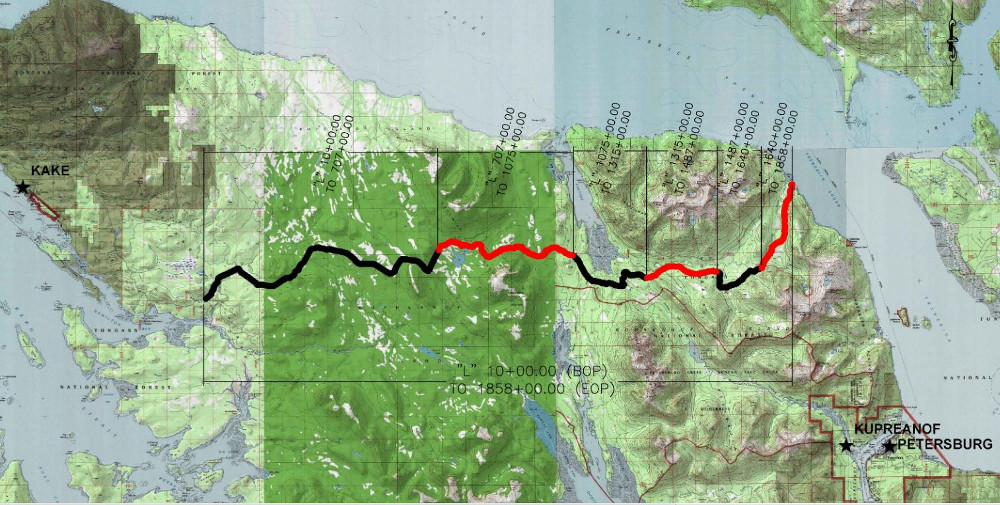 Petersburg's borough assembly Monday voted to send a letter asking the community's legislators for more information on the Kake road project. There is some support among Petersburg's elected officials for the remote road, which could be under construction as soon as this year. Others are questioning why this is a priority for the state of Alaska in a time when the state ferry system is struggling.
The state is moving forward with plans to build several segments of one-lane gravel road on northern Kupreanof Island and a new boat ramp 12 miles north of Petersburg. If constructed it would allow motorists to drive about 40 miles across the island and take a boat to Petersburg. The Alaska Department of Transportation's purpose for the project is to improve access to fishing and hunting resources on that part of the island.
Mayor Mark Jensen thinks the road will be an economic benefit and that businesses with six-passenger boat captain's licenses, commonly called a 6-pack, could offer a connection.
"I could see some of the local six pack operators being able to set up a schedule potentially to go ferry people from the end of the road on this end to Petersburg to buy groceries and use other services that we could provide," Jensen said. "I also see an eco-tourism possibility for these six-pack or boat charter people to transfer people to the terminus of Five-mile (creek), Twelve-mile (creek) wherever it ends up, if it does end up being built to take people camping and/or hunting in the Kake area, bring a vehicle over or have a vehicle there."
Jensen likened the road to the state highway on Mitkof Highway that offers a boat ramp and connection to Wrangell. Senator Bert Stedman secured 40 million dollars in state funding for the road in 2012. He supports it as a transportation connection for Kake and a way for Petersburg based state troopers to respond to the neighboring community.
Others on the assembly sounded supportive of the road project but still wanted to hear the reason behind moving it forward.
"If these guys could just show and be like this is what we want the road for, if they're going to say, well we're going to build this road so all you guys can go hunting in Kake, or duck hunting, moose hunting, whatever, anything that you just said, cool great I like that," said assembly member Taylor Norheim. "But sending a letter to ask them to explain what it is, I'm not seeing any harm in it."
A draft letter asked for Stedman and Sitka representative Jonathan Kreiss-Tomkins to call into a future assembly meeting to answer questions about the purpose for the project, funding for it and plans to maintain that road once it's built. Many remote forest roads in the area are not plowed of snow and ice and are only open during the warmer months.
Assembly member Jeff Meucci thought the money could instead be spent on repairing aging ferries and wondered how this made sense for Petersburg's neighbor.
"If the DOT commissioner or Senator Stedman can explain that this is going to be an economic driver for the community, you know, and it's going to bring jobs to the community, that'd be great I could understand that but it just seems really difficult to get somebody up the food chain to kind of help me understand what this is all about," Meucci said. "I see that 40 million dollars in there and I see that as money that could have been spent for the ferry system. I mean right now we don't have any boats sailing around I just don't understand it. I'm just trying to be patient and I'm trying to have an explanation of why this is so important for Petersburg."
The assembly agreed to remove language from their letter stating that the project could be an example of wasteful spending and that local officials are not aware of support for the road. That was enough to get agreement on sending it off to legislators, with copies to the governor and DOT. That passed by a 7-0 vote of the assembly. The state hopes to select a construction company for the road project as soon as this month and start on it by the summer.
There's been widespread opposition to the road project at past meetings in Petersburg. The small city of Kupreanof opposes it. A January letter from Kake's mayor to the governor supports the project and says it could help with medical transport to Petersburg's hospital or air ambulance transports out of the region. That letter asks the state to add a phase to the construction to bring the end of the road closer to Petersburg.