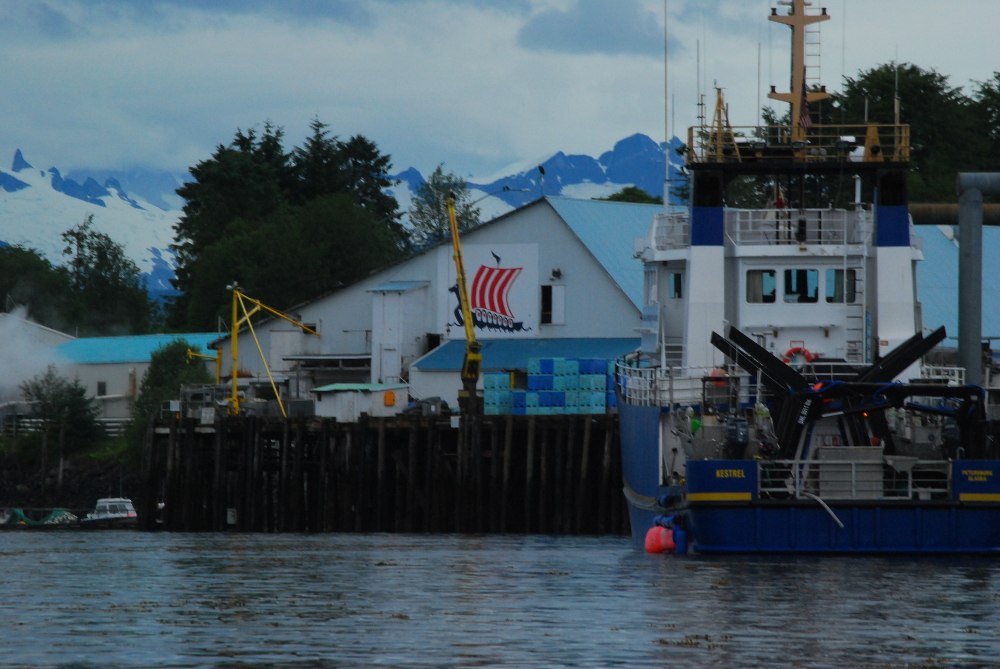 Petersburg elected officials Monday discussed the possibility of going beyond the state's travel mandate for essential businesses. The head of Petersburg's Medical Center asked for a mandatory two week quarantine for season workers expected to come to town this summer or any essential workers arriving from out of state.
The state mandates a two-week self-quarantine for people arriving outside of Alaska. But workers in essential businesses are allowed to start work during that time if a company files a plan with the state.
Medical center CEO Phil Hofstetter told the borough assembly he wants to stay ahead of guidelines from the state or Centers for Disease Control. He asked the assembly to consider stricter measures at the local level.
"We strongly support stricter guidelines where anyone coming into Petersburg is quarantined for 14 days," Hofstetter said. "This is not just the anticipation of the cannery workers but also any essential personnel coming into Petersburg. I know that's a hard one but this is a pretty serious virus and we want to make sure we protect the community, our staff and make sure we have the resources needed in the event that we do have an admission."
The industry trade group Pacific Seafood Processors Association sent an open letter to the community clarifying that while seafood workers could go right to work, they would still be isolated by processing companies company. Trident Seafoods is a member of the trade group. Association president Chris Barrows writes that Trident is staffing its Petersburg facility with a nurse practitioner and a clinic kit. The borough has also been notified that Trident plans to bring workers to town early to allow for a quarantine before work.
Processing companies are working on plans to submit to the state for bringing the seasonal workforce here. The borough's incident commander Karl Hagerman responded to an assembly question Monday about that effort.
"The local Trident folks are working on the local plan for Petersburg and I know they are planning on bringing people in a couple weeks ahead of time so they can quarantine," Hagerman said. "Icicle is also got a few people working on their plan as well and to my knowledge I do believe that they're planning on providing that plan to us ahead of the processing season."
Companies have to submit plans outlining what protective measures will be taken to limit contact with other workers and the general public along with sleeping, dining and personal hygiene during a quarantine.
Assembly member Brandi Marohl works as an electrician at Icicle Seafoods in Petersburg. "I know here at Icicle we've been working hard on a plan but that being said, a way to limit the number of traffic coming in here would be for locals to apply to help us during the salmon season and come help us process," Marolh said.
Others had questions about quarantine for incoming deckhands and fishing crews or other seasonal workers. Mayor Mark Jensen had concerns about visitors to town as well, on cruise ships and private yachts.
"I just it's something we need to be aware of and how we could, I hate to say it but limit the number of people that come and potentially wander around through town that aren't screened," Jensen said.
Petersburg is relying on the honor system for social distancing and complying with travel restrictions. In the event of an outbreak, one of the only remaining steps for the borough is enforcing a curfew to keep people in their homes. The state granted smaller rural communities the authority to impose stricter travel restrictions and many did. Petersburg's population is larger than the limit set by the state for those stricter measures. But the borough has sought a change in that decision to allow for more stringent local steps.
Hagerman thought the borough should heed the advice of the medical center. "It is a fact that if we have an outbreak in Petersburg we're going to overwhelm our health care system very quickly and that will be a bad thing for everyone involved," he said.
Hagerman highlighted a chart the borough has created for travel mandates. Businesses, visitors and residents can see what steps are required depending on different situations. That chart is available on the borough's website. But he also cautioned about the impact of restrictions.
"There's a fine line between shutting down all economy and protecting our community and it's a balance," he said, adding, "but the balance, the scale is leaning heavily toward protecting our community right now. And I hope everybody realizes that and understands that we're not trying to shut down any one group or economy. It's about flattening the curve. And hopefully we'll be able to come out with some recommendations for further mandates if the state allows it and or maybe they'll change what they have in place right now."
Mayor Jensen said he or the vice mayor would likely be taking part in call-ins with other mayors and the congressional delegation and bringing Petersburg's concerns forward.