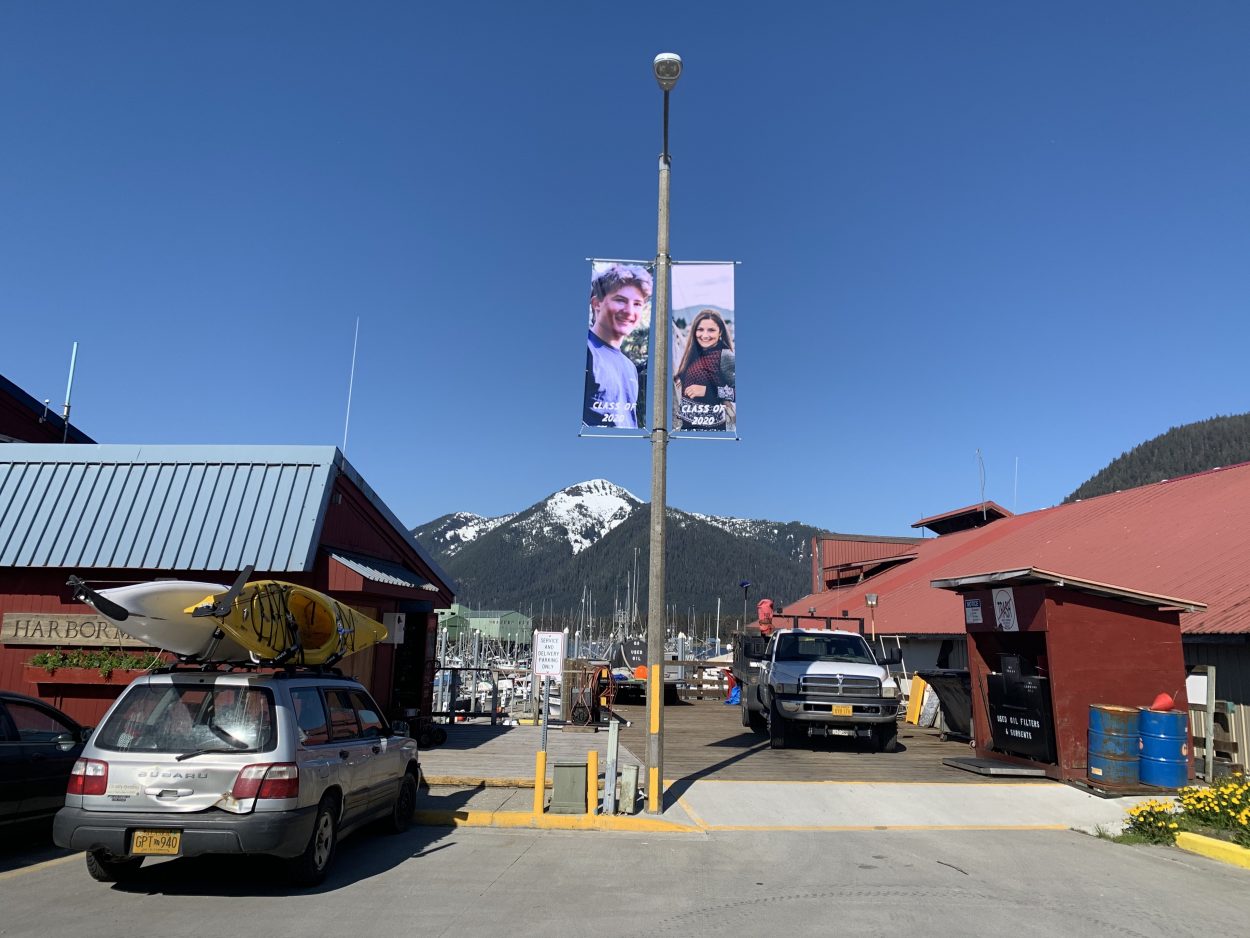 Seniors in Petersburg High School will be having a different kind of graduation week coming up. Instead of one event on May 26, a lot of the ceremony is being separated into different events that will take place online. As KFSK's Angela Denning reports, it gives the school a chance to feature different aspects of graduation like never before.
In downtown Petersburg, four foot vinyl banners of seniors' portraits are hanging from light poles. Along driveways around town, yard signs also bear the students' names. These are some of the ways Petersburg is celebrating its graduates in a time when it can't be done in person. The school district produced the yard signs and the banners were contributed by parents.
"It's looking very festive for our graduates," said Superintendent Erica Kludt-Painter. "I think everybody's really doing their best just to recognize and celebrate our amazing 2020 graduates even though it's kind of a strange year."
There will still be a graduation ceremony, it will just be online. Instead of gathering in a packed gymnasium, a video will be streamed. Local videographer, Denver Rogers has been filming seniors one at a time walking in their cap and gown along the beach at the whale observatory. Local photographer Tanya Somerville has also been taking photos of the seniors there.
"We're going to create a virtual graduation ceremony so it'll be a beautiful video that will be put together with all the students walking on that and put all the speeches on there, the valedictorian speeches and the different addresses and then the kids will be able to watch that on graduation night after the parade," Kludt-Painter said.
The parade will be at 7 p.m. on May 26. Students and their families plan to drive their cars around town stopping by the high school to pick up the students' diplomas. Residents are encouraged to participate from their homes and along roadsides. (The seniors parade route will just go as far south as Scow Bay so residents who live further out the road are encouraged to drive into town and park along the roadways to participate.)
"You can come out in your yards and put up signs, yell and wave when they go past, honk your horn," Kludt-Painter said. "I think they're going to decorate their cars and I think it will be a fun way to involve everybody."
Other activities will be done by video online this year including the baccalaureate May 19 and the announcements of local scholarships on May 21.
Principal Rick Dormer says this year the scholarships will be their own event, which will make them special.
"Instead of doing it in the middle of graduation and the principal doing a lot of the talking now we'll have little recording videos from a lot of the people that are granting the money to our students and talk about what was so special about that student," Dormer said. "That's a really cool community piece for those people connecting with these young men and women that are heading off into the adult world."
Dormer encourages people to keep checking the school district's website and the student calendar for updated information on graduation activities.
"We wish it was traditional but we sure are having fun with some of the replacement activities and I'm sure thankful to the community for their support," he said.
The last day of class for the high school is May 22.
(Editor's Note: An earlier version of the story said the graduation vehicle parade was at 6 p.m. The school district changed the time to 7 p.m. )