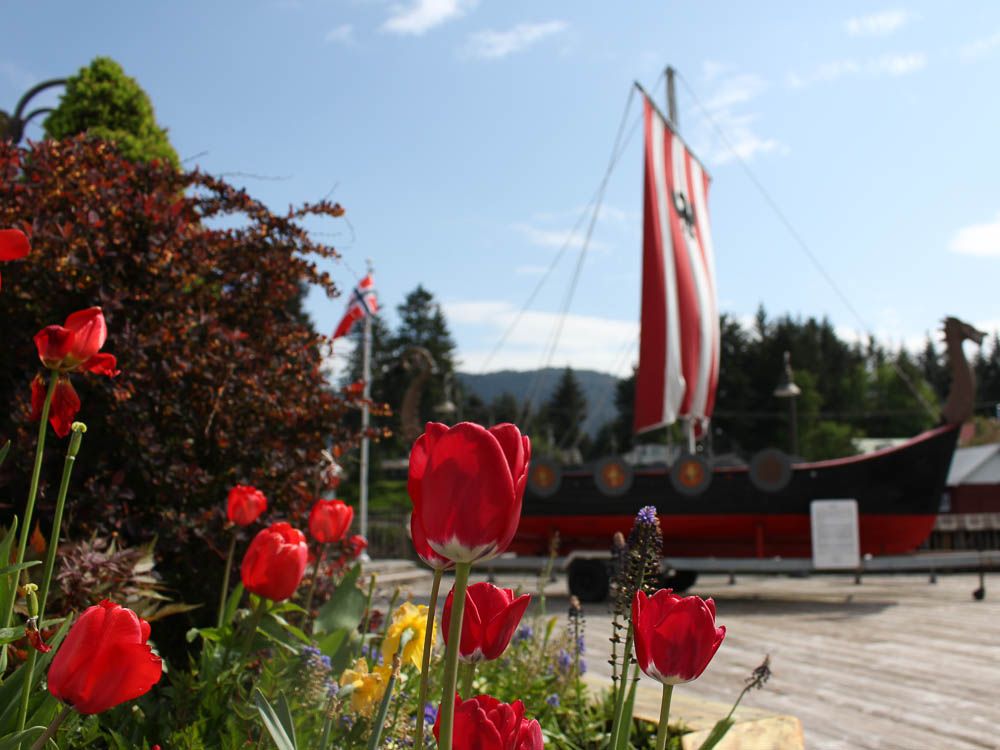 For the first time in 62 years, Petersburg heads into the 17th of May with no community-wide plans for a Little Norway Festival. Some folks are still marking the occasion, albeit on a smaller scale. Others find themselves with a quiet week ahead for the first May in decades.
Normally at this time of year local resident Andy Wright would be donning furs and assuming the role of Androg king of the Vikings. In a normal year, Vikings and Valkyries are roaming town, welcoming visitors, creating fun and havoc.
"It seems like I have an awful lot of time on my hands all of a sudden," Wright said. "Yeah, it's different. I mean it's going to be really strange to not have it. I think it underscores how important it really is for this community to have it every spring."
He said he'll miss the people he gets to meet, especially the younger ones.
"I'm going to miss going to the grade school and seeing the kids for sure," Wright said. "I mean that's going to be very painful to not give them that experience. That's always one of the highlights of the weekend for us. And so I guess we're going to have to make it up to them next year."
The Little Norway Festival usually includes a week-long schedule of events. But, this year, the event was canceled in early April in response to the COVID-19 global pandemic. The festival centers around the 17th of May, when the Norwegian constitution was signed in 1814. It also recognizes the Norwegian pioneers who settled Petersburg as well as Armed Forces Day.
Mara Lutomski is the outgoing director of the Petersburg Chamber of Commerce. She's hoping people will still wear a traditional Norwegian costume, called a bunad,  and post photos online, or find other ways to celebrate while keeping their distance.
"If people all do some small part, we are still celebrating our Norwegian heritage here, just in new and different ways and you know hopefully next year we will come back swinging in our traditional celebrating ways," Lutomski said.
Mika Hasbrouck is on the chamber board and serves on the committee that organizes the celebration.
"Well I think that a lot of people were so used to ramping up and having this air of excitement the week leading up to the festival," Hasbrouck said. "I think there's a little bit of a letdown that it's not going to happen. But I think there are some people that are going to do some things."
Among activities that will be happening are a sing along of the Norwegian national anthem on May 17th.
"At 2 p.m. on May 17, Syttende Mai, folks are dressing in their bunads, going outside and singing 'Ja, vi elsker (dette landet),' which is the national anthem and waving Norwegian flags," explained Sally Dwyer, a long-time volunteer with the Sons of Norway.
Also this week there's an online art show, the Clausen Memorial Museum's Little Norway Festival artshare. That will be on display thru May 23rd. There's also a trunk show by appointment at Firelight Gallery and Framing 4-8 p.m. on May 15. The jewelry work of Erin Kandoll and Twisted Ginger is on display for small groups who sign up in advance, either by calling the gallery or booking through its website.
The chamber's Lutomski says some restaurants like Joan Mei are planning to offer their festival food but at their own locations, not at a downtown food court. And other businesses are still selling wares.
"I do see a few things popping up from the traditional vendors that get a spot downtow," Lutomski said. "They are trying to sell their stuff online and remotely. We've been sharing those to the Little Norway facebook festival page. So people can find out information there as it comes available."
There's an outdoor contest along the gravel and boardwalk sections of the Hungry Point Trail behind the ballfields and the Nature Boardwalk near the elementary school. Nearby resident Theresa Stolpe organized what she calls the Little Norway Viking Quest. She's hidden 42 small basswood plaques with a word on the back along those trails. Participants should write down as many words as they can and turn in those words along with their name and phone number at the mailbox at 200 Sandy Beach Road. Three entrants will win a print of a painting Stolpe did of a Mitkof Island panorama. The drawing is May 18.
Members of the Pioneers of Alaska, Emblem Club and Sons of Norway are also baking cookies for residents of Petersburg's elderly housing and assisted living facilities at Mountain View Manor.