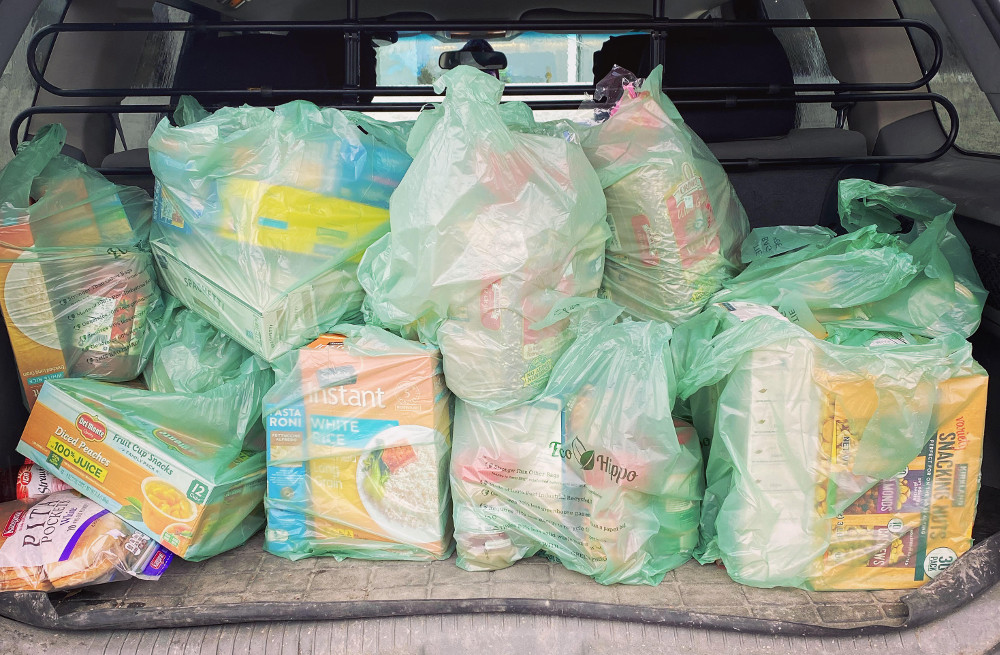 Charitable giving funds have announced grants for several Petersburg organizations that are providing services to people in need during the global health pandemic. Money is going to food programs and other support for people in the community.
The Petersburg Community Foundation is in its 11th year and has grown to nearly 700-thousand dollars from donations and matching money. It's a kind of local permanent fund that pays out grants each year from the interest on that money. In recent years it's been awarding 30-thousand dollars a year to support projects in the community. Foundation board member Sue Paulsen said things changed for the grant program with COVID-19.
"We had to put that on pause for just a while because we have to consider how we might best, like everyone else is doing, ascertain just how we might support the emerging needs of people in Petersburg in these desperate times," Paulsen said.
The foundation awarded 10,000 dollars to six local organizations that are helping those in need. Those grants range from $1,000-2,750 and that funding comes from the Alaska Community Foundation and the Rasmuson Foundation. Grants go to the Salvation Army for its home placement program that helps with rent or utility assistance. Another grant goes to the five-day a week delivery of meals to seniors by Mountain View Manor Food Services. The Petersburg Indian Association food voucher program for tribal members received grant money as did the Monday night meals offered at the Narrows Inn by the Lighthouse Assembly of God Church members. The Petersburg Children's Center received grant money to help cover operating expenses while it's closed. Petersburg Mental Health Services received money for its food pantry and hygiene kits.
Bill Tremblay is another board member on the local charitable foundation and also president of KFSKs board. He explained the organizations chosen have stepped up to provide for basic needs.
"These groups are helping with shelter," Tremblay said. "They're helping with needed food supplies. Some like Mountain View Manor had always had a food program but they've had to step it up and provide additional containers and accommodate a growing number of users. It was pretty easy to see how the need has grown in the community and that these organizations have stepped up to help out like they have."
In March, 5000 dollars in basic needs grants went out to the domestic violence advocacy non-profit Working Against Violence for Everyone, or WAVE, along with the Salvation Army food pantry and Mountain View Manor.
In addition Petersburg Mental Health also received a COVID rapid response grant from the Alaska Community Foundation. That's another 10,000 dollars for food programs and hygiene kits.
Behavioral health clinician Ashley Kawashima said that grant money has helped Mental Health expand its food pantry.
"With the need in the community escalating due to COVID-19 right now, we've expanded that beyond just our client population," Kawashima said. "So we're providing food for anyone in the community who is experiencing food insecurity."
Kawashima estimates she's spending about one thousand dollars a week on food for the pantry. That's made into food bags for people who have a kitchen and for those who don't and are not able to cook items.
"We started seeing phone calls to our agency and a big increase in the number of people that were coming to the free meals that were already being served in the community," she said. "And those free meals was a good way that I was able to connect with people and see like what the need was. And a lot of that was groceries are so expensive, now that we're not working or now that our hours are decreased, how are we going to get groceries or feed our families and things like that."
To that end Mental Health is also purchasing SWISH cards, which provide discounts at local grocery stores, and encouraging others to purchase those through the AAU basketball program.
Petersburg Mental Health office manager Becky Turland is trying to get the word out about that assistance.
"So we're trying to get that program out and running where the community donates say $50 towards it or $100 towards a card which would purchase two. Mental health will follow up and also buy one,"Turland explained. "We've been able to get I think about 5-6 out into the community right now. And that is a great incentive for people that are still working. It's a big thank you to some people also that out on the front lines. We're turning in these cards and saying thank you to them for being out there and also trying to also help them save money."
Mental health also plans to put together hygiene and cleaning kits to hand out along with food bags. Kawashima said it's important for community members to look out for others in your social circle during this difficult time.
"Either directing them to us or maybe even being able to help someone as an individual, being able to connect someone with a resource that maybe we're not connecting with yet, I think having those conversations and letting people know that it's OK if you need help and that times are tough right now," Kawashima said. "And so if we can just kind of help each other out, I think that's a really important message to get into the community."
The Petersburg Community Foundation has another 25,000 dollars for emergency grants and the board is accepting letters of request until further notice.
One of the free meals available in Petersburg is going strong after seven years of Monday nights at the Narrows Inn near the Petersburg ferry terminal. Monday night meals was also one of the programs receiving a discretionary grant from the Petersburg Community Foundation this spring.
The Lighthouse Assembly of God Church provides its non-profit status and collects funding for the group. It's not a church program but a number of the volunteers do attend that church.
Joe Viechnicki spoke with Nancy Curtiss, one of the volunteers who helps put on the program.
Curtiss said Petro Marine gave a large donation to keep the program going as well and she wanted to thank all of the volunteers who have made the program possible over seven years.