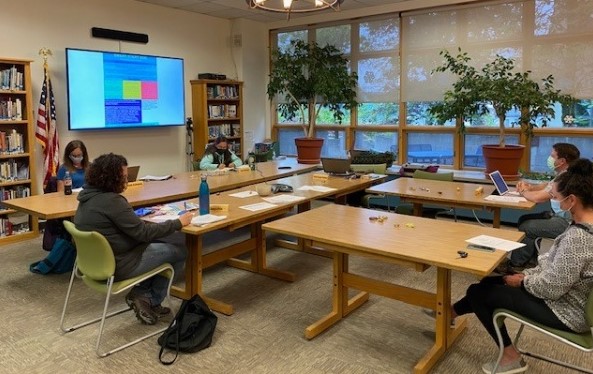 Petersburg schools will start with part in-school and part out-of-school instruction on August 31. The district's school board Aug. 11 voted on a local plan to hold school during the COVID-19 pandemic as well as schedules for all of the schools. KFSK's Angela Denning reports:
The school board passed plans for the elementary, middle, and high schools, which include specifics about starting school in a medium risk level. Petersburg administrators have surveyed parents and worked with local health officials to come up with the plans, which continue to change as the district gets new recommendations.
Superintendent Erica Kludt-Painter stresses that the plan is a work-in-progress and it's a first for staff too.
"We really are trying to prepare for multiple modes of instruction and learning at the same time too so it's a pretty steep climb, in additional to all the other sort of new protocols and things that are coming at us," Kludt-Painter said.
The local plan starts with part-time, in person schooling with different details for each school.
Elementary students will start school in small groups or pods alternating in an AM-PM schedule. The pods will be at school three hours a day, Monday through Thursday.
Principal Heather Conn says elementary students will likely not be required to do online learning for half of the day when they're not at school in person. She says some parents have said it would be challenging.
"How are we going to teach virtual when we're at work and who's going to be responsible for it, is it going to be the grandparents taking care of them at home, is it going to be the childcare centers?" Conn said.
On Fridays, grade school students won't be in school in person but some might have online programs or packets to do on their own.
Middle and High School will start out alternating days on campus and off campus, Monday through Thursday so that only half of the students are in the building at a time. Students would be working part of the day in person and part of the day online. Fridays would be all online in the beginning.
Middle School's schedule will be in school Monday through Friday in smaller pods or groups. 6th and 7th grades have two groups and 8th grade will have three groups.
High school students will be split into two groups-blue and white. They will be doing four classes a day instead of six. Two of those classes (second and fourth periods) will be 85 minute blocks. These block classes will be every day, which will allow students to complete the course in a semester instead of a year. It will allow the students to finish the day at 2:15 p.m.
Secondary Principal Rick Dormer says having fewer classes help minimize contact between staff and students and students with each other.
"That's the whole point of it," he said. "Again, if we weren't worried about the exposure then we'd be on a regular schedule, we might be looking at six periods."
Dormer told the board that the semester class idea isn't starting from scratch. Several other Alaska high schools also use that schedule.
"When you look at schools like Sitka, Kodiak, Edgecumbe, and Fairbanks, we're not going crazy here," said Dormer. "We're just picking a different option that allows us to keep kids healthier."
Board member, Megan Litster, says she's heard concerns from some parents about students having a gap in math. They'd study a math course from September to January and then not again until the next September. Dormer says students, if they want to, can instead take a year-long virtual class through one of their affiliate digital learning academies.
If there are low transmissions in the Southeast region by September 25 then school could move to a more normal schedule with students on campus almost every day.
"Just how we're starting out in the slow yellow zone does not mean school will look like that for the rest of the year," said Board President, Sarah Holmgrain.
The schools' schedules are attached to the risk levels at the district. How the district decides to change the risk level is complicated and takes into account several factors, says Kludt-Painter. She told the board it's not just about numbers. She says some local COVID cases might not affect the schools, such as visitors or the canneries.
"We really do want it to be more variable-based," said Kludt-Painter. "We want to be able to look at each building in that sense and not have to be on kind of a lock-step towards shut down totally or we're totally open. We want to be able to move within that."
There will be no swim classes for the start of school, which was part of the elementary and middle school curriculums last year. Kludt-Painter says they haven't been able to hire a new teacher even though they've been advertising since the spring and they are still working out how to integrate the pool into students' schedules. That might mean students would swim for a few weeks at a time instead of alternating weekly to help keep contacts down.
"It will likely not look the same just as everything is not looking the same but we are committed to getting our kids movement and activity for sure," Kludt-Painter said.
Some sports may or may not happen this fall. High School cross country practice has begun. Swim, volleyball and wrestling will start next month but how practices will go is still getting worked out. It's unclear if the teams can travel to compete.
Activities Director, Jaime Cabral, says that middle school will not have group sports like normal this fall, except for cross country but even that team won't be traveling. Instead, the Middle School plans to have monthly intramural activities.
"A month of cross country, a month of Frisbee golf activities, a month of corn hole and washers, a month of bad mitten and pickle ball during the winter, a month of ESports, which Esports is possibly going to take off as the state has more ESports activities, a month of orienteering and geocaching, and then a month of a mixture to finish up the year, a mix of all of those intramural activities just to keep our kids as active as possible," Cabral said.
There are about 450 students and 85 staff at the district. Holmgrain says the district must be careful if it doesn't want COVID infections to cause quarantines and possible closures later on. They want to start school slowly and practice the schedules and protocols because school is the largest gathering in town.
"Nowhere in town is any employer bringing in this many people all at once and exposing their employees to this volume of people–meaning children–all at once," Holmgrain said.
Free breakfasts will be available for all students throughout the year through USDA funding. The district is still figuring out how to get the breakfasts to students who might not be at the schools in the mornings.
Here are the state's Smart Start guidelines for school districts reopening this fall.