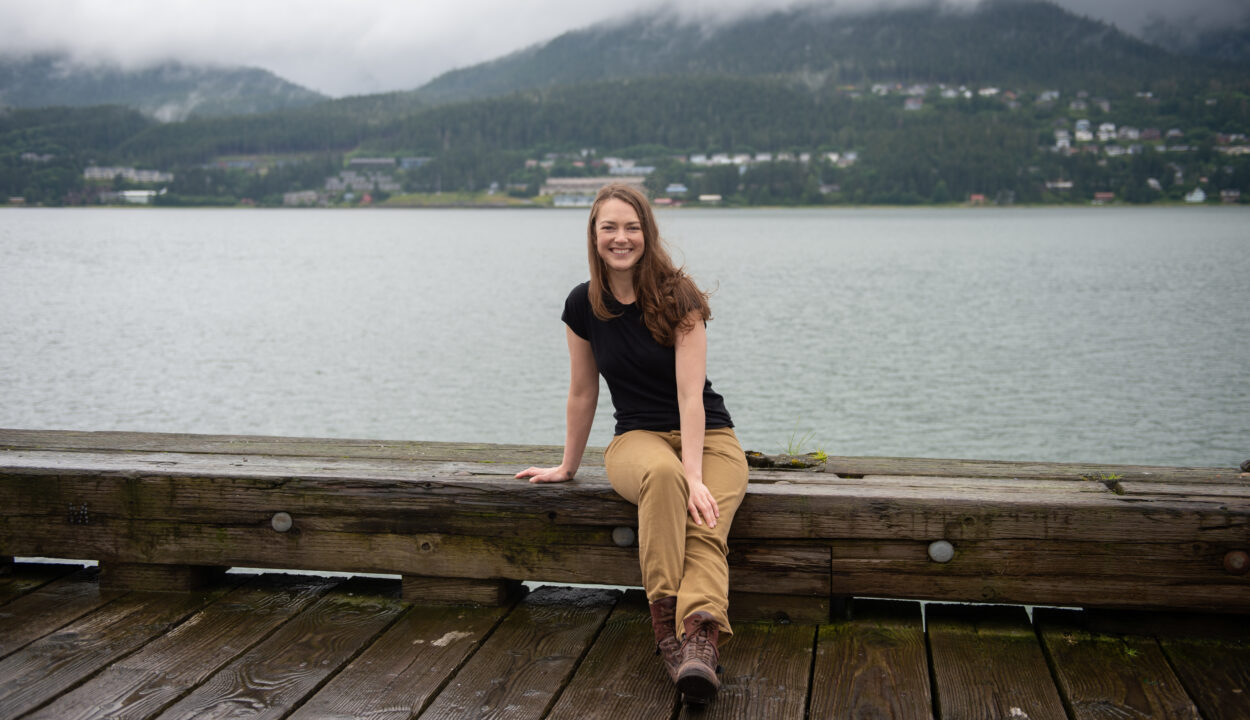 Petersburg Medical Center has hired a fifth doctor, which administration hopes will improve access to care. As KFSK's Angela Denning reports, Dr. Kayla Luhrs hails from Southeast Alaska.
Dr. Kayla Luhrs grew up in Ketchikan and she also lived in Juneau before moving to Petersburg. She says she's liking the new town so far.
"I have a dog and we're loving the trails, the quick access to the trails and the beach," she said. "And the people have been so kind, I can't even count how many meals I've had dropped off on my doorstep and I would say that's my very favorite way to be shown appreciation so yeah, I've felt really good in my transition here."
Historically, PMC has employed four doctors and a physician's assistant or a nurse practitioner. CEO Phil Hofstetter says the last nurse practitioner left at the start of COVID so PMC decided to hire another doctor to help with pandemic response. At first, Luhrs was hired as an independent contractor and then she became a permanent, full-time position.
Hofstetter says the pandemic wasn't the only reason PMC was looking for another doctor.
"It was sort of dual effect of opportunity and also need," he said.
Besides addressing additional COVID details, Hofstetter says they had a long standing need to help patients access care more easily. They have wanted to improve wait times for appointments at the clinic.
"If you look at a scheduling book and you look,'How far ahead does it take to have an appointment?' they were pretty far down the road for some physicians," Hofstetter said. "You can come in and do walk-in but scheduled, follow-up appointments were sometimes quite a ways out and that tells me that there's a higher demand in the community."
Luhrs says as a doctor, she likes to develop relationships with her patients to find out what their health goals are. She also appreciates the variety of work that PMC provides.
"I get to be in the ER and take care of patients when they have acute needs but then I also get the follow up of seeing them in clinic," she said. "I think this is kind of a unique situation where as a general physician you do get to follow patients in the hospital, in the ER, in the clinic, and I really like that."
Luhrs has an interest in sports medicine and she likes to use food as medicine through a holistic approach to helping patients. One specialty that she has background in and hopes to pursue in Petersburg once the pandemic situation changes are group visits. It's where patients see the doctor together about a common issue. The patients typically spend 90 minutes with her in the group, which is longer than a normal one-person clinical visit.
"It can be a really efficient and an effective way to share information. And we also have studies showing that when we meet together in groups then we can have better outcomes than meeting one on one," Luhrs said. "I think we learn so much from each other. Other people maybe think to ask question that is a question for you but you didn't even think to ask it."
Seeing the doctor in a group setting won't work for everything but Luhrs says it can help with healing and wellness for some things. Specifically, she has a group on the topic of women's health where patients get a better understanding of the cyclical nature of hormone changes. She's done groups on diabetes and pregnancy loss and support.
She's also had success with groups on Irritable Bowel Syndrome. She says patients have benefited from getting a better understanding of how digestion works for them.
"I think that can be kind of a frustrating diagnosis for people and so meeting together and just getting more information in depth about how your digestive system works and the timing of these things and the way we break down different foods and nutrients and the downstream effects of that," Luhrs said.
Hofstetter says that the new hire will help PMC move towards a more patient-centered focus, which includes more case management and outreach to patients.