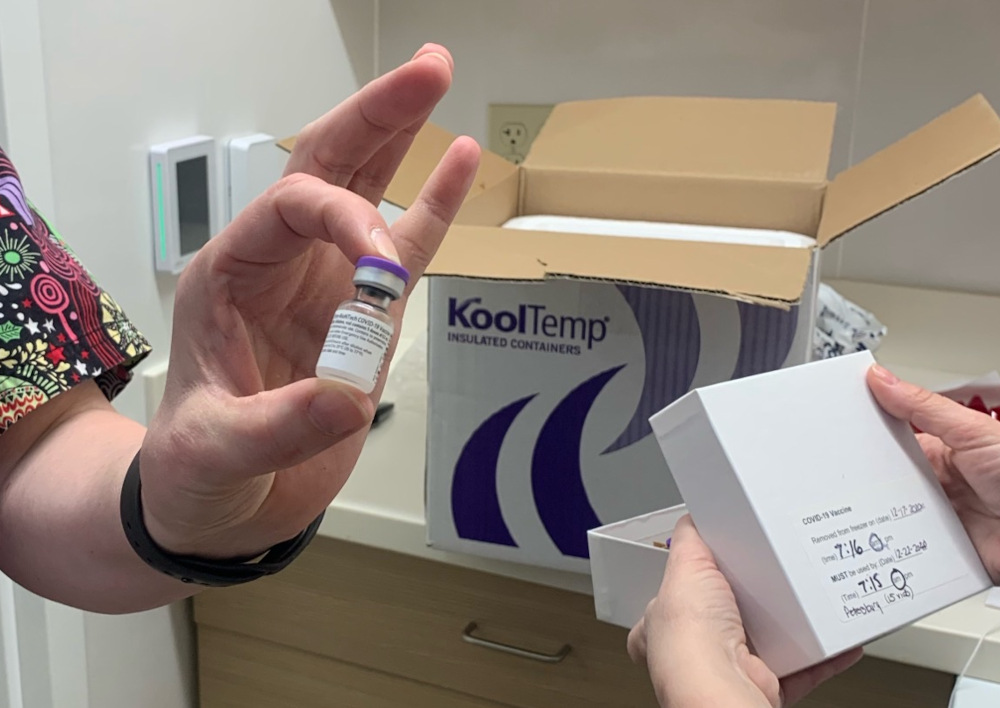 Petersburg Medical Center is giving the COVID-19 vaccine to people 65 and older this week by appointment starting Thursday, January 14.
The local hospital is following state priority guidelines for the most vulnerable including health care workers and seniors.
"We are ordering all the vaccines we can possibly get from the state and we plan to use them immediately," said the PMC's chief nursing officer Jennifer Bryner, who is heading up the local vaccination effort. "And keep asking for more and we will, as soon as they're available to us, we will get them available to the public."
On last Friday's radio COVID-19 panel show Bryner said she hoped to have over 300 doses for those in the community 65 and over, eligible for their first dose starting this week. Petersburg had 673 people 65 years and older in 2020, according to the latest estimates from the state.
PMC expects it will take several weeks to complete the first doses for those 65 and older. The hospital says people in that group on the waiting list will be getting a call, based on age and medical need. Others will have to wait for additional shipments of vaccine.
Meanwhile, the first to receive the shot in Petersburg have their second dose already. Some are reporting more serious aches from that second shot. Most people have some immunity one week after the second dose and the full immunity two weeks after. As of Monday, january 11, 217 people, nearly seven percent in the community had received at least one dose.
A member of the state's vaccine team, Dr. Liz Ohlsen said there are many variables to consider for when the general population might receive their shots.
"It depends on how many vaccines we get," Ohlsen said. "It depends on if there's another vaccine or two that's authorized, because some of the vaccines that are in the pipeline are vaccines that are much quicker to make than the vaccines that we're getting right now. And so we may be able to get those vaccines, a larger amount of them much quicker if other vaccines are authorized. It also matters how many people want the vaccines in the high priority tiers. Right now we're seeing many, many people, many health care workers, many folks who are 65 and older signing up for these vaccination slots and getting vaccine and that's really, really wonderful."
To get on the waiting list call the clinic at 772-4299 or fill out the online survey.
As of Monday morning, the Petersburg Medical Center dropped its risk level to moderate and the school district returned to low risk or green status with in-person classes. The borough changed to level one, low risk Wednesday, January 13 with nine active cases but all of those part of household clusters where people have been quarantining and not circulating in the community.