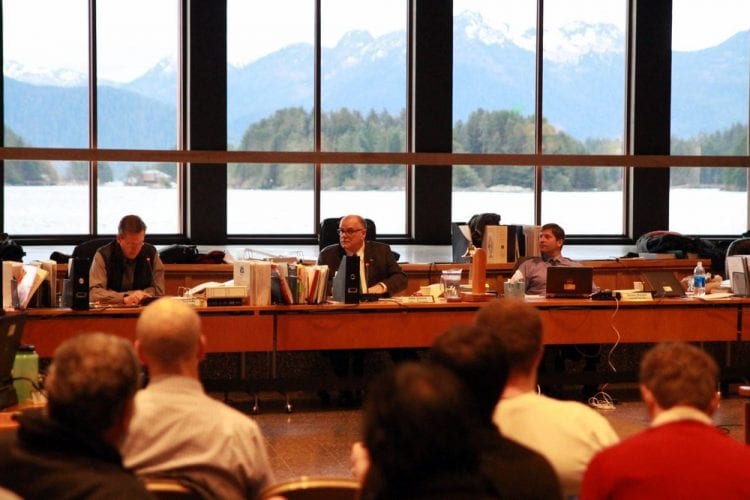 Alaska's Board of Fisheries Monday voted to postpone in-person meetings planned for Ketchikan, Cordova and Anchorage this spring because of COVID-19 precautions. But the board decided not to push back their schedule for next year. That means the board could be gathering in-person next fall and winter for an ambitious schedule and multiple back-to-back meetings.
The board regulates seasons and rules for commercial, sport and personal use fishing. The different parts of the state are on a three-year cycle for changing those regulations.
At an online meeting Monday, January 25, board member John Jensen of Petersburg proposed moving back meetings planned for this spring.
"I'm just basing on the most logical assumption that this year, this spring anyway is pretty much toast as far as how this COVID thing is going up and down, and one day it's good and the next day it's not," Jensen explained. It'd be irresponsible to try and continue these meetings like we had planned."
A Southeast fisheries meeting scheduled for Ketchikan had already been moved back once until late April. The board also had meetings scheduled in Cordova and Anchorage this March and April.
Monday's Board of Fish decision follows a similar one by the Board of Game, which sets rules for hunting and trapping in Alaska. But unlike the game board, the Board of Fisheries voted not to push back next year's meetings in response to this year's postponement.
"I do see that the consequence of having to push out this year's meeting cycle is due to COVID but I also feel fairly strongly that that doesn't have to be a consequence seen throughout all other regions of the state," said board member McKenzie Mitchell of Fairbanks. "I think if it's possible I would like to see us kind of double down and get it done."
Alaska Department of Fish and Game staff had concerns with the impact of that move on Fish and Game's budget for next year. Commissioner Doug Vincent-Lang estimated it could take around 250,000 dollars to hold this spring's meetings next fall and winter and said that amount is not in the department's budget.
"As I think you heard from our directors, they're a little worried about getting money to hold a board meeting but also having money for their staff to try to double up on board meetings next year given the lift it has," Vincent-Lang said. "I'm supportive of trying to do this but I just want you to know at the end of the day that there's going to be potentially some impact if we can't get that money through the legislature and number two there's going to be some impact to board meetings as a result of divisional support attending those board meetings. But again we'll do our best to try and power through that."
Vincent-Lang expected the department would have to seek a supplemental appropriation from the legislature to make up that difference and asked board members to help pursue that money.
This decision will push this spring's meetings for Ketchikan, Cordova and Anchorage until this fall or next winter. That's on top of other meetings planned on regulation changes proposed for fisheries in Bristol Bay, the A-Y-K region and Alaska Peninsula, Aleutians and Chignik. No word yet on exact dates for that meeting schedule but the locations will stay the same. Most are planned for Anchorage except the Cordova and Ketchikan sessions.