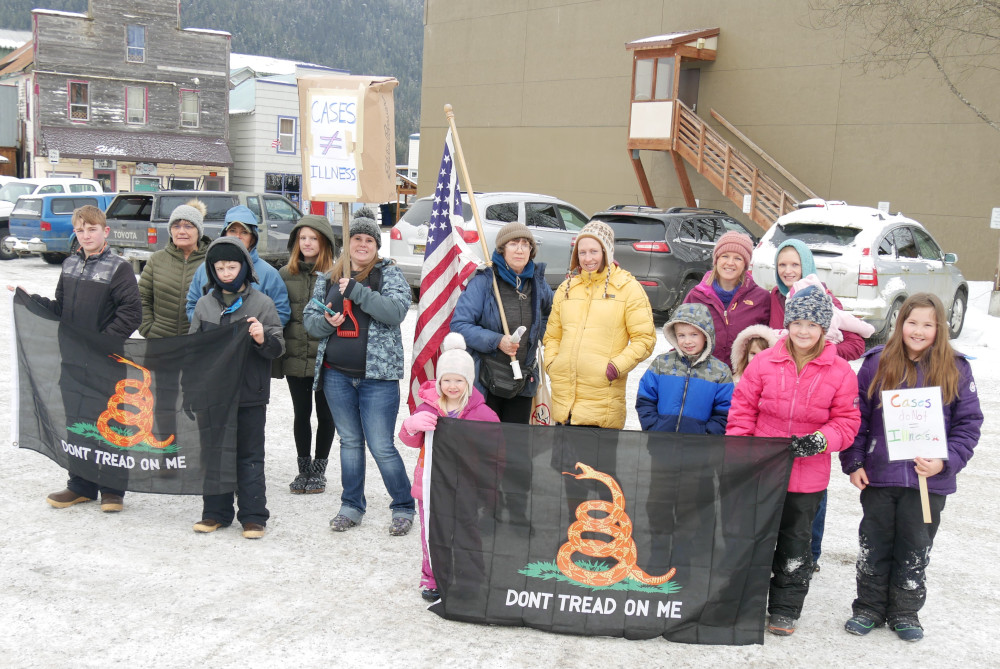 Local residents gathered outside Petersburg's municipal building Monday to seek an end to the borough's mandate for face coverings. Inside, Petersburg's borough assembly listened to their testimony but ultimately did not vote on removing that health measure.
The group of 15 adults and children gathered outside as the assembly met, holding an American flag and flags saying "Don't Tread on Me." Amanda Ohmer was tuning into the meeting and waiting for her chance to testify against the mandate.
"I think a lot of us know that masks have a time and a place, in order to keep people safe but having a city-wide mask mandate, is just not putting the trust in the people to weigh their own risks and their concerns for their families and themselves and I think that everybody should have the right to do that and to make a choice as to what they need to protect themselves and the people they love," Ohmer said.
Petersburg's had a health mandate in place since mid-November requiring face coverings inside public buildings and in work places with others. It's meant to limit the spread of COVID-19. However, there are wide exemptions for health reasons and no enforcement. There's been one warning given out. Police chief Jim Kerr told the assembly that his officers will be focusing on education rather than enforcement.
"If it's just us walking by someone, I mean who am I to assume they don't have a medical condition and I'm not going to step in on that because if they're not wearing a mask I assume it's for the proper reasons," Kerr told the assembly. "But if we get a reported incident, we'll go up to them, talk to them and if they say they have a medical condition of course we're done with that. And if they aren't wearing it for whatever reason and they don't have an exemption for it then we'll just talk to them about why they should wear it and just educate them."
A number of people testifying wanted the borough to end the health mandate.
"Back in March we were told the shutdowns of gatherings were to just flatten the curve a couple of weeks, we were told, so the hospitals wouldn't be overrun and first responders not overwhelmed," said Donna Marsh. "Here we are many months later with restrictions still ongoing and the feared plague, gratefully, did not and has not materialized."
Other local residents asked the assembly to continue with the health measure.
"It's a matter of public health, not personal health and I know that the leaders of our town will consider the public health over private health concerns when it comes to masking," said Nancy Berg. "Let's not take a step backwards now."
The borough has received many letters from the local populace both for and against the face covering requirements and the assembly only narrowly passed it in November. Petersburg Medical Center physicians support it along with the borough's emergency response team for the pandemic.
Assembly member Taylor Norhiem asked for a vote on removing it but his motion received no second. That means it doesn't come up for a vote or discussion and will continue until the assembly rescinds it.
The assembly did vote to send a letter in support of legislation that would extend the state's emergency disaster declaration for the pandemic.
Petersburg Medical Center CEO Phil Hofstetter told the assembly about the importance of that bill called Senate Bill 56.
"SB 56 contains key provisions that provides flexibilities that allow PMC to do the things it needs to do for COVID and that includes setting up our respiratory clinic, things related to occupational and professional licensure, telemedicine and telehealth, vaccinations, any response allocated to COVID, resources from the state such as the monoclonal antibody, PPE, Cepheid rapid test and vaccines all come as a result of the emergency declaration," Hofstetter said.
The bill has hearing this week in Senate committees, while the House has yet to organize or hear bills. The legislation would extend the state's emergency declaration, due to expire February 15, until the end of September.
(This story had additional reporting by Angela Denning of KFSK. This story has been corrected to remove reference to the governor extending the declaration without legislative approval.)