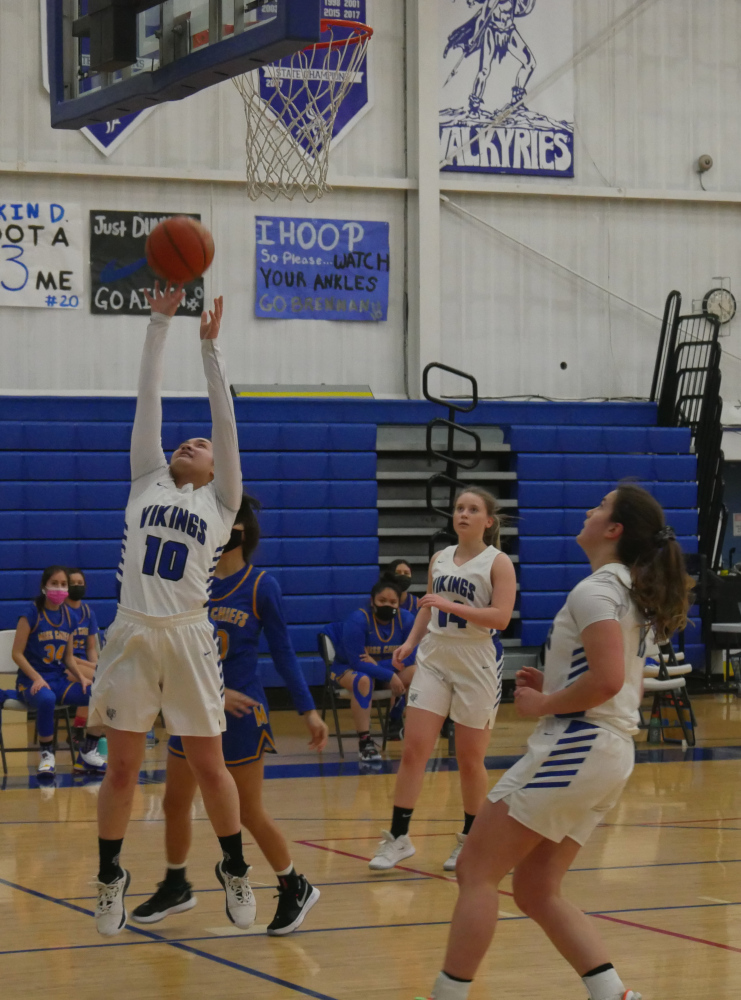 Petersburg High School's varsity basketball teams won three of four games at home against Metlakatla last weekend. Those were the first games of the season for the Lady Vikings and the first home games for the Vikings. Coming up next is the heart of a condensed scheduled for Southeast 2A basketball.
Petersburg's girls team opened their season on a winning note despite dressing just six players against the MissChiefs. The Lady Vikings won 61-41 on Friday and 45-32 on Saturday. Girls coach Dino Brock acknowledged roster depth impacted his team's approach with no leeway for players to take cheap fouls.
"Well that was definitely something that we talked about a lot, is like you can't waste them (fouls). And I thought that we did a really nice job of just trying to stay solid, especially Saturday," Brock said. "I thought that we did a nice job on our zone defensively, just trying to keep people in front of us, trying to keep ourselves out of foul trouble."
Brock's looking forward to a couple more players returning to action to add a little depth. He noted its difficult to practice things like a zone defense with only six players.
The Lady Vikings' offense was clicking last weekend though with junior Kaili Simbahon scoring off turnovers and senior Shayla Madole shooting from the perimeter. Brock was happy to start off the season that way.
"We had talked all week about getting our shots out of our offense and I thought that we did a really nice job, a lot of the shots that (Madole) had were in rhythm or good looks for us at the basket. And I thought that overall that's the way we played both nights," Brock said.
The Lady Vikings have multiple games on the tentative schedule, both home and away over the next week.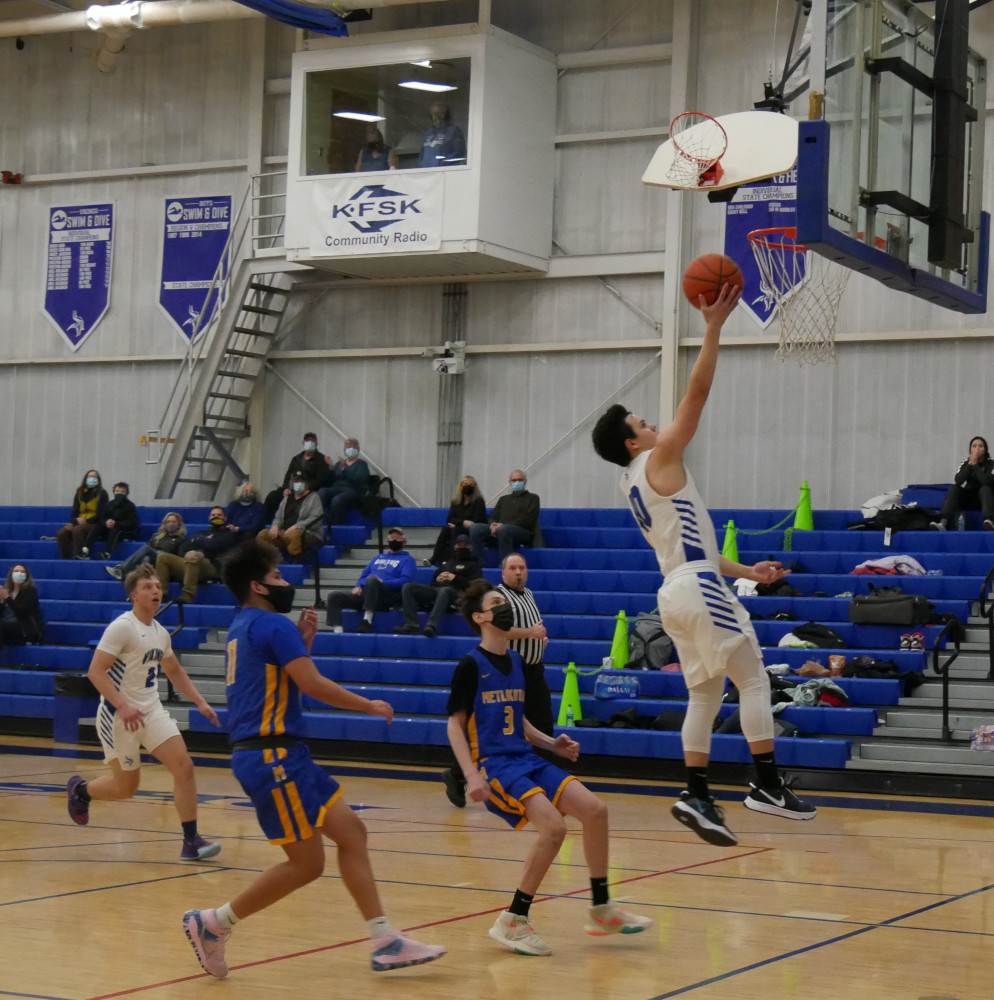 Meanwhile, the varsity boys team added one win and one loss to their record last weekend. The Vikings had a comfortable win over the Chiefs 66-27 on Friday and then a close loss, 41-39 on Saturday. Boys coach Rick Brock's team was able to capitalize on easy fast break buckets off turnovers the first night but couldn't the next morning.
"Metlakatla was much more patient and ran their half-court offense and so we weren't able to turn them over to get fast break situations and then, for whatever reason we were slow when they did score or we got a rebound slow getting the ball pushed up our end to try and score quickly so we ended up playing a half court game with them and that's just not one of our strengths right now," Brock said.
Brock thought his team made progress from the first series of the season against Wrangell. And he said this season's quick turnaround for games for COVID precautions is a challenge for a team to have two strong outings back to back from Friday night to Saturday morning.
The coach praised the team defense the Vikings have displayed so far this season, holding Metlakatla to under 30 points one game this series after doing the same the weekend before. He also liked the composure he saw in his relatively inexperienced team in the final minutes of a close game Saturday.
"We got three really good looks at the basket, unfortunately none of them went in," Brock said. "But the way we got the shots, the way we played together, we had to foul at the end to stop the clock, put Metlakatla on the free throw line. And everything really time wise worked out like you want it to. We got the looks that we wanted. It just didn't go in. So I think that was an important thing too for us to, we've been in a couple already close hard fought games. And our composure at the end and the way we're managing the clock, we're doing the right things."
The Vikings stay an even 500 record with two wins and two losses as they already head into the main part of COVID shortened season. A normal year, four games down would only be the very start of the schedule.
"Here we are really almost halfway through the season," Brock said. "I think we have five weekends left, five weeks of practice left before the end of the season to get ready for regions. Everything is accelerated. That's why  the games are super important and every day in practice and trying to figure out all the puzzle pieces at a faster rate is challenging for myself and for the guys. But you know they come to work every day and I see us making progress every day. We're just trying to keep stepping forward and getting better."
 The boys varsity has this weekend off. They head to Craig the following weekend before hosting Wrangell at the end of the month.
The tentative schedule has the girls team playing in Klawock Friday, February 12 and hosting Thorne Bay Tuesday, February 16. The boys junior varsity has games scheduled in Klawock Friday, February 12 and Craig Saturday, February 13, also hosting Thorne Bay on Tuesday, February 16.
Varsity teams play in Craig February 19th and 20th.