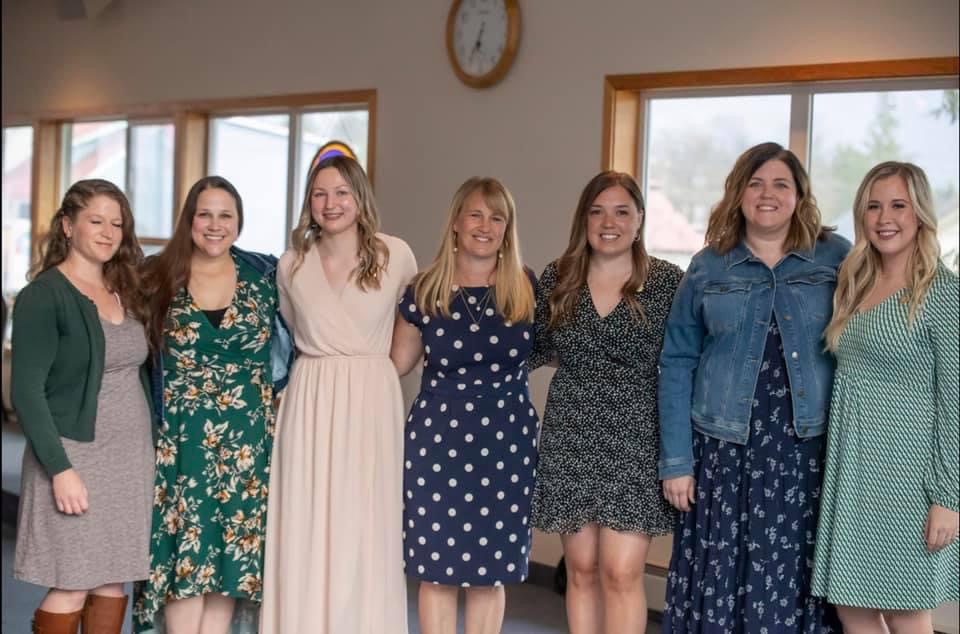 Four Petersburg residents graduated from a two-year nursing program run through the Petersburg Medical Center in conjunction with the University of Alaska Anchorage. A pinning ceremony was held May 1 in the Lutheran Church's parish hall and was streamed online. KFSK's Angela Denning reports:
Masked family, friends, and colleagues gathered in the Holy Cross House while others watched the ceremony live online.
The graduates took to the stage–Kelly Bieber, Emma Gates, Kim Robson, and Lauren Thain. They listened as one of their instructors, Jennifer Bryner, spoke about them.
"They have worked extremely hard over the last two years and have shown that they have the courage, the determination, and the character needed to be an exceptional nurse," Bryner said.
Bryner is the Nurse Manager at Petersburg Medical Center. She talked about the grads going through their schooling during the pandemic. She says although it was a tough year it highlighted the importance of the profession worldwide.
"Nurses provide care in hospitals, clinics, on the street, in people's homes, and this year in gymnasiums," said Bryner. "The Covid-19 pandemic has illuminated the character of nurses. You've seen the pictures. Nurses bravely gearing up to enter a COVID ward, holding the hands of those who are sick and dying, taking the time to shed a tear at the end of a long shift, and then facing it all over again the next day."
One of the graduates–Kelly Bieber– grew up in Petersburg and has been a Certified Nursing Assistant at PMC for seven years. The prospect of becoming an RN became personal when her mother was diagnosed with advanced ovarian cancer.
"Watching her go through treatment and observing the nurses that took care of her I really knew at that point that nursing was what I was supposed to do," Bieber said. "I felt very called to the profession and I felt like helping people and making a difference was my purpose."
The local nursing program is a two-year associates degree. Several prerequisite classes are required like chemistry and microbiology before starting the program. Then it's two years of rigorous hands on training through the local hospital as well as a week at Sitka's Mt. Edgecumbe. They also have lab classes and lectures over Zoom.
Bieber says the most challenging part of the program was its fast pace. They took an exam nearly every week and needed to retain what they learned. But she says she felt really supported.
"It was so nice having such a small group of four students," said Bieber. "We all became super close and we kind of became each others' study group and support system. And being so small we had a lot of one on one time with our instructors and they were super amazing and encouraging and then along with that the community has supported us so much too."
Similar sentiments were shared at the ceremony, when graduate Emma Gates spoke on behalf of the cohort. She said they will never forget the last two years.
"The four of us have worked very hard to get to this point and I think it is safe to say that we all feel that we have grown significantly during this program not only as nurses but as individuals," Gates said.
Instructor and Petersburg nurse, Nichole Mattingly, led all nurses in the room through the Code of Ethics pledge for nurses.
Graduate Kimberly Robson received UAA's Director's Award for being the student with the highest academic record in the cohort.
All of the graduates will still need to take a final nursing board exam to be able to work as an RN.
Bieber says after that, she wants to continue working at the local hospital.