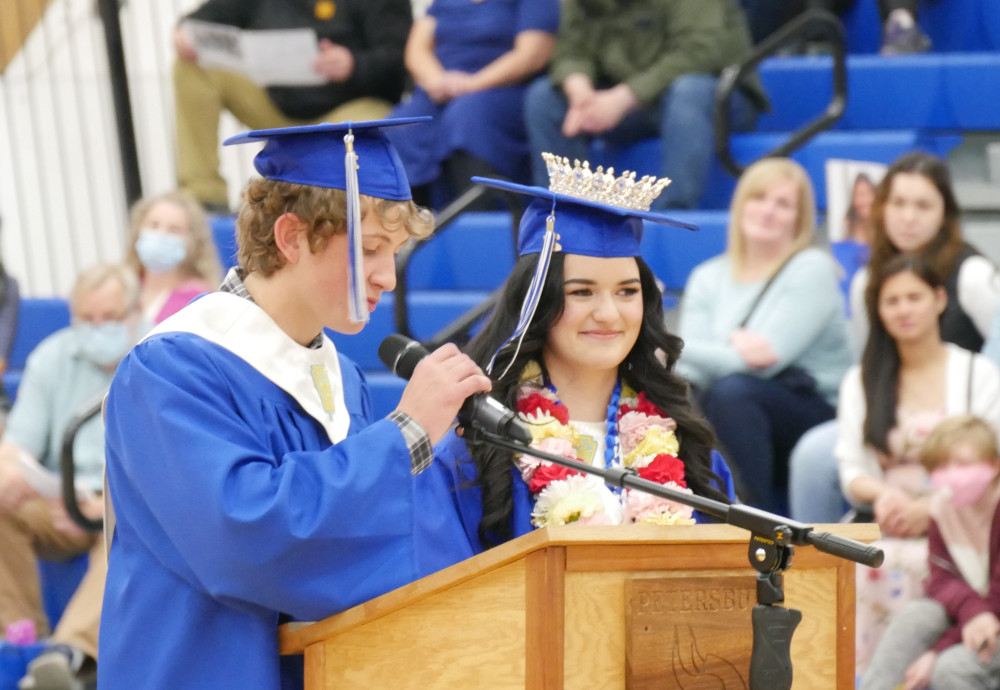 28 graduates received diplomas in an indoors commencement ceremony at the Petersburg High School gym Monday, May 24. The class of 2021 spoke of weathering their final high school years in a global pandemic and a brighter future to come.
The ceremony featured a smaller band and limited in-person audience numbers although it was also streamed online for those who couldn't attend. The class historians were Owen O'Brocta and Leesa Murph.
"Yay, we've done it! We've taken test after test. We've worn mask after mask and occasionally had study sessions. And after all that we are here to meet at our last Petersburg High School event, our graduation. Well, isn't it exciting? We're about to go on our own adventures, go beyond the Common Grounds drive through coffee shop, beyond driving through the loop over and over again, beyond this island we call home," Murph said.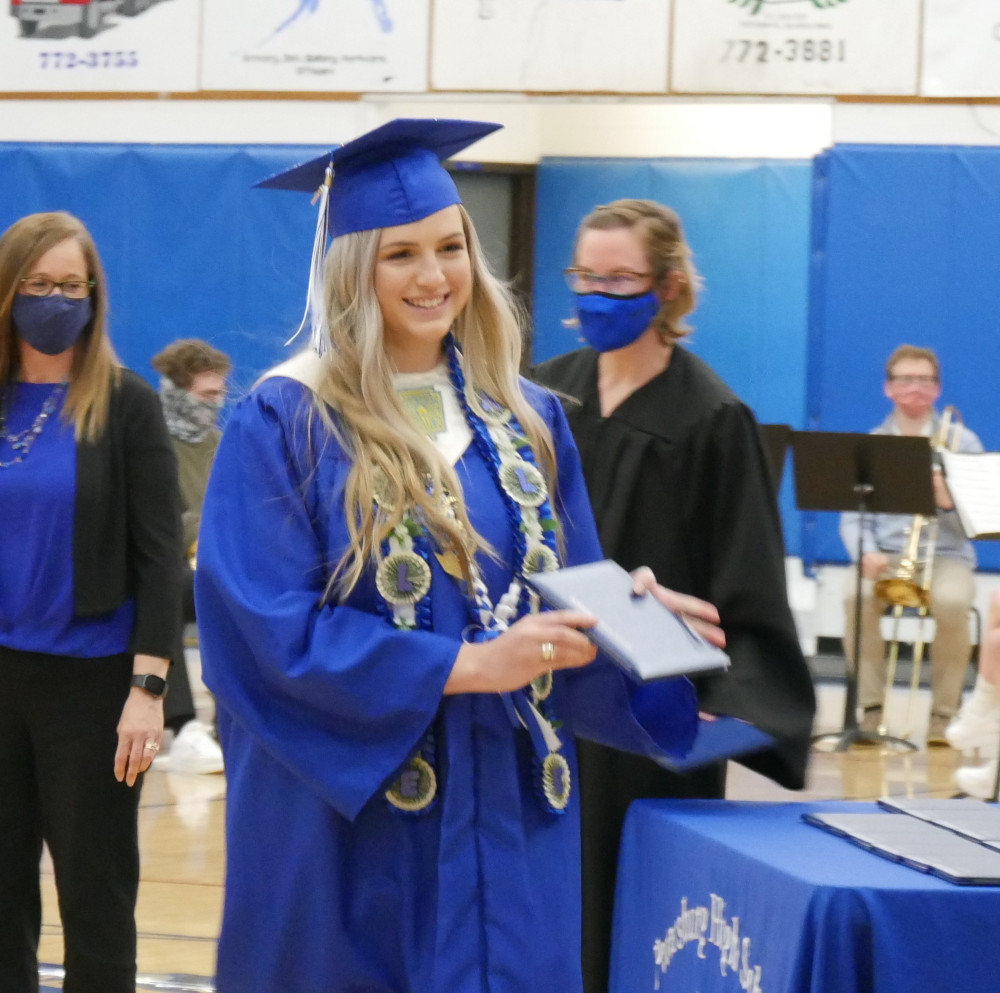 Julian Cumps was salutatorian and Lydia Martin was valedictorian.
"I am grateful and I think that we should all be grateful for the time and effort that has been put into preparing us for the next step in life," Cumps told his classmates. "And although we are not perfect as a class or as individuals, I am grateful to have shared this journey with everyone here today and would not have had it any other way. And as we step out into the world on new adventures and to continue to chisel the statue of our being, I leave you with a quote from astronomer Dr. Carl Sagan, 'For small creatures such as we, the vastness is only bearable through love.'"
"It can easy to look over this year and call it for what it has been, hard," Martin said. "But this would leave out how many bright spots of community strength and hope we've experienced together. The good news is as students we will be really easily impressed when anything goes right. We have no idea what the future will hold despite our best efforts to plan and prepare. But we will be able to accept that when things fall apart, we can put them back together again. This year was not what any of use expected but we survived nonetheless. We've emerged with resilience, optimism and character and the rest of our future will be ours to embrace."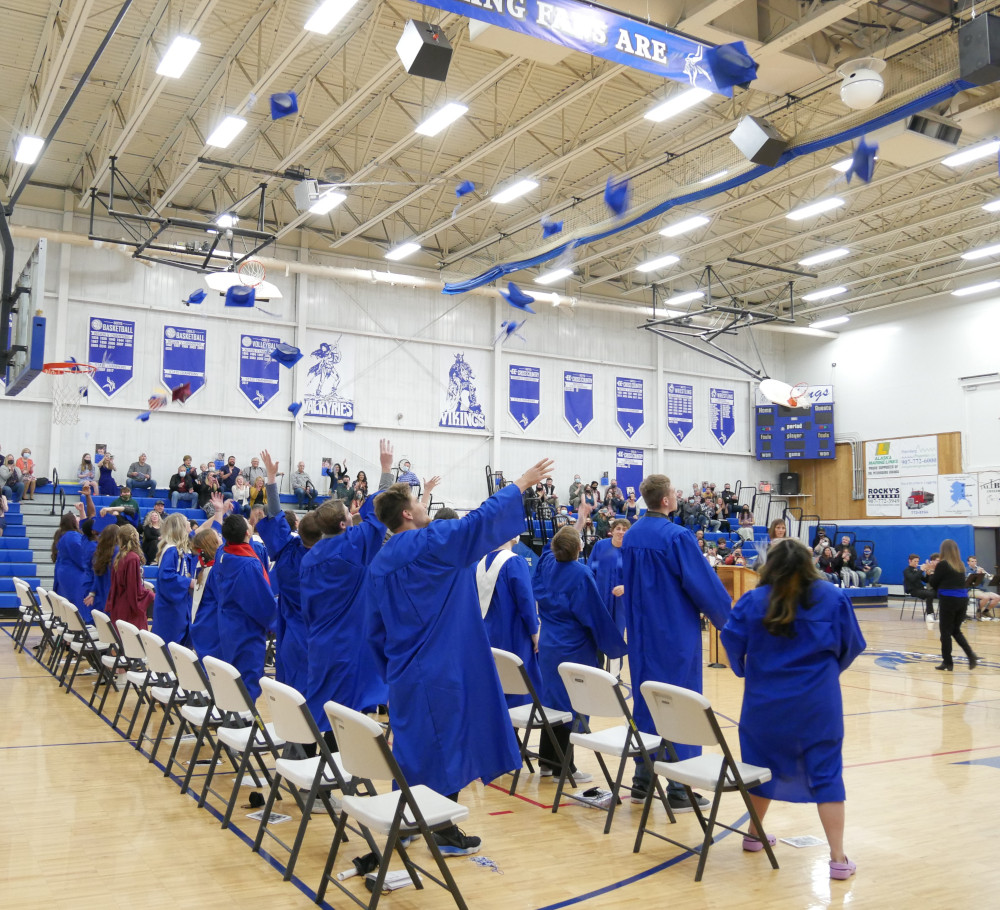 Principal Rick Dormer welcomed the graduates and along with commencement speaker and retiring teacher Ginger Evens.
"Finally, seniors people need each other more than ever before," Dormer told the graduates. "Relationships have become challenging over the past years due to isolation and even before COVID people were messy. As you venture out you know people who have different political views, different religions, they'll like different foods, they might be of a different gender or sexuality than you, they may like different music from you. And all these people could potentially be your friends. Remember I began this speech recognizing that you all are unique and powerful, which you absolutely are. But if you recognize that there is nobody like you then there is nobody like you," Dormer said.
"A famous quote by Nelson Mandela: it always seems impossible until it's done, is relevant to you as you leave the comfort of Petersburg to navigate the world," Evens said in her commencement address. "Use the work ethic you developed at Petersburg High School and the words, it always seems impossible until it's done with you in the work force, vocational school or in college. Remember that you have the ability to conquer any challenge you face in life," Evens told the graduates.
The class had separate baccalaureate and scholarship ceremonies the week before. The graduates were awarded $80,900 in scholarship money from local businesses and organizations and over $863,297 in total scholarship awards.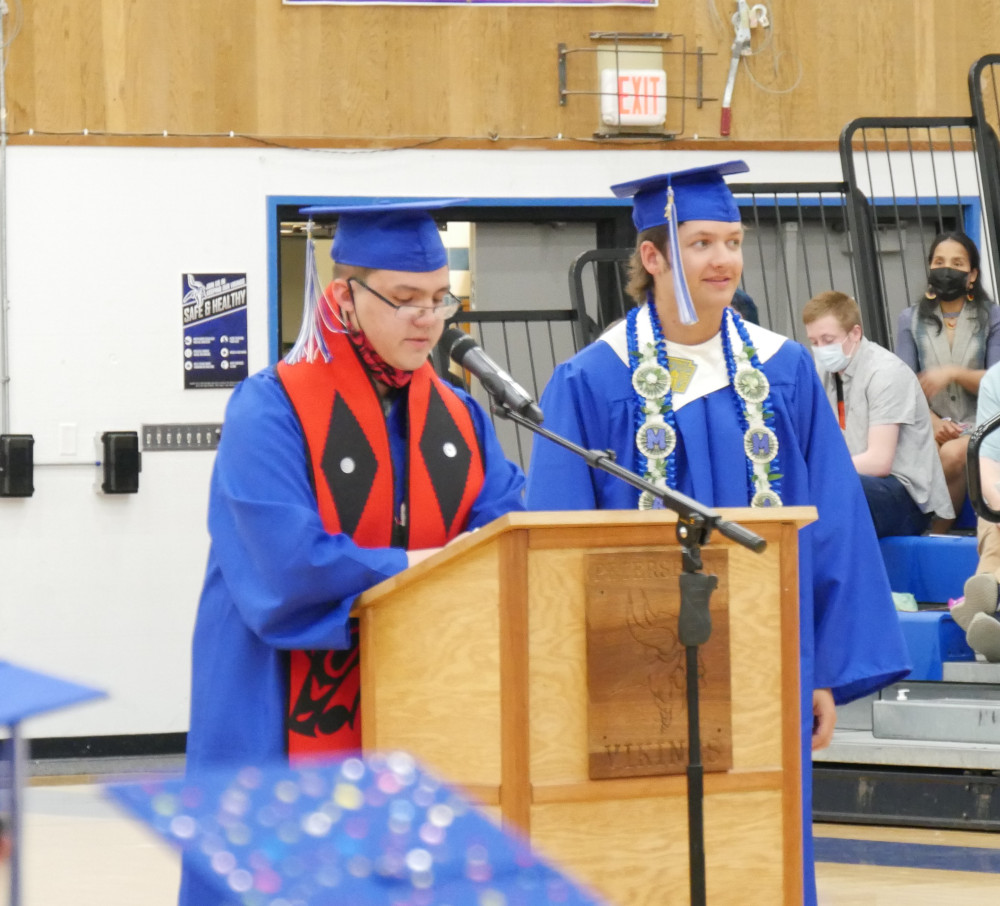 The class gift is a scholarship for the next three years for one graduating student who plans to continue their education at a college or vocational school. The class also took part in a vehicle parade similar to last years.