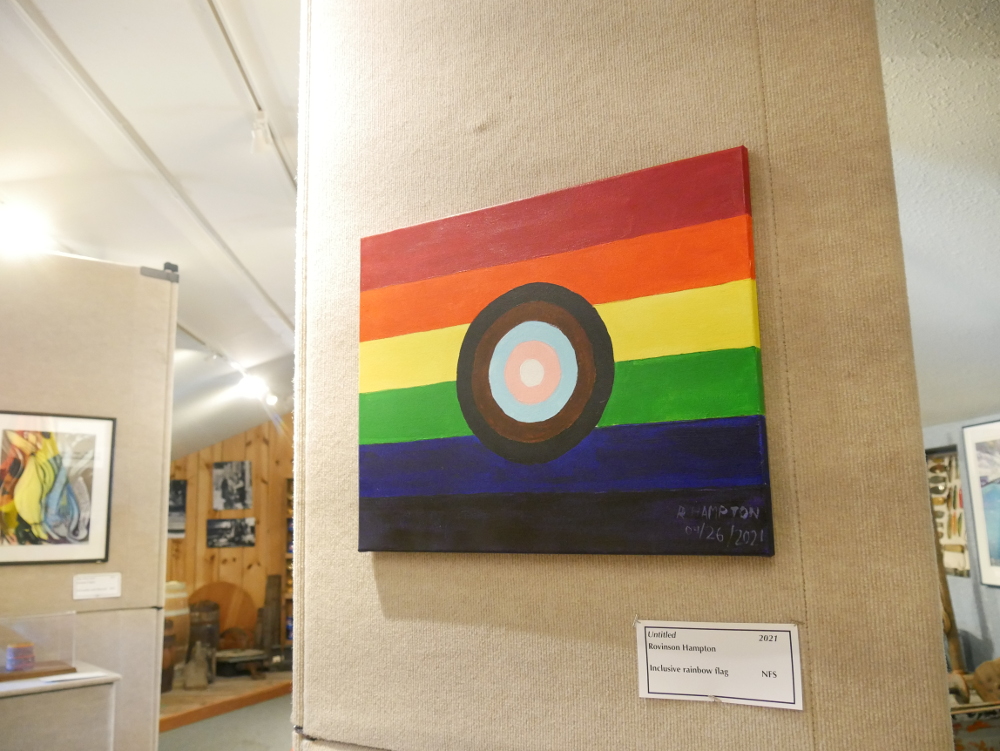 June is Pride month, a time when the lesbian, gay, bisexual, and transgender community honors its history and identity. It's held every June to commemorate the 1969 Stonewall riots, which marked a turning point in the gay liberation movement.
Petersburg is celebrating with an art exhibit this week at the Clausen Museum. The exhibit, titled "You Are Beautiful Like A Rainbow," includes paintings, sculptures and digital art.
Annette Bennett created two pieces of art for this year's exhibit. One is a painting of a rain cloud, with pink, purple and blue rain drops. It's a new take on the bisexual pride flag.
"Some people might think rain is sad, but I actually really love the rain, and so to me it's a happy rain storm," they said. "But it also is kind of about how being bi, you can sometimes feel like you're not seen in a lot of ways."
That desire for more visibility pushed Bennett to organize a pride art exhibit for the first time in 2019. The show was put on hold last year because of the pandemic.
But this year, the Clausen Museum and WAVE brought it back, putting up rainbow flyers around town to raise awareness and call for art submissions.
Bennett hopes the show reminds LGBT people, especially young people, that Petersburg supports them.
"I know that, whether people realize it or not, the impact is there," they said. "Even seeing the poster up around town makes a difference. I mean, it really can be life-saving, just to know that someone out there is behind you and supports you through whatever you're going through. It's a big deal."
Cindi Lagoudakis helped curate the exhibit. She said the art reflects a range of experiences in the community.
"There are some beautiful pieces there, and some really heartfelt emotion. And a couple things that really make you stop and think, 'Life has been tough for some people, and it shouldn't have to be.' We should love one another and respect one another."
One of those pieces is right at the start of the exhibit. It's a burnt orange brick with a note tied to it that reads, "The first pride was a riot."
Pride month is in June in honor of the Stonewall riots, a series of clashes between gay and trans people and the police in New York City in June 1969. Lagoudakis put the brick at the front of the exhibit to remind viewers of that history.
"This is why we're doing the show," she said. "To say that the first pride event was a riot really makes you stop and think."
There are about a dozen works in the exhibit this year. Lagoudakis hopes they remind LGBT people that they're welcome.
"I think it's really important to celebrate all parts of our community," she said. "There are lots of folks who feel like they haven't been included in the general community conversation. And we're all a part of a bigger whole. We all make Petersburg what it is."
The "You Are Beautiful Like A Rainbow" exhibit will be on display at the Clausen Memorial Museum through Saturday, June 12. The museum is open Monday through Saturday from 10 a.m. to 5 p.m.