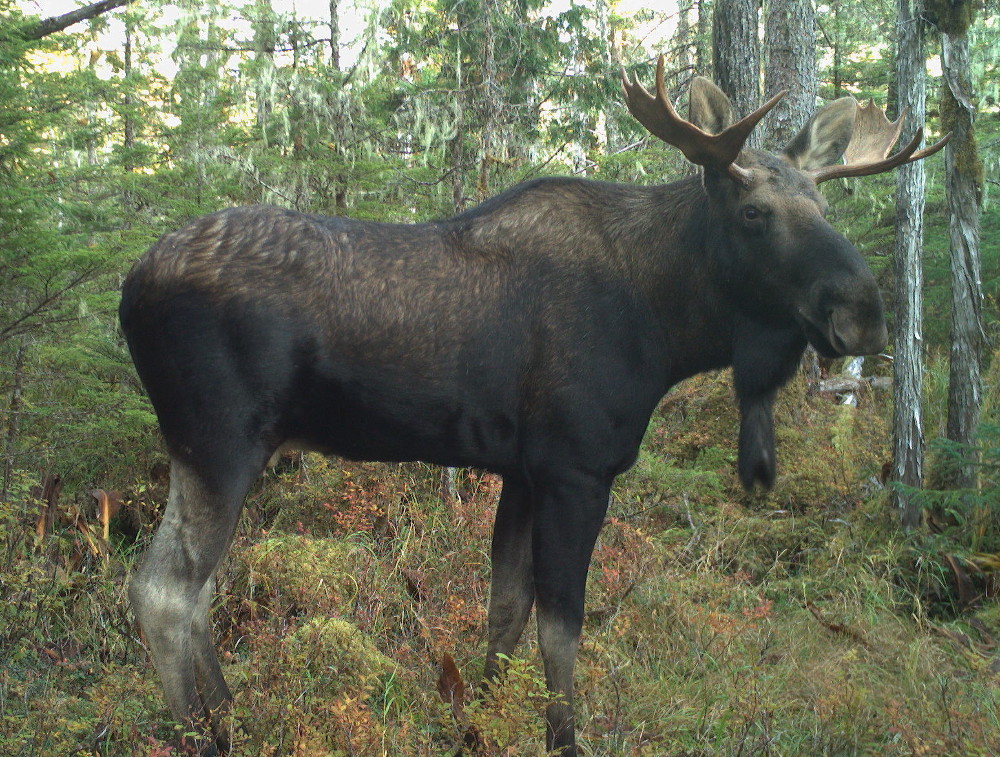 The regional council that recommends changes to subsistence hunting and fishing regulations in Southeast Alaska is backing a new draw permit hunt for moose on two islands in the region. The change could provide permits to rural residents of the region for harvest of bull moose without antler restrictions. But it's opposed by federal and state wildlife managers for potential impact on the moose population.
The Southeast Alaska Regional Advisory Council proposed the new draw permit hunt and it would be for all federally qualified rural residents of the region. It could mean an annual lottery style draw permit hunt that could award up to 20 permits. Those would allow harvest of a bull moose regardless of antler size on Kupreanof and Kuiu islands. That's where the bulk of hunter success has been in recent years under a state hunt that has some antler restrictions.
Council president Don Hernandez of Point Baker thought the state's antler management has been successful and he supported the new draw permit hunt.
"I think it's probably built up the moose population to the point where some additional harvest can be sustained," Hernandez said.
Council member Mike Douville of Craig agreed it was a good idea.
"I think that it would offer a rural priority in a small fashion and that's our job," Douville said.
Supporters of the proposal say it's becoming more difficult for rural residents to shoot a moose. But wildlife managers say that's not the case, hunter success is growing. The proposal is opposed by both federal and state wildlife managers.
U.S. Forest Service biologist Rob Cross said around three quarters of the moose taken in the state hunt each year on the islands of Unit 3 are by the residents of Kake, Wrangell and Petersburg who are also qualified to hunt under federal subsistence regulations. Hunters in these three communities sign up for the majority of the permits for that hunt.
"Allowing for the harvest of 20 additional bulls from the road system near these communities may limit future harvest opportunities for local residents," Cross told the council.
Tom Schumacher, the state's regional supervisor for the Division of Wildlife Conservation also had concerns about potential impacts on moose numbers on the unit 3 islands. Schumacher said the antler restrictions in the month-long season in central Southeast are by far the most liberal in the state for antlered moose. Those are designed to protect female moose and a portion of the breeding males. The state season has no limit on the number of hunters or quota for animals taken. It set a new record harvest in 2019. Typically around 10 percent of the bulls shot don't meet antler requirements.
Council member Cathy Needham of Juneau thought the proposal would create more competition among subsistence hunters.
"I know what we're trying to get at is potentially doing something to support local residents on Kupreanof but I don't think that this proposal actually does exactly what that intention is and I do think that it would create an unnecessary competition with other federally qualified users," Needham said.
Others on the council did not think the new hunt would impact moose numbers or create a conservation concern. Moose are thought to have spread onto the unit three island from the mainland near the Stikine River in the 1940s and 50s. It's difficult for managers to have any idea of population numbers in the dense Tongass National Forest but the increasing harvest over time may signal a growing population. Annual hunter harvest has averaged 67 moose from the unit 3 islands in the past decade but those numbers have been rising.
The draw permit hunt would be open to all rural residents of Southeast and there would not be a priority for any nearby communities. Because of that, the change was also opposed by Joel Jackson, president of the Organized Village of Kake.
Jackson preferred some early season opening only for nearby residents or some other way to give priority to Kake hunters. The federal board approved an emergency moose and deer season for Kake in 2020 to meet food needs. Hunters in Kake successfully took two bull moose under that season. Jackson explained that approach.
"Because it's very important that we as tribes that we provide for tribal citizens and make sure they have what they need to stay healthy and to be able to survive this pandemic," Jackson said.
He said more hunters from Petersburg and Ketchikan are seeking moose in the area and increasing pressure on the resource. That pressure could increase even more with a 40 million dollar state road project nearing completion and opening up more of northern Kupreanof this year.
The vote was 7-4 to recommend the change. It goes next to the Federal Subsistence Board for consideration at a meeting next April.