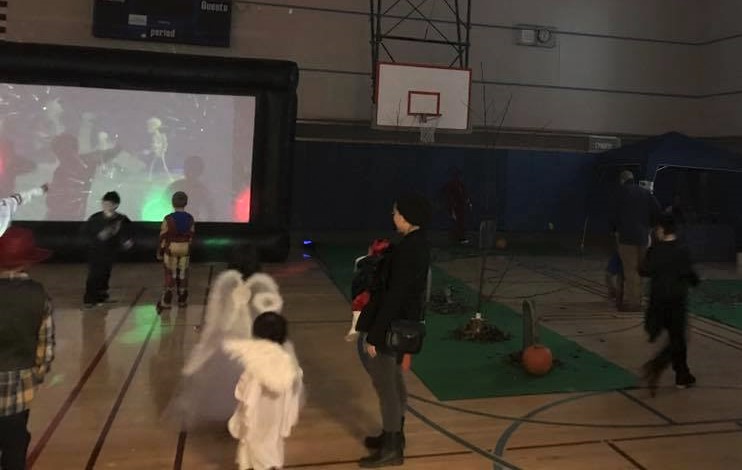 Several Halloween activities are scheduled in Petersburg this weekend for kids and adults. As KFSK's Angela Denning reports, the borough has specific recommendations for events both indoors and outdoors:
On Saturday, businesses in downtown Petersburg will be handing out treats to kids as part of a Chamber of Commerce sponsored event. There is a trick or treating schedule to follow for that.
From 4 to 6 p.m. on Saturday, the Parks and Rec Department is sponsoring their annual Halloween Hustle. Because of recent COVID cases, it was decided Friday to move the event to the covered area between the Community Building and the elementary school.
Staff member Julie Anderson says the games will be similar to past years.
"We have seven games that'll be set up. So, the kids can come in, play the games. There's little prizes," Anderson said. "And they'll be various things, you know, we have witches hat toss and we have pumpkin bowling, some other fun stuff. And we're encouraging costumes–it is Halloween. So, everyone needs to bring their best costume. I know it's hard to do it two nights in a row but it's nice. We'll have a little parade in the middle so everyone can show off their costumes."
Parks and Rec Director Stephanie Payne says they plan to have a live feed of the parade on their Facebook page for people who are unable to attend in person.
"Do a little shot of everything going on and all the kids there playing games," said Payne. "So, they can tune in if they want to see it too, to our Facebook page. And we'll do that intermittently throughout the night."
Even though it has moved outdoors there will still be to-go snack bags with hotdogs for the kids.
Several middle and high school volunteers are helping to run the Halloween hustle event.
Masking is strongly recommended.
For adults this weekend, on Saturday, there is a Viking Swim Club auction and dinner upstairs at the Elks Lodge. There is also an outdoor concert at Inga's Galley downtown. And Kito's Kave is having a costume contest later that night. Tickets are required for both the swim auction and the show at Inga's.
The Centers for Disease Control has put out health guidelines for Halloween. Petersburg's Emergency Manager, Sandy Dixson, says the borough is recommending the same things for local events.
"Just asking people to be safe," said Dixson. "So, obviously, if it's an indoor activity, have as much ventilation as you can, try to do small groups, sanitize, mask wearing, of course."
For trick or treating specifically, they recommend no-contact candy distribution like sending pieces down a chute or having the candy separated on a nearby table.
"The people distributing candy should wear masks and wash their hands before doing it as well," Dixson said. "So, even if you don't have a station set up, [have] one person putting candy in each container as opposed to the kids reaching in."
Besides preventing the spread of the virus, Dixon encourages drivers to be aware of all the kids running around town Sunday night. Some will be dressed in black and not paying attention.
"Watch out for the little kids," she said. "You know, they don't always look across the street. They're super excited. They might run out, they might be wearing dark clothing with their costumes. So just be aware, drive slower, have your eyes open, lights on."
Dixson says the Fire Department will be out and about Sunday night as well.
"Passing out some glow sticks and some candies to the kids and encouraging them to be safe," she said.
The official trick or treat time in Petersburg is 6 – 8 p.m.
————————————
Editor's Note: This story has been updated to include that the Parks and Rec Halloween Hustle event has been moved to the covered area, due to recent COVID cases. The story has also been corrected to indicate the outdoor concert at Inga's is Saturday, Oct. 30.