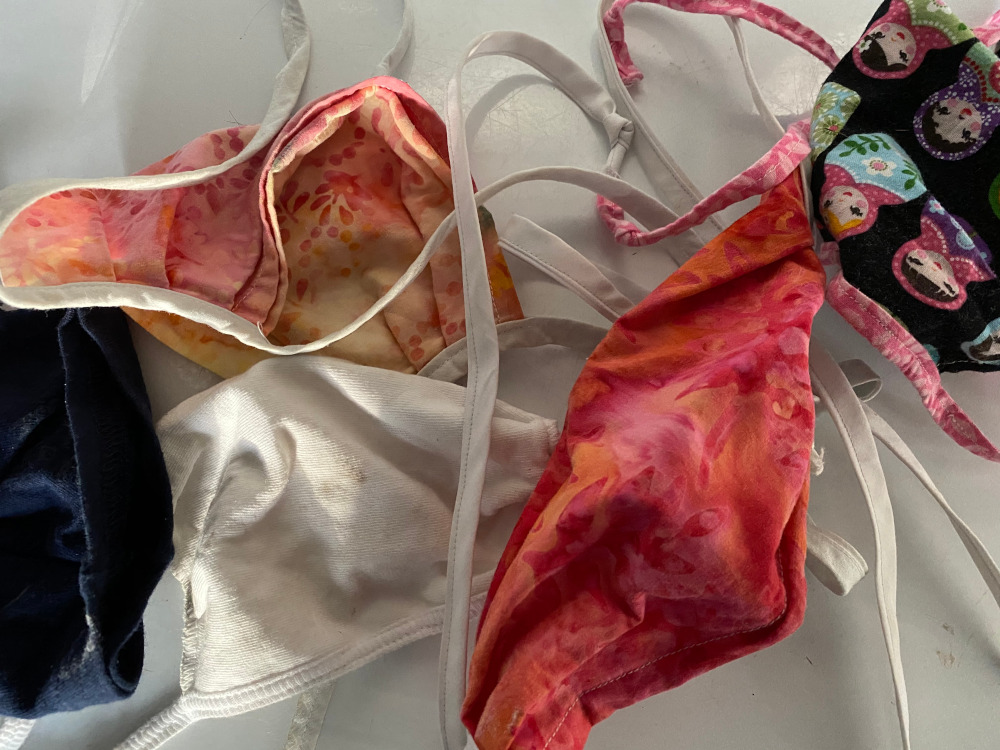 The borough assembly approved a masking mandate at a special meeting on Friday. At the time, there were 63 active cases in the community. The emergency ordinance requires face coverings in all indoor public settings. It is effective until December 7th unless the assembly repeals it. The group will reconsider it again at their November 15th meeting. There are exceptions for children under the age of three and people with medical conditions.
KFKS's Angela Denning reports:
Vice Mayor, Jeigh Stanton Gregor called the special meeting in order to address the current COVID outbreak.
"Out of the gates I'm going to vote for this, it's a no brainer," he said. "I think it's important. We have to do it."
Several doctors and medical staff spoke in support of the masking mandate as did the local school district.
Nurse Manager Jennifer Bryner says where masking has been in place as a mitigation measure, they have not seen COVID spread:
"I think we're clearly seeing when people gather without mitigations like masking the spread is rapid and we're in the middle of a wildfire it seems," Bryner said.
The school district has required masking for most of the school year. Superintendent, Erica Kludt-Painter says contact tracing and testing show that spread among students and staff is happening outside of the schools. She says the schools did 145 antigen tests over the past day and all were negative. But she says behaviors in the community are affecting the schools.
"People intentionally ignoring quarantine and isolation rules," Kludt-Painter said. "Going to work and school with symptoms, gathering in large groups with few if any mitigation measures is pulling our schools under."
Kludt-Painter implored the assembly for help because the school were on the verge of closing to in-person learning.
"We are literally killing ourselves trying to implement mitigation measures to keep our kids safe and in school, maintain extracurricular activities, and provide a consistent education for all," she said. "It is frustrating that our schools may be closing their doors while bars, churches, and large social group gatherings continue unchecked."
The district canceled a volleyball tournament because visiting teams wouldn't come during the outbreak. She says that's not only bad for students but it also hurts businesses who missed out on nearly 100 visitors eating and shopping locally.
Dr. Jennifer Hyer says the outbreak is not just about a high case count. There are people behind the numbers.
"It's not just cases, it's sickness," said Hyer. "This is much more aggressive. We're seeing younger people get sicker, people in their 30s and 40s getting much sicker then we did when our last wave hit a year ago about. It's very quickly overwhelming the resources that we have here."
About 75 percent of Petersburg's cases are in unvaccinated people. During a monthly radio show Thursday, PMC CEO Phil Hofstetter said out of 98 cases the medical center recorded in the past two months 75 of them were unvaccinated. That's about 77 percent. He says that's just PMC's numbers, that doesn't include the cases the school district is tracking.
"I assume if you add that in there and those that are not vaccinated or eligible for vaccination that gets up probably closer to 80 percent," said Hofstetter.
He says the state is seeing about 72 percent of all cases in people who are unvaccinated.
Obviously, as the severity increases, you're seeing the percentages of unvaccinated go way up as well," he said.
At the special meeting, the borough assembly heard from two people against the ordinance because they don't believe masks work. Britni Caulum also said it was government overreach.
"It's not up to the borough to tell us what we can or should or should not be putting on our faces or what health decisions we should be making," Caulum said.
But the large majority of testimony was in support of masking.
Carol Kandoll told the assembly she recently received the monoclonal antibody treatment and is recovering from COVID. She says masking helped her case from spreading when she got a haircut a few hours before her symptoms began.
"We were both wearing masks," Kandoll said. "And I was concerned when I found out I had COVID and I contacted her and she just told me yesterday that she's had two negative tests. So, I was just really tickled that I was in such close contact from someone at a point where I'm sure I was very contagious and she didn't get it because we were masking."
Kandoll thinks she got COVID when she didn't mask in some situations. She says she was vaccinated but hadn't had her booster shot yet. The assembly's vote supporting the masking mandate was unanimous, 6-0. Mayor Mark Jensen was the only one not present at the meeting.
You can listen to the hour-long special meeting here.