Most free parking at the Petersburg airport will become paid parking starting December 1st. The state land is being leased to a private company that will require permits for leaving vehicles there, both short and long-term. KFSK's Angela Denning reports:
Most of the parking lot at the Petersburg airport is owned by the state and it's been free for years. But that's changing after private company DMC Enterprises LLC purchased the old Pacific Wing building. That building is a large blue hangar south of Alaska Airlines.
DMC Enterprises is owned by the Derek and Michelle Lopez family. Derek has experience at the airport, working for the Transportation Safety Administration for almost 20 years. The TSA offices lease space in the hangar along with Alaska Seaplanes, FAA, and others.
The company purchased the hangar in March. Michelle Lopez says shortly after, they learned they would be losing parking for their tenants.
"We found out that federal regulations had changed that make it so that vehicles cannot park within six feet of the fence," said Lopez.
The Lopezes were told that the State's Department of Transportation, which oversees the Petersburg Airport, was going to comply with the federal security law. Within a few months, DOT installed large cement traffic barriers along the fence in front of the Lopezes building, which limited parking.
"We can really only provide one spot within our lot and still be able to plow and let people be able to get through because there is a lift gate down at that end," Lopez said.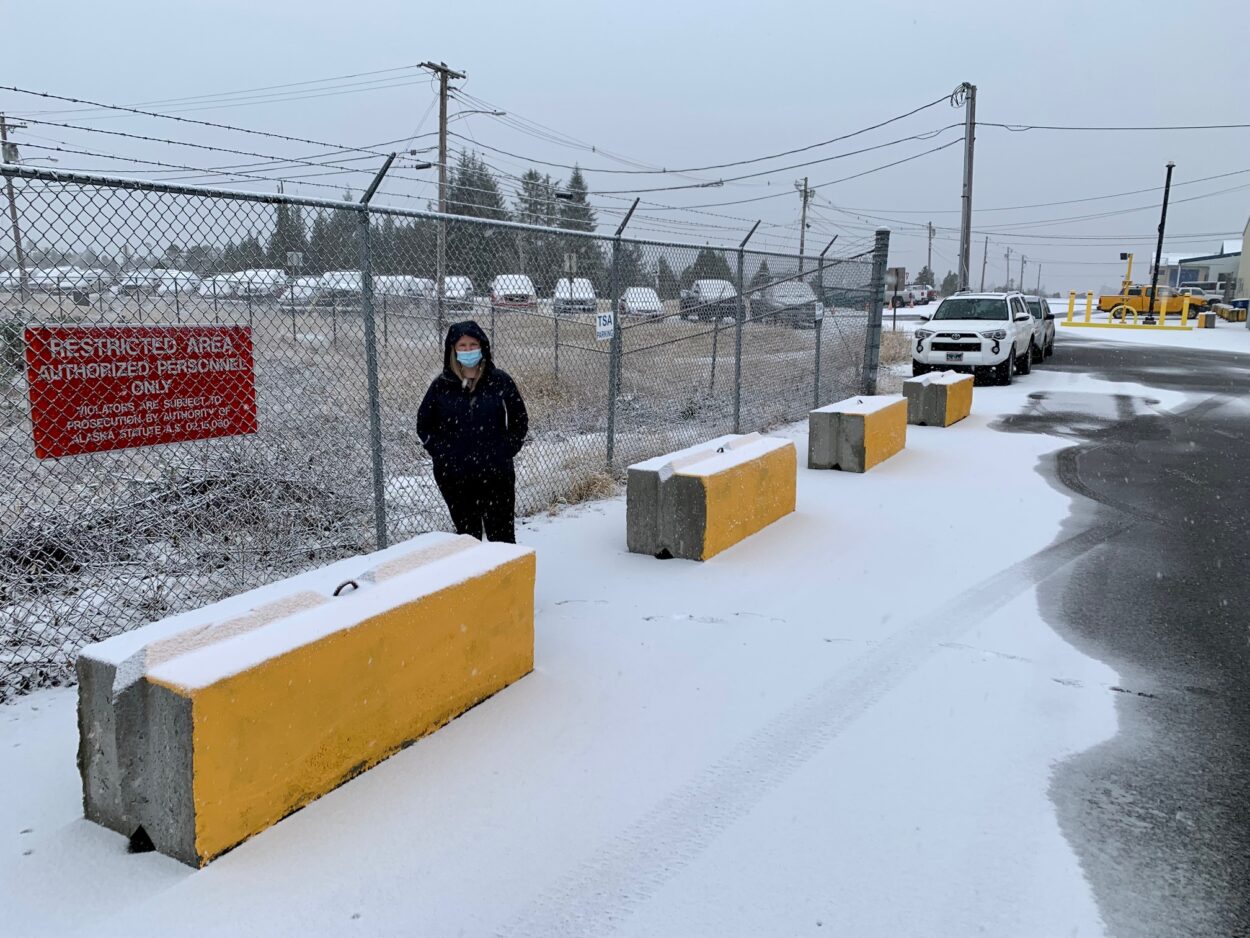 Recognizing they needed to secure parking for their tenants, the Lopezes approached the State and offered to lease its parking lot. And they asked to lease all of it. According to a lease proposal online, the Lopezes pay $2,226.28 a year to the state for leasing about 13,000 square feet.
"We really appreciate it when a company steps forward and wants to manage the parking," said DOT spokesperson, Sam Dapcevich.
He says the State would like to see more of these parking leases in the Southeast region.
"Rural airports have a notorious time with people junking their vehicles in public parking lots and we really don't have the resources to provide enforcement for that," he said.
The lot includes the angled parking parallel to the bike path as well as parking across from the Alaska Airlines terminal from the yield sign to the fire hydrant. That includes the snow dump area, which the Lopezes will be responsible for. It doesn't include the parking spots right in front of the Alaska Airlines building.
The company plans to cordon off an area for very long-term parking for their tenants and annual permits. For others, they'll offer a variety of permits from monthly to hourly.
The first hour of parking is free, so just dropping off and picking up people won't cost. From two to six hours of parking it's one dollar an hour. From one to six days is $7 dollars a day. And it's $35 dollars per week.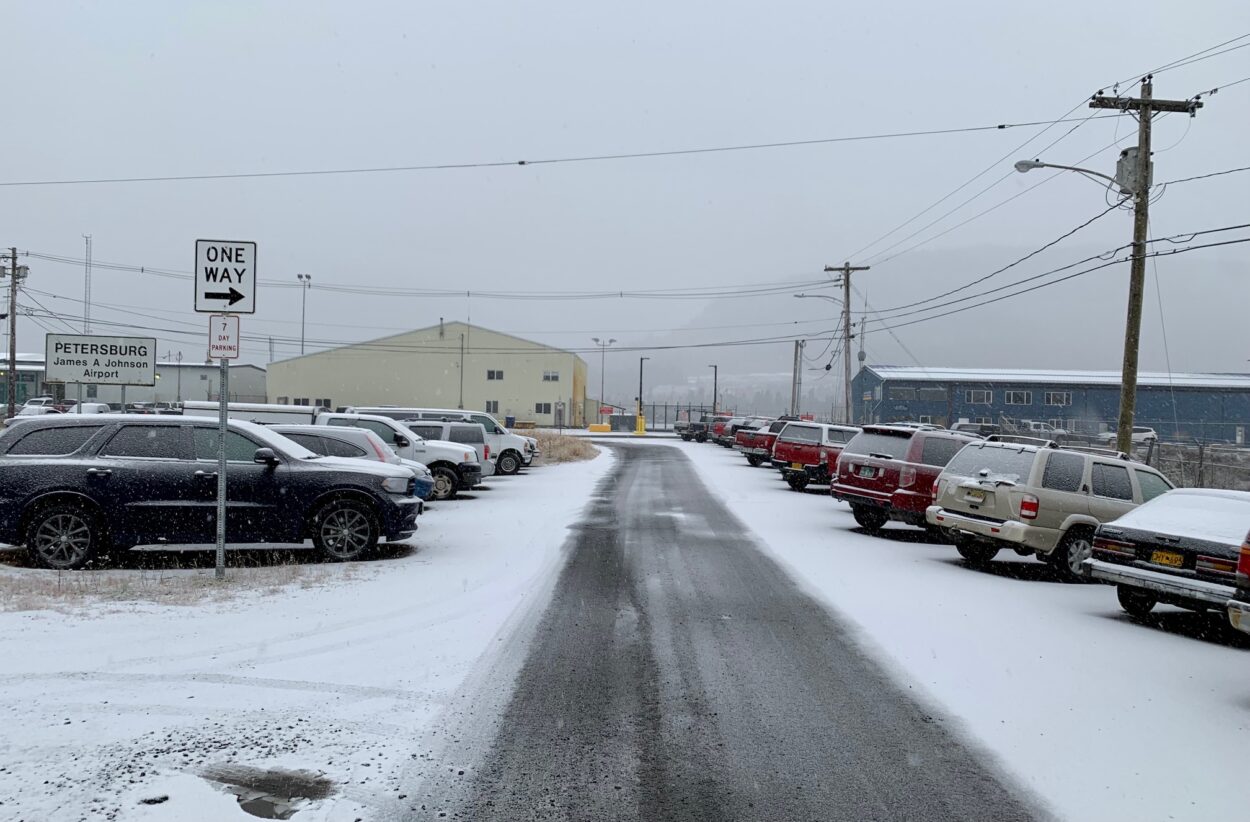 Lopez says starting December 1st, problem vehicles will be towed. Otherwise they plan to fine people who don't get permits.
"We'll just do ticketing, kind of following along with [what] the harbor does," said Lopez. "Ticketing for up to seven days and then if somebody hasn't registered, put a boot on their vehicle and then there is a boot removal fee."
Lopez says the parking lot will be monitored with security cameras.
She says permitting could help improve overall parking at the airport, which has been a long-time problem.
"The state has recognized it, the borough has recognized it, and they just didn't have the resources to do any sort of enforcement, which has led to derelict cars being left here for months and years on end at certain points in time," Lopez said.
For short-term parking, people need to register online at P-123.com. Then find an open parking spot at the airport, and either scan the QR code on the sign or go to the website to pay. For long-term parking, email at: psgairportparking@gmail.com.
The company also maintains a Facebook page, "Petersburg Airport Parking".