Petersburg middle and high school bands will be performing in winter concerts Dec. 14, 15 at the Wright Auditorium. The high school band will take the stage Tuesday at 7 p.m. and the middle school on Wednesday at 7 p.m. Last year, the students couldn't perform in front of a crowd because of the COVID pandemic. They are able to this year with mitigation measures in place and they will be led by new music director Charlie O'Brien. He's been teaching in Petersburg for about a month. KFSK's Angela Denning stopped by the band room to find out more:
The winter concert will be the first live performance for the band students in over a year because most school gatherings last year were virtual.
Charlie O'Brien has been in Petersburg for just about a month. Long-time music director Matt Lenhard resigned this summer to take a last minute job opening in Ketchikan. The school district contracted with a retired director to get the school year going and then several teachers filled in until O'Brien could make it to town. He says the first few weeks of teaching have been going extremely well.
"Every single day I feel a better connection with the students, a better connection with the school and the community that has aided me in just being as effective as possible in my teaching," O'Brien said.
O'Brien has taught band for nine years. Eight of those were in Wisconsin in a town of 9,000 where the high school band program had about 130 students. Most recently, he was in the Chicago area teaching at a high school with over 4,000 students. He says there are some differences teaching in Petersburg but mostly it's the same thing.
"I think location isn't as important as maybe people think because music is so universal," O'Brien said. "It looks the same and often times sounds very similar wherever you are. And that's pretty cool because it's its own language."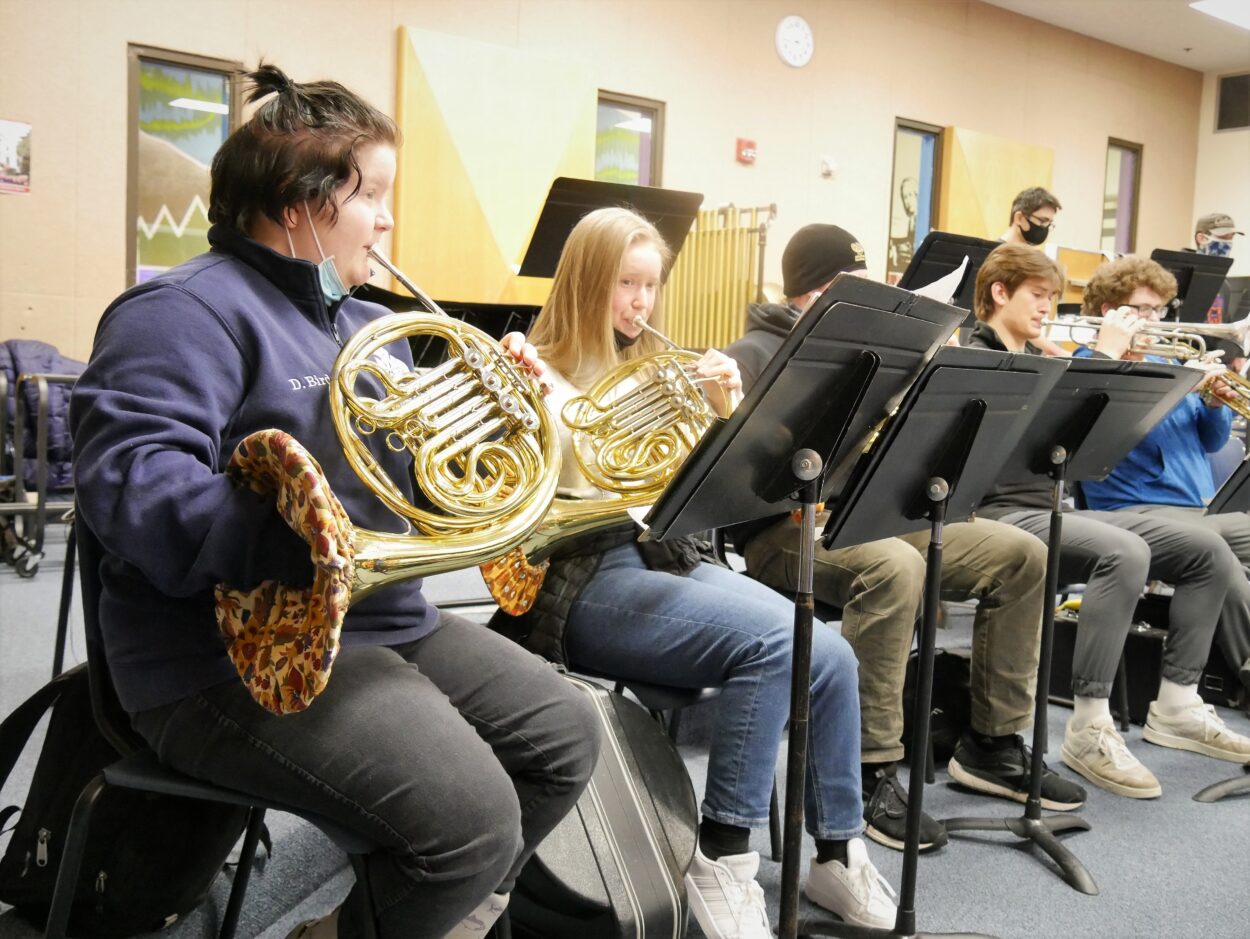 O'Brien is passionate about music. In the classroom, he will often lead students into a song by playing along too. He knows several brass instruments. At home, he plays music every day.
"I have to play my instrument every day. I have it out; it just looks at me and says, 'Hey, let's make some music together,'" O'Brien said. "It helps me reflect on where I'm at and focus my energy to where I'm at on that given day. It also just helps me focus on my breathing as well because music is all about the breath, it's all about breathing. If I'm about to teach, starting from that place of just being grounded where I'm focusing on my breath and listening to that, it helps me be a better teacher."
Even though he's only been teaching in Petersburg for about a month, he's excited to hold the winter concert. Before arriving to town, he started to meet the students virtually and sent them music to practice.
"The students deserve the opportunity to perform and the community deserves the opportunity to experience once again live music making, especially performed by students because there's something so organic and so raw about that experience and hearing the process," O'Brien said.
He says he is focusing on the middle and high school bands now but he plans to start up high school choir this school year as well.
On Tuesday night, the high school jazz band will perform in addition to the PHS band. The jazz band practices every morning at 7:30 a.m. On Wednesday night, it will be the first performance ever for 6th and 7th graders. The 8th graders will also perform. Due to limited seating, the middle school concert is reserved for families. Others are encouraged to view the show online. On Tuesday and Wednesday nights, there will also be art displayed in the high school commons area made by middle and high school students.
Masking will be required in the auditorium for both winter concerts.
Here is the link to view the high school concert online Tuesday night at 7 p.m.
Here is the link to view the middle school concert online Wednesday night at 7 p.m.