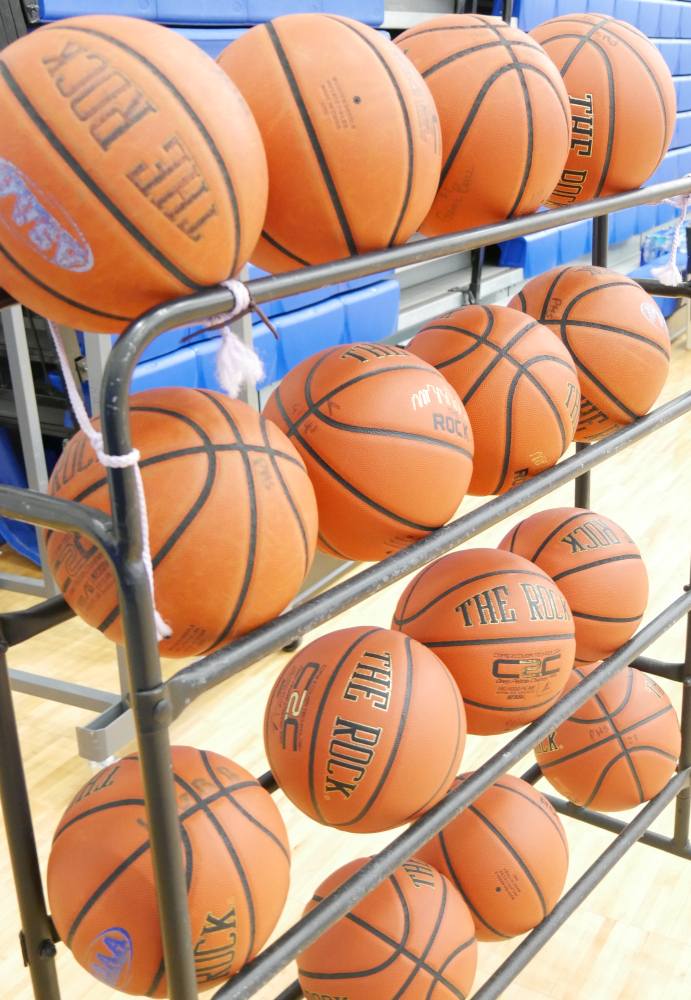 Petersburg High School's basketball teams open up a new season this week at a four-team tournament in Sitka. The Vikings and Lady Vikings have more travel scheduled this winter and hope for seasons that are not as impacted by the pandemic.
It was a COVID shortened and disrupted Southeast 2A basketball season that ended last March. The girls team secured their second regional title in two years, playing with just five and winning their one and only game at the regional tournament. The team has some reinforcements this winter. Girls team head coach Dino Brock said he has three seniors, two sophomores and seven freshmen.
"I think once we get going and figure things out that we'll be able to run, we do have some quickness," Brock said. "We're not the tallest team in our league by any means but I think as long as we're able to rebound we'll be able to run. I think that we'll end up being a pretty good defensive team, actually probably a very good defensive team."
Brock expects Southeast 2A teams will be pretty closely matched this year. His team will need the depth this year as the schedule has more road games and he expects some of his players will miss games for vacation travel. They've been practicing since the beginning of the month.
"Yeah I'm pretty excited. We have 12 young ladies on the team this year and we've working real hard so it'll be nice to get some games going," he said. "Hopefully we'll have a lot more than the five we had last year. We've got a full schedule so hopefully it'll all work out. We're heading to Sitka this weekend to play against some good teams and it'll be a nice start to the season."
The Sitka tournament, the Coastal Holiday Shootout, is the first of three road tournaments on the schedule for both the girls and boys teams. In Sitka, the Vikings and Lady Vikings will play the Glennallen Panthers, Bristol Bay Angels and the host Sitka Wolves to start off the season. In between Christmas and New Years they'll head to the Clarke Cochrane Christmas Classic in Ketchikan for another three games.
Boys team head coach Rick Brock said the early season schedule will help prepare his team for when the games start to count.
"And all six of those games are just games to get us ready for the season," Brock said. "So we don't start conference play until after Christmas when we travel up to Haines. And then hopefully we'll go up to another tournament up in Anchorage, Su Valley, to play some more non-conference games. Our schedule looks pretty good for getting experience on the floor before we really start into our conference games."
As for the rest of the schedule, there's only one conference series against each of the Southeast schools that counts toward regional seeding. That's a change for budget reasons. But Petersburg does have home and away series scheduled against both Wrangell and Craig.
The Vikings last March lost in the in the regional finals in overtime. Neither the boys or girls teams traveled to the state championships. Brock said his team is relatively inexperienced.
"We're pretty young, especially when you factor in the fact that last year we got six games total for the season but I like what we have," he said. "Guys are working extremely hard. They're happy to be in the gym. It's a good group that get along well with each other. We're going to be pretty athletic, pretty long. But especially with the lack of games last year it's going to take us a while to figure out how to play at the varsity level."
The first chance to see the Vikings and Lady Vikings this winter on their home court will be the middle of January. The regional tournament is in Ketchikan in early March.
The Lady Vikings and Vikings open up the Sitka tournament against Glennallen on Thursday, with the girls game at 3 p.m. and boys at 4:30. On Friday the Petersburg boys play Bristol Bay at 3 p.m. and the girls play Bristol Bay at 4:30. Then on Saturday, Petersburg finishes up against Sitka, with the girls team at 5:30 and the boys at 7 p.m. KFSK is not broadcasting the games on the radio but fans can watch through a paid online subscription.