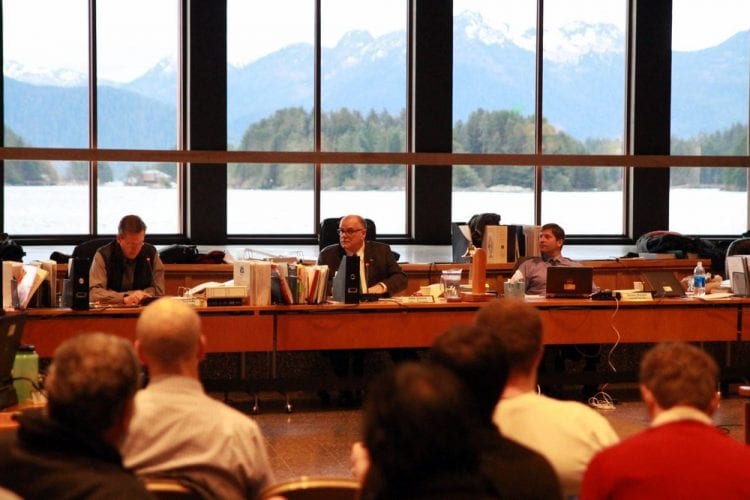 The citizen board that decides on seasons, gear and area for fishing in Alaska opens up the new year in Ketchikan, meeting for nearly two weeks on Southeast Alaska's salmon, herring, shellfish and groundfish.
The Board of Fisheries' Southeast meeting has been delayed a year because of the COVID-19 pandemic and the board has been meeting online for the past year. That was until an early December in-person meeting in Cordova on fisheries for Prince William Sound along with the Copper and Susitna rivers.
The board's executive director Glenn Haight said the Cordova meeting went as well as he could've hoped.
"I was on pins and needles in the Cordova meeting just because of all the new things that staff was working on and doing," Haight said in a recent interview. "They were running a Zoom meeting simultaneously with the board meeting and running it out through YouTube, which is how people can watch the meeting. But we were also doing a lot of side rooms that involved staff meeting with stakeholders or staff meeting with board members and things like that. So there's just a lot going on and what I would just ask is everyone's patience as we sort of sort out some of the tech and if we have bandwidth problems, we might have to slow down and readjust. We're doing a lot of things we haven't done before."
The January meeting in Ketchikan will look somewhat similar. One difference is masks are encouraged, but not required, at Ketchikan's Ted Ferry Civic Center, unlike the Cordova meeting. Anyone attending in-person is required to register. That's also required for anyone planning to testify and people testifying will be assigned a time. Haight said that's an attempt to cut down on the number of people gathering together indoors.
"Public testimony tends to be the busiest time of the meeting, like right away, where everyone comes and they turn in their public testimony cards and wait to go and without that certainty of when you're going to go you show up at once," Haight said. "So we've got some preregistration that if someone wants to do public testimony they can kind of pick a slot. So hopefully we can meter that traffic up front. So we were able to do that in Cordova. I think it went pretty well."
There's some videoconference participation by staff but not by the public. Testimony is required in person for the public. The deadline's already passed for email comment on the proposals. During the meeting people can tune into a live video stream.
Ketchikan, like most of the state, finishes up 2021 on high alert status because of COVID case numbers.
The seven-person board will be considering 153 proposed changes to commercial, sport and subsistence fishing regulations. That will be broken up into two sessions. The board will address salmon and herring proposals at the first, starting January 4th. That includes proposals to change king salmon management and the Sitka Sound sac roe herring fishery.
A second session to address shellfish and groundfish could start around January 12. Haight said that's subject to change as the board plans to start that second session as soon as the first is done.
Sign up for public testimony on the board's website. The registration deadline to testify for the salmon and herring session is 2 p.m. on January 4th. There will be a separate time for testifying for the second session. Between the two sessions, the meeting is scheduled to run January 4th through the 15th.