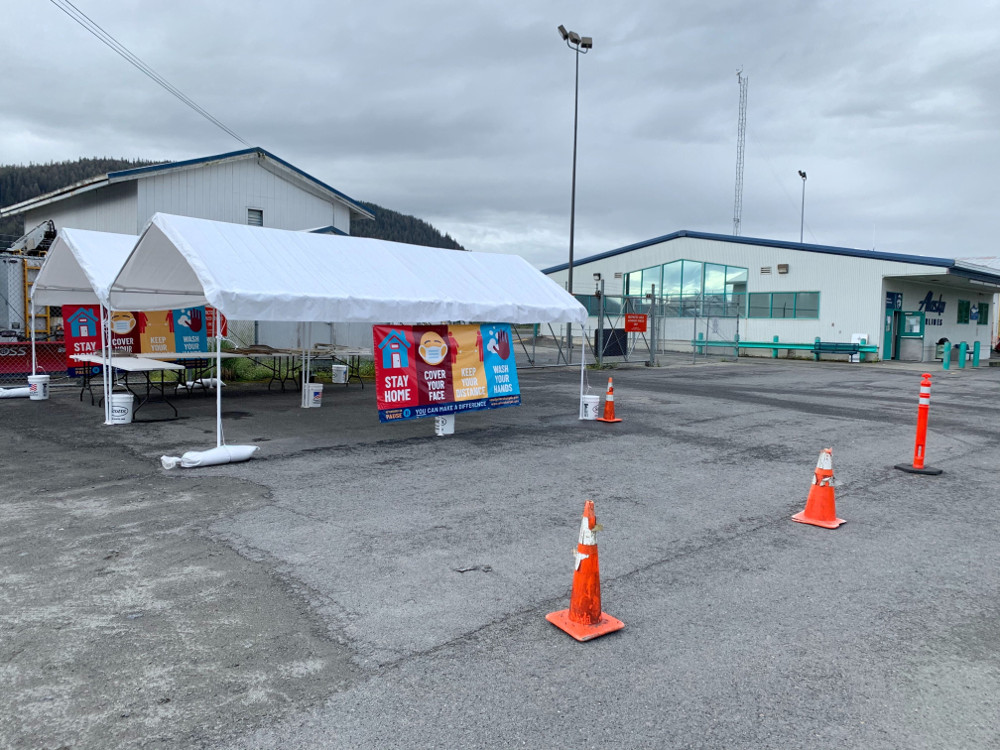 State funding has ended for Petersburg's travel testing for COVID-19. But that doesn't mean free testing will end. As Angela Denning reports, the Petersburg Medical Center will continue to offer free in-house PCR testing as well as handing out free at-home antigen test kits.
Petersburg has had free travel testing or what's been called "airport testing" for a year and a half. First, it was in a large tent in the airport parking lot. Last summer, it moved to the Petersburg Medical Center.
Even though the state funding for the service ended January 31, PMC will continue in-house travel testing for the time being.
"As a small community hospital, we're working creatively to find ways to offer that at no cost to the community for as long as we can," said Jill Dormer, PMC's Chief Information Officer.
What is changing is the availability of the home antigen tests. They are free throughout town including through PMC's travel testing near the emergency room.
"The home kits have been—obviously—wildly popular," said CEO Phil Hofstetter. "It gives the opportunity for people to test for COVID in their homes."
Health officials say the at-home antigen tests are really effective at detecting COVID.
"They're accurate for people who truly have COVID," Testoni said. "People who are smack dab in the middle of their infectious period."
Kirsten Testoni is the Manager of PMC's Home Health Department and also a nurse. She herself tested positive with the omicron variant when she was traveling down south.
"It hits hard and it hits fast and I think that's my experience both professionally and personally," she said.
Testoni says for most people who are vaccinated and boosted, symptoms are short lived or sometimes there are none at all.
In her case, she tested negative with her first few home tests before she was positive. And that's the key, says Liz Bacom, PMC's Infection Prevention Manager. If you have symptoms, continue to test every one to two days.
"The first negative test may give you 60 percent reliability, the second negative two days later about an 80 percent and a third negative rapid antigen test on day six or so would give you about a 90 percent confidence," Bacom said.
Bacom says testing positive on a home antigen test doesn't necessarily need to be confirmed by a PCR test at the hospital. However, people should still notify their health care provider of the positive result in case there are any complications that come up, which can happen weeks later.
Bacom says omicron is affecting younger people more than other variants. She says of the 100 COVID cases in Petersburg in the month of January, the average age was 30.
"It's running the gamut from under a year of age and older so it's not just an illness of the elders," Bacom said. "So, it's not just an illness of the elders and omicron is very infectious, it can be transmitted very easily and quickly goes through households."
Continuing free travel testing and giving away home antigen kits is financially manageable for the time being, says CEO Hofstetter. Currently, PMC is able to process the PCR tests in-house.
But that's if numbers remain manageable. He says that could change if there was a surge in cases.
"All bets are off if there is a huge surge. We might have to transfer some of our processes," he said. "So, maybe the state lab is processing that, which the turn-around time for that is a little bit longer. And then we might have to hand out home kits as well. So, those would be the two processes."
The Petersburg School District no longer requires travel testing, according to a new COVID procedures plan that was adopted in January. That's for general travel. Students involved in traveling sports and activities are still required to test at the school biweekly.
The school district is also handing out free take home test kits to students when needed.