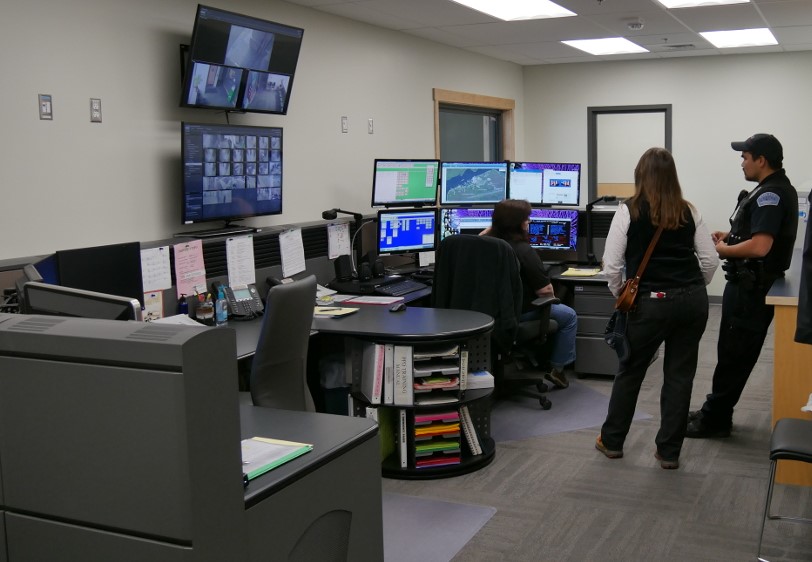 An internal report by the Petersburg borough suggests incentive pay and salary increases to help fill vacant jobs and retain employees in the police department. Members of the department say they're in crisis mode for a lack of dispatchers and the problem has gotten worse this winter.
Petersburg's police chief, officers and dispatchers testified to the borough assembly in February about long hours, understaffing and a lack of incentive to stay on the job. Chief Jim Kerr told the assembly that police officers were already filling in to answer emergency calls at the dispatch station with just three dispatchers on staff to cover shifts 24/7. Since then one of those dispatchers has resigned leaving just two.
Borough manager Steve Giesbrecht said that means fill in work by other officers as well.
"Right now what we're relying on is Captain (Randy) Holmgrain, chief (Jim) Kerr and actually several of the other officers were going through the process of getting them quote certified that they can fill in if need be," Giesbrecht said. "It's not really the right way to run the department for sure. We're down to two dispatchers so it's kind of what we need to do. We've gotta make sure that we answer the phone when somebody calls and needs help and we're taking the steps we need to do that but it's clearly not ideal."
The report compiled by borough staff this winter suggests some solutions although they're not immediate fixes. Giesbrecht said he's already boosted the starting pay for dispatcher jobs the borough is advertising, now three positions, and maybe more if the assembly agrees to changes. That report proposes filling chief dispatcher and support services supervisor jobs that have been staffed in the past.
"So we're recommending that we bring those two positions back and fill them and it gives dispatchers kind of that path for advancement but it also gives us some flexibility," the manager explained. "I think one of the biggest things that hurts in dispatch right now is folks can't take a day off and that's just not fair."
If the borough filled those two jobs it may eliminate a part time dispatcher position. And those workers could consider a scheduling change to allow for more time off. Another suggestion is removing the responsibility of cleaning jail cells and bathrooms from the dispatcher's job.
The report uses salary comparisons from a consultant who looked at all borough positions against similar jobs in other Alaska communities in 2020. It also includes input from an internal survey of officers and dispatchers the borough conducted this winter.
Giesbrecht said the report highlights two main problems, keeping the existing officers and dispatchers and recruiting new ones.
"On the police side it's a nationwide problem of trying to recruit and retain trained officers, it's just a problem everybody's having right now," Giesbrecht said. "And so it's ratcheted up what people are paying to try to keep officers they have or try to recruit new ones. On the dispatch side its more of an issue here locally we just don't seem to have the workforce that we used to. So getting dispatchers is getting increasing hard and then keeping them as they find other jobs or move on has been a problem for us."
Police force has a chief and seven officers on staff and it's advertising one vacant job.
The department with vacant positions the last few years has been coming in well under budget for regular pay and benefits. However spending has been well over budget on overtime pay for the employees who are working more hours. Employees told management about the burnout factor from working long hours, without time off because of understaffing.
The report proposes incentive payments for new hires. It also suggests longevity payments for officers and dispatchers who've been on the job for three, five, 10, 15 and 20 years as an incentive to keep them on the force. The borough could also boost its contributions to retirement plans and improve health care benefits. An alternative would be reducing the number of job classifications while boosting wages for those jobs. Both scenarios are estimated to boost annual spending in the department by around 200-thousand dollars. If the assembly agrees to make the changes it will be up to them to figure out how to pay for it, whether that means tax or other revenue increases, or cuts to other borough departments, or spending down reserves. Changes to scheduling and job classifications would also require approval by the employees and their union.
The borough assembly in February voted against sending the topic to the borough's public safety advisory board. The assembly is scheduled to review the report and possibly vote on some of the recommendations at its next meeting Monday, March 7, 2022 at noon.