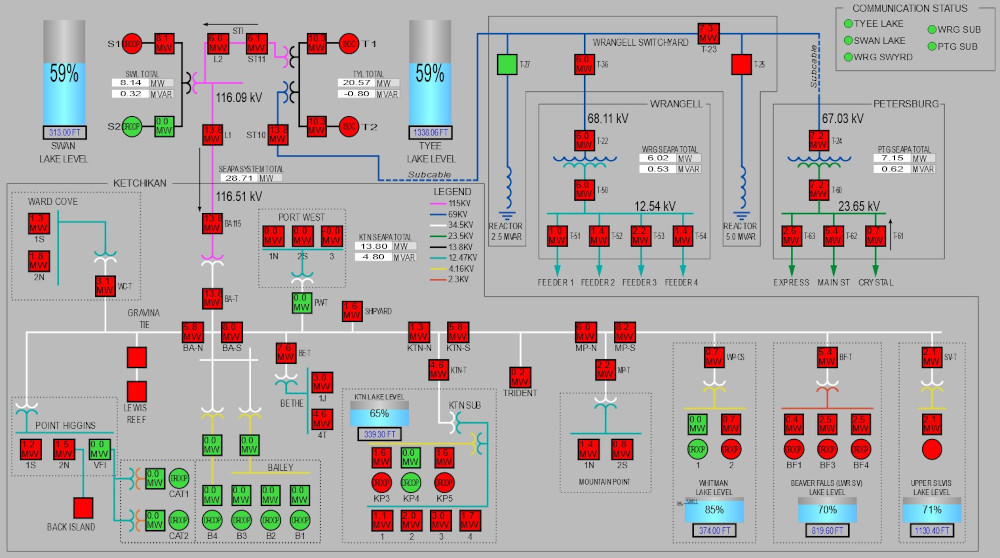 A wholesale power provider in southern Southeast has upgraded its website with information about the flow of electricity over the regional electrical grid.
The Southeast Alaska Power Agency, or SEAPA, is the wholesale provider of hydroelectricity for Ketchikan, Wrangell and Petersburg. It's based in Ketchikan and owns hydro plants near Ketchikan and Wrangell along with power lines connecting the three communities.
Part of the new website shows power production and flow over the system.
Bob Lynn is a member of the Petersburg borough assembly and SEAPA board and he described it during an update to the Petersburg assembly Monday, March 7.
"How much water's in the reservoirs, where power's flowing, whether its flowing north, north-south, it's real time," Lynn said. "It's kind of interesting lay out if you want to go take a look at it."
Lynn also told the assembly that the three communities neared the limits of SEAPA's hydro power generation during an extended cold period in January. That highlights the need for standby diesel generators in the three communities, as back up if the agency's power lines are damaged or hydro plants are offline.
Karl Hagerman is Petersburg's utility director and alternate on the SEAPA board. He told the assembly about the future need for another source of power.
"The SEAPA administration, they did notice that during that cold spell, the system is pretty well taxed," Hagerman said. But in order to bring on that next increment of power, the next SEAPA project, that kind of has to happen. So it makes it very important for the member communities to have adequate standby power in this intermediate time of not quite ready for the next increment of power but you know we're getting close."
The regional power provider has looked at additional hydro generation along with other potential sources of electricity. But it's also faced with the high costs of replacing parts of the electrical grid that have failed, like the submarine cable that was replaced between Petersburg and Wrangell last year. It passed the first wholesale power rate increases in over two decades in December and expects another increase.
Petersburg is adding to its standby diesels and overhauling its local hydro plant. The borough assembly this week gave final approval to issuing 7.8 million dollars in bonds to help pay for that work.
SEAPA is an underwriter of KFSK in Petersburg where this story was produced.