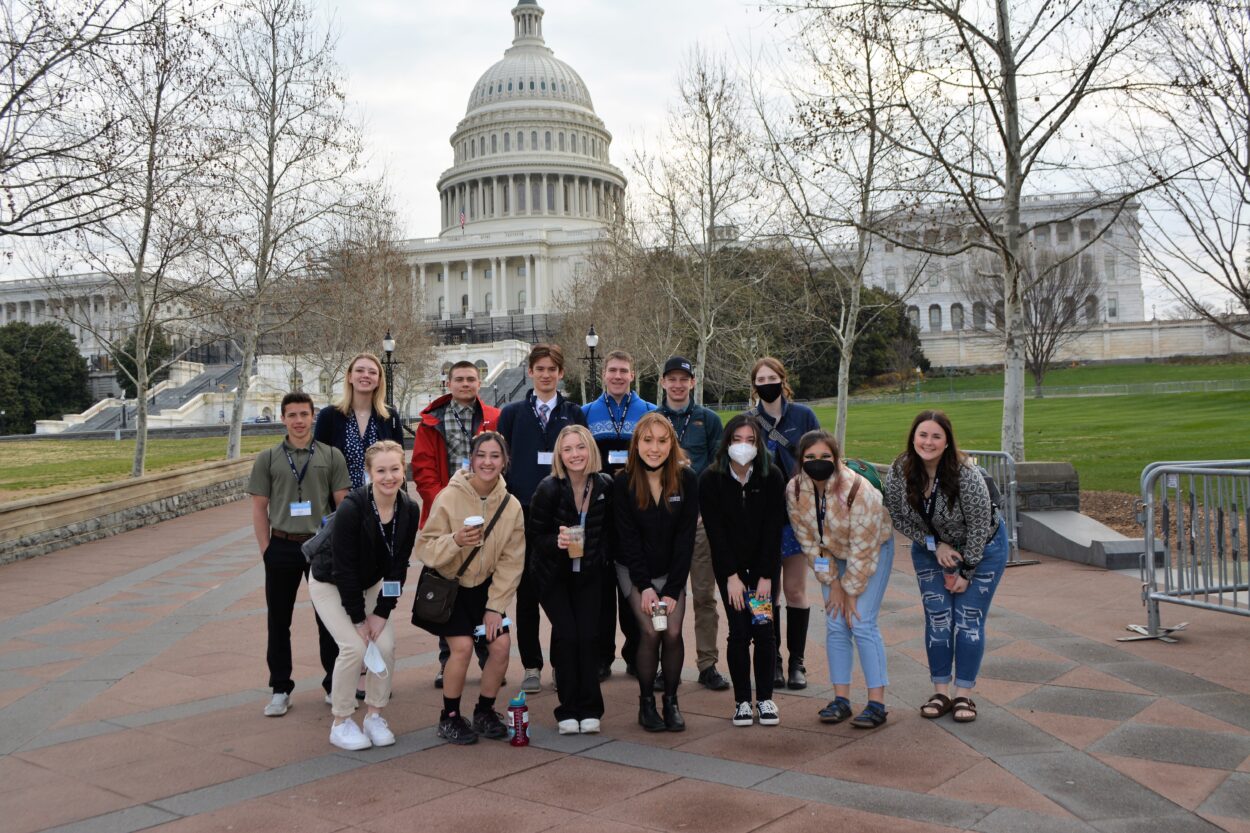 Fourteen Petersburg High School students traveled to Washington D.C. and Philadelphia at the end of March. It was part of the national Close Up program. As Angela Denning reports, they took part in an intimate service for Congressman Don Young and saw politics in action.
The Petersburg students were loosely grouped with other high schoolers from Montana and North Dakota but they didn't stay on the same schedule. Petersburg's group got to visit the Capitol Building three days in a row. They got some special treatment from fellow alumna, Helen Martin, who is an aide to Senator Dan Sullivan and she acted as their escort.
They traveled through the underground metro that connects the capitol buildings. That was a favorite for senior Kennedy Conn.
"There's photographers taking a bunch of pictures of the senators and walking with the senators with their phones recording what they were saying and stuff," Conn said. "That's super cool to be around."
The students met Senator Lisa Murkowski and were able to follow her around for part of a day.
They were also able to show their respects for Congressman Don Young who was lying in state. He had passed away March 18 having served as Alaska's Representative for 49 years. The students were able to attend a small service where he was honored.
"I thought it was a super cool opportunity that we got to be a part of," Conn said.
One of Conn's favorite parts of the trip though, was just being able to travel with her Petersburg friends.
"I liked being with our group and getting to be a tourist with everyone," Conn said. " Just being together and getting to see all of the monuments and everything."
Another senior on the trip was Bergen Kludt-Painter.
"I just was really impressed and kind of in awe," she said.
Kludt-Painter plans to study political science next year in college. So, at times on the trip, she was a little star struck.
"Rubbing elbows with senators who are there just working and it was really cool," Kludt-Painter said. "We were able to point out people, it was really interesting."
The students visited the National Mall filled with monuments and memorials.They went to the Holocaust Museum and a few Smithsonian museums.
Kludt-Painter was amazed by the city's historical architecture. A favorite spot was a marble star on the floor of the Capitol Building, which was roped off.
"That star is the center point of D.C." she said. "That's the heart of D.C., of old D.C."
The marker made her to think about the founding of the place, about the purpose of the country's capitol. She already understood the basics of how laws are made but being there in person gave her a feeling of being connected to the government.
"This is a real place that exists, and I'm here, and these people who work here are real, they're present and most of them are working for the benefit of everybody," Kludt-Painter said. "It was a good feeling, especially right now, with you know, all the things that are going on."
Heather Conn also saw the collaboration that's happening on Capitol Hill. She was one of the adult chaperones and mother to Kennedy Conn.
"One of the most important things coming out of the trip is that everybody is working together," Heather Conn said. "And it doesn't matter where you stand or what you're doing. It's the balance of the two systems that are working together to get what's best for Alaska and for the other states."
She says that's not always the message portrayed on the news but it was a key take away for the students: that government is a working system.
"There is hope, they are balancing," said Heather Conn. "They are being civil human beings and working together."
By all accounts, the trip to DC was a cold one. Although temperature were in the 40s, the strong, cold winds froze water in the fountains. Next time, they say, they might pack their winter coats.
The group also visited Mt. Vernon, George Washington's plantation just outside of D.C. And they took a quick trip to Philadephia where they saw the liberty bell.