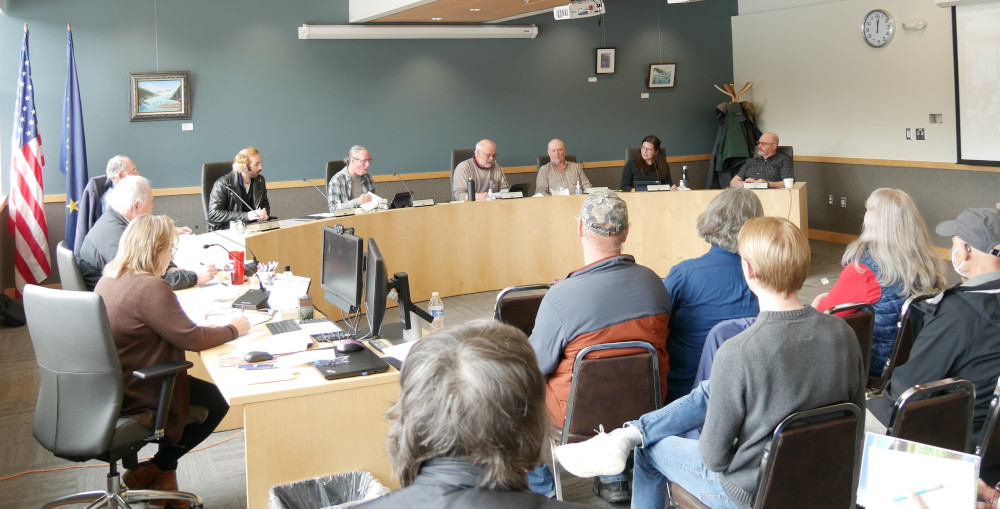 Petersburg voters could be deciding some changes to the borough charter this October. Petersburg's borough assembly Monday, June 6 will be voting on the first reading of three ordinances to make those changes, depending on voter approval.
One would lower the requirement for providing garbage collection, water or sewer service outside of service area one, the old city limits. The charter currently requires creation of a new tax-supported service area, approved by a vote of people in that area, for property owners seeking those outside service area one. If voters approve it, the borough would remove that requirement, making it easier for a single property owner to access borough water, sewer or garbage collection at the property owner's expense.
Another proposed charter change would give the authority to the borough's various boards and commissions to decide conflicts of interest among their members, instead of requiring the assembly to make that decision.
A third proposal would allow borough employees and elected office holders to bid for borough property in a competitive outcry auction. That's currently prohibited unless the borough is selling land by sealed bid. The ordinance take three readings by the assembly before they would appear on the October ballot.
Voters have approved one previous charter change for the borough. That was in 2017 allowing the city of Kupreanof to own and operate a harbor.
In other decisions Monday, it's the third and final reading of the proposed borough budget for the upcoming year and the assembly's last chance to make any changes to that spending plan. The assembly also will vote on the property tax rate. The proposed budget keeps that at status quo for service area one with a small increase for the rest of the borough.
The assembly will vote on an engineering contract of up to $7,200 to design an expansion of the airport subdivision and an extension of Fram Street. Both of those could open some more borough land for sale and future development.
Borough manager Steve Giesbrecht is seeking assembly approval to pursue borough acquisition of tidelands and uplands at Papke's Landing from the Department of Natural Resources. Giesbrecht is also asking investigate turning over management of the borough's Mountain View Manor assisted living facility to the Petersburg Medical Center. Meanwhile, PMC is asking for assembly approval to start evaluating potential borough land for a new hospital site.
There are a couple other land decisions for the assembly Monday and additional appointments to the early childhood education task force. They'll also vote on a new liquor license for El Zarape restaurant, an agreement to maintain street lights on state roads and a tidelands lease agreement for Piston and Rudder.
The meeting is at noon in borough assembly chambers and online. KFSK will broadcast the meeting live.