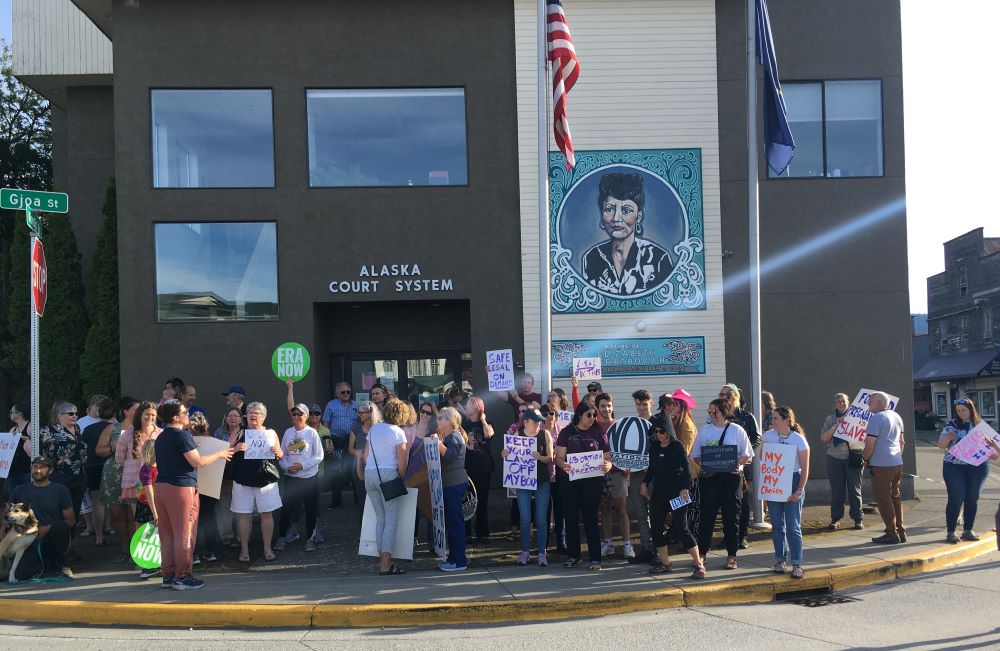 Pro-choice protesters marched through downtown Petersburg on Friday, hours after the US Supreme Court overturned Roe v. Wade. Katherine Monahan reports.
About 75 residents gathered in front of the Petersburg courthouse, holding up handmade signs with messages like "Forced pregnancy is slavery" and "Lisa, fix this" – referring to Senator Lisa Murkowski.
Now that the Supreme Court has struck down the federal right to abortion, each state can determine its own laws. And according to AP VoteCast 2020, a slight majority of Alaskan voters believe that abortion should be illegal in almost all cases. Dr. Cortney Hess, a family practitioner here in Petersburg, is concerned that Alaska may choose to restrict abortion access even when the mother's life is at risk.
"If that became law in Alaska," said Hess, "there's some patients (whose) lives could have been lost if they weren't allowed to end a pregnancy. It definitely is going to affect what physicians can do to help keep people healthy and keep women healthy, which is important for their whole family. It's not something that I imagined we'd be facing."
Some states have now made abortion illegal even in cases of rape and incest. Alaska has the highest rate of reported rape in the country, at nearly four times the national average, according to the FBI's 2019 crime data. Diane Benson says she was around before Roe v. Wade.
"I remember what it was like growing up and seeing teenage girls cry or slit their wrists," Benson said. "Those were those kinds of days, when nobody talked about rape and family incest issues. Having the right to make a choice, having some sovereignty of your own body means everything and it makes me very emotional. Because I've seen what it does to not have it."
The protesters marched up Main Street and back. Some passing motorists honked in support, and some just drove on by. As the crowd arrived back at the courthouse, some young women expressed their fear and frustration at the Court's decision. 18-year-old Leiah Kittams said, "It's alarming that we've had this legislation our entire lives, and now when we're reaching adulthood we won't even have access to what should be a guaranteed right. That should be a right. Bodily autonomy should be a right.
Justice Clarence Thomas, in his concurring opinion on the decision, called on the Court to reconsider other currently-protected rights. Among them are access to contraception, same-sex marriage, and the right to engage in private, consensual sexual acts. Barry Bracken was one of several men at the rally. He said Justice Thomas's statement was what motivated him to attend.
"I really think that this is just the beginning of a very, very conservative minority rule type of a situation," Bracken said. "And I think this is just the tip of the iceberg. And I hope this is a wakeup call, because it's such a slap in the face, particularly taking away a right that's been available for 50 years. We should be moving forward, not backward."
KFSK reached out to organizers of past local pro-life rallies, but they did not respond or were not ready to comment on the court's ruling at this time. For now, abortion remains legal in Alaska. Marchers said they plan to continue pushing to keep it that way.