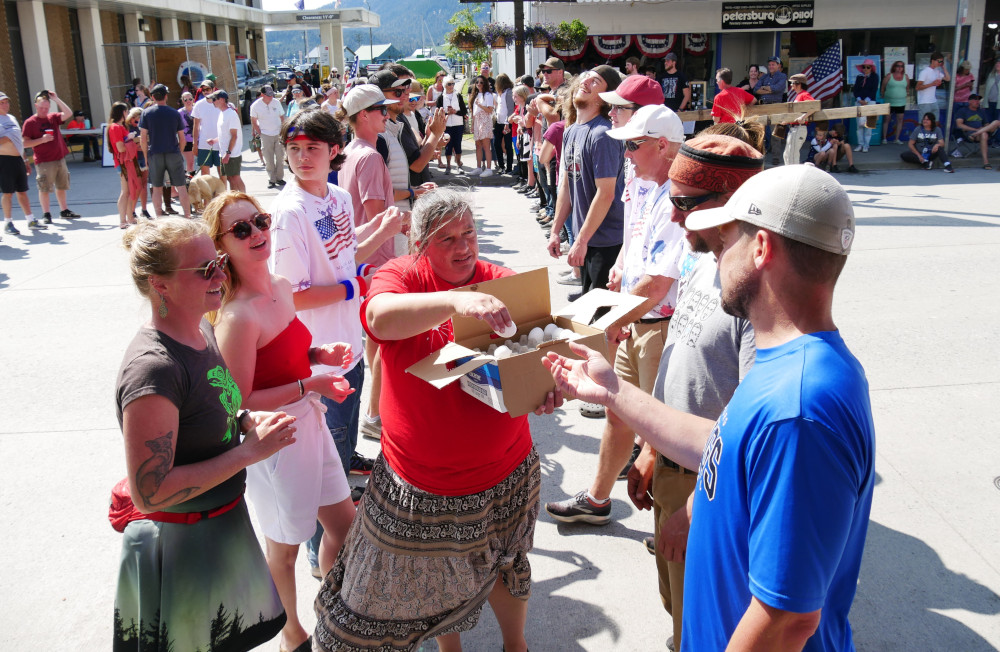 Petersburg's Independence Day celebration this year fills Sunday and Monday, July 3rd and 4th, and there are even a few events on Friday, July 1st.
Like other years, it takes a team effort to put on the multi-day festival.
Joe Viechnicki spoke with husband and wife team Mindy and Nathan Lopez about the weekend. She's the administrator of the Petersburg Chamber of Commerce and he's the pastor of the Lighthouse Assembly of God Church and they're both busy organizing many of the fun events.
At 11 a.m. Sunday there's a community church service on main street and the games start at 1 p.m. Those games wrap up with a cash hoop shoot and a chance to win one thousand dollars. No one's won the top prize yet. And the pie eating contest returns this year.
Main street is shut down to vehicles Sunday and Monday during the day for vendor and street booths.
The fireworks display is at 11 p.m. Sunday July 3rd at the ballfields. The parade is at 11 a.m. on Monday July 4th.
The Petersburg borough's Parks and Recreation Department plays a big role in the community's celebration of Independence Day.
They help kick off this weekend's festivities Friday night with a community center celebration at the gym and pool. It's at the same time as the Ken and Sue Slavin Memorial barbecue put on by Trading Union. There's also a color run on Sunday and games for kids and adults on main street Monday afternoon.
Joe Viechnicki spoke with Parks and Recreation director Stephanie Payne for a preview of those events.
The Community Center Celebration starts at 6 p.m. Friday. Sunday's color run is at 9 a.m. and the Parks and Rec street games start at 1 p.m. on Monday.
Some of the events for Petersburg's Fourth of July weekend this year are organized by a local business owner and long-time champion of the log rolling competition.
P-W Insurance owner Susan Erickson says she is retiring from log rolling and will instead run that event, along with a blindfold rowboat race and herring toss. Those games are in Petersburg's Middle Harbor on July 4th. Erickson and her family have had colorful entries in many Fourth of July parades. She says that tradition will continue.
Joe Viechnicki spoke with Erickson about taking on a new role for the celebration.