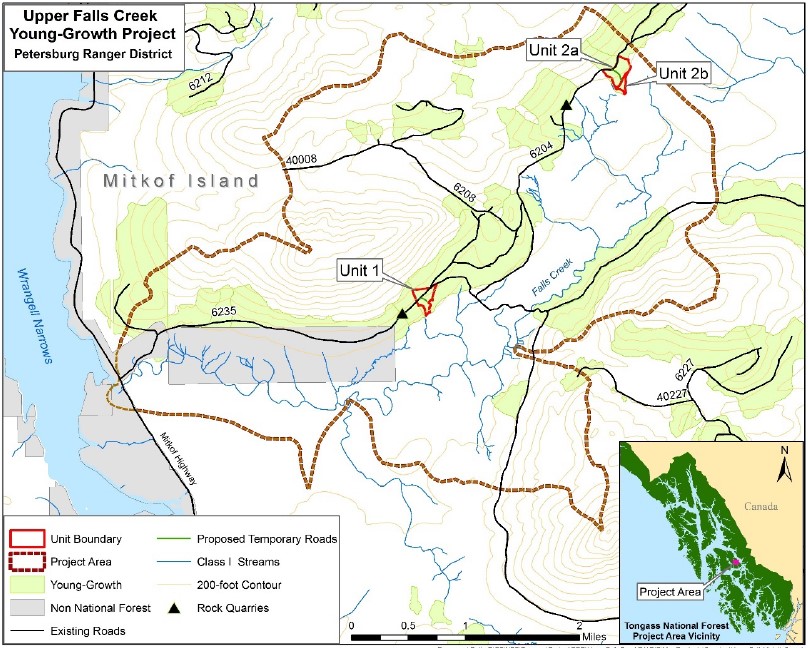 The U.S. Forest Service has decided to sell about one million board feet of young growth timber on central Mitkof Island.
The area is about 14 miles southeast of Petersburg around the upper part of Falls Creek. The stands of Sitka spruce, hemlock and Alaska yellow cedar were first logged in 1967 and 1968. They've regrown and those young trees were thinned in the 1980s.
The Forest Service's new Petersburg district ranger Ray Born updated the borough assembly on that project Monday night.
"We're looking at some of that harvest for again to keep the mills in business and keep the economy going a little bit," Born told the assembly.
The plan is for a logging company to cut around one million board feet on 41 acres. It's meant to be a training opportunity for the local industry around the harvest and milling of younger trees. The harvest would require around a quarter mile of new temporary road and expansion of existing rock quarries for road construction.
A much larger second growth sale planned for Thomas Bay could be offered next year.
The 2016 plan for the Tongass National Forest laid out a transition away from logging old growth trees. Last year the Biden Administration announced a freeze on harvest of that older timber and a plan to reinstate Roadless Rule protection for undeveloped parts of the forest.
The district ranger also sought feedback on a possible storage building on the Forest Service's property on Fram Street. Born said the Forest Service is closing a storage and maintenance facility on the site of a former tree nursery, and prior to that an experimental fur farm off Mitkof Highway nearly nine miles south of Petersburg.
"The main thing is we need to replace that light maintenance and storage facility we lost coming out of the nurser," Born said. "And the question is where to do that? Can we do it up here at Fram Street where we got those two older barracks 402c and 402b if you know what those are. We're going to (demolish) those because they're no longer usable. So we need to demo those and we thought about putting a maintenance facility kind of in that area, light maintenance and some storage, in that area. We've also discussed remodeling the Harris Building to do that same sort of thing."
Born said he needed to make the decision on that next week.
The agency plans to remodel its offices in the federal building in downtown. The agency may consolidate all staff at the downtown site once that work is done.