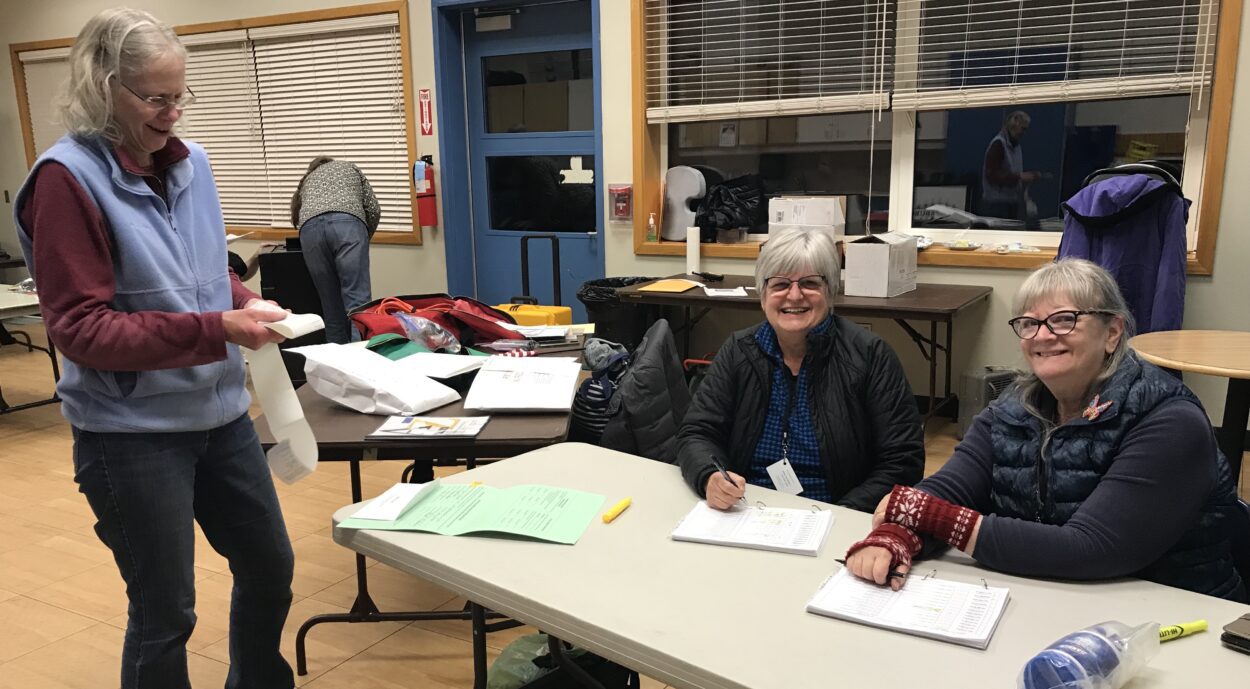 Polls closed at 8pm Tuesday across the state in the midterm election. Poll workers in Petersburg immediately started tallying in-person voting results. The district is waiting on early and absentee ballots. Official results from Alaska's ranked choice voting will be released November 23rd.
This year Petersburg had high in-person turnout for the midterm elections. That's according to poll worker and inspector Mary Clemens. 861 people voted in person, which is 136 more than the August primary election. An additional 400 were early voters in this week's mid-term compared to 213 in the primary. Poll workers said they couldn't estimate how many absentee ballots were cast. 
In the U.S. Senate race, Petersburg voters supported Republican Kelly Tshibaka with 386 of their votes. Tshibaka is a Trump-endorsed Republican and has worked in the state Department of Administration, the Department of Justice, and for the Federal Trade Commission. Behind her was Republican incumbent Lisa Murkowski with 347 votes. Murkowski has held the Senate seat since 2002. Her father was a US Senator representing Alaska for more than 20 years before that. This U.S. Senate race in Petersburg follows the general state trend. Statewide, Murkowski is lagging behind Tshibaka by a small margin. In Petersburg, Democrat Pat Chesbro trailed behind in third place with 67 votes and Republican Buzz Kelley with 48. 
In the U.S. Representative race, Petersburg supported incumbent Democrat Mary Peltola by a large margin, similar to statewide results. When Peltola was first elected to office this summer, she became the first Alaska Native member of Congress and the first woman to represent Alaska in the United States House of Representatives. In Petersburg, Peltola received 371 in-person votes. Republican Sarah Palin received 288 votes and Republican Nick Begich received 171. Libertarian Chris Bye trailed far behind with only 16 votes.
In the Governor's race, Petersburg's in-person voters strongly favored Republican incumbent Mike Dunleavy. He got 363 votes. Dunleavy has served one, four-year term as governor and before that was an Alaska state senator. Behind him, 292 people in Petersburg voted in-person for Independent Bill Walker. 140 people chose Democrat Les Gara and 54 voted for Republican Charlie Pierce. Currently statewide, Dunleavy is also leading with 52% of the vote. And Gara is behind him with 23 percent.
For the State Senate seat, Petersburg voted overwhelmingly for incumbent Republican Bert Stedman of Sitka with 601 of their votes. Stedman has been a state senator for 19 years. Republican Mike Sheldon of Petersburg received only 195 votes. Senate seat A represents a geographical area covering most of Southeast. District-wide, Stedman received 68 percent of in-person votes with all precincts reporting. Sheldon received 31 percent of the vote. That's a difference of roughly 3,700 votes. Sheldon has run against Stedman several times in past years.
In the House District Two race, Petersburg chose Republican Kenny Karl Skaflestad over Independent Rebecca Himschoot. This does not reflect district-wide voting patterns. Himschoot is currently leading the race with over 56 percent of the in-person vote to Skaflestad's 43 percent.
Petersburg overwhelmingly voted against an Alaska State constitutional convention. It's a question posed to Alaska residents every decade. Over 81 percent of Petersburg residents voted against holding a convention. This follows general state patterns, where 70 percent of Alaskans voted "No". 
On even years, Alaskans vote on whether to retain sitting judges. That's required by the state constitution. Petersburg voted by wide margins to keep all judges in their positions.