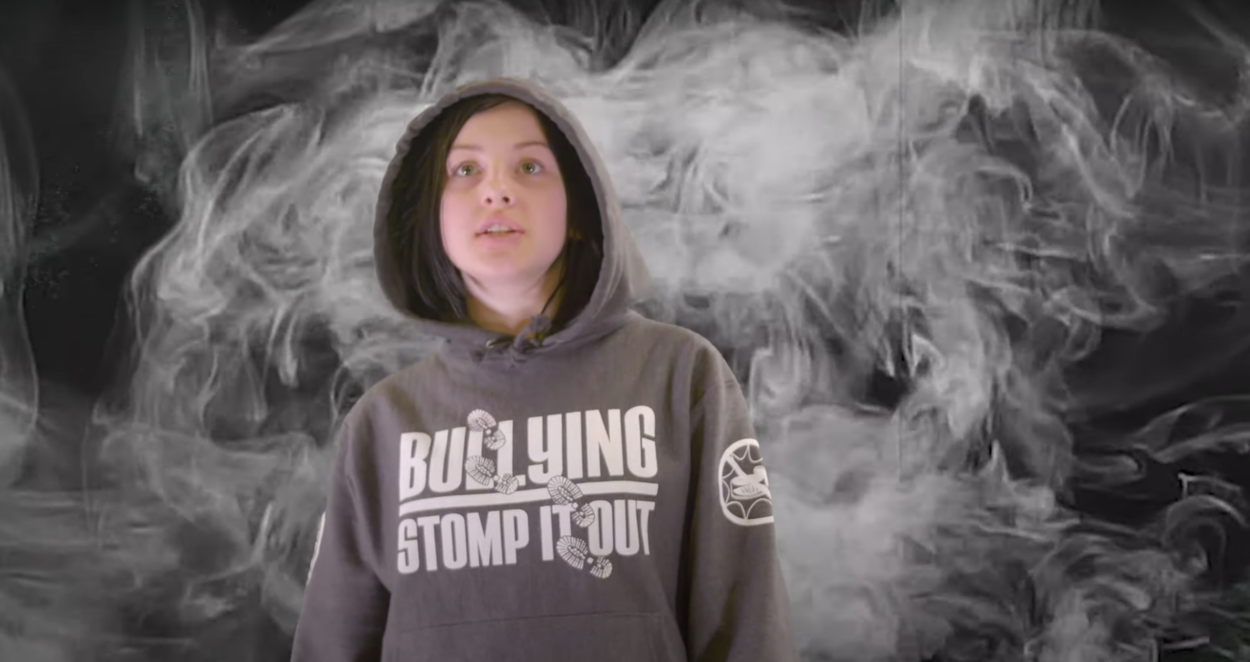 More and more high school students have started vaping in recent years – in Petersburg and around the country. Throughout Alaska, more than a fifth of the high school population reports having used e-cigarettes in the last month. In Petersburg, school administrators are brainstorming ways to address this tricky problem. And they're turning to resources both inside and outside the school. 
School administrators in Petersburg have taken some early steps to cut down on students vaping. Teachers noticed that students seemed to be meeting in the bathrooms to vape. So now, students have to sign out of classrooms for bathroom breaks so the school can track them. The school's next move is to install vape detectors in the bathrooms. Principal Ambler Moss says the sensors are meant to discourage bathroom meetups. 
"I think the vape sensors will help a lot," said Moss, "not to catch people, to prevent them from doing it in the first place."
But Moss says Petersburg schools are shying away from harsh punishments. Moss explained that he's more interested in changing students' behavior than punishing kids who are vaping.
"The last thing I want to do is come in really hard with sort of discipline and consequence," said Moss, "sort of draconian, constant hardcore consequences, to probably alienate a community whose support we need in order to work together to solve this or any frankly, any issue."
That's in line with advice from public health experts. Christy Knight, program manager for the state of Alaska Tobacco Prevention and Control Program, says suspensions just don't work.
"So we recommend alternatives to suspension so that kids are offered resources and support quitting the products and that they don't return home and then just use the product more without treatment that they need," said Knight. 
There are lots of reasons it's better for schools to avoid suspensions. Research shows that harsh discipline is more likely to be given to students of color and those who are homeless or living in poverty. In a well-documented pattern called "the school to prison pipeline", kids who are given harsh punishments at school are more likely to end up in prison later in life.
But Knight says the effect isn't limited to the student who's punished.
"Evidence is really suggesting that harsher punishments may reduce graduation rates for all students in their classrooms," said Knight.  
Instead, Knight suggests an approach focused on education. She says studies have shown that teaching kids about the risks of vaping is more likely to get them to quit.
"So that if you are caught using tobacco on school grounds," said Knight, "that they have access to an educational program that can support them in not using the products." 
Petersburg High School is working with the American Lung Association to modify school policy to provide suspension alternatives like this.
And Superintendent Erica Kleudt-Painter says they may work with RurAL-CAP, the Rural Alaska Community Action Program, to train kids from the school to be peer educators. RurAL-CAP tobacco educator Charlie Ess says research shows fellow teens are the best messengers.
"It's a lot better if they hear it from someone their own age than an old guy like me," said Ess.  
Outside of a formal peer education program, Petersburg public health nurse Erin Michael says kids simply talking to their friends about the issue is even more helpful.
"Having a friend say, I really think this is not okay," said Michael. "And really, I don't want to be around you when you're doing this. Or I'm uncomfortable with this. I'm worried about you. I think that can really have a huge impact on a teen."
High School junior Charlotte Martin agrees. She's the student representative on Petersburg's school board.
"I think it would just say a lot, if the other students disapprove of it," said Martin, "that's gonna discourage the people from doing it… especially if they're older than them."
But education about the risks of vaping only goes so far. Petersburg Kludt-Painter says she's especially concerned about students who are already addicted.
"If we have kids potentially that can't get through a day without doing it," said Kludt-Painter, "that's a bigger issue." 
Samuel Steinbruegge is a social worker and supervises SEARHC's behavioral health clinic in Petersburg. He says group therapy can be a good fit for high schoolers struggling with addiction.
"The most important relationships for a teenager are the relationships they make with other teenagers," said Steinbruegge. "That's one of the reasons why when we're working with teenagers, especially in areas of addiction and trauma, is having them do group work."
And he says that having access to mental health care is a crucial component if a kid is caught vaping. Nicotine addiction may be a sign that teens are struggling with bigger problems.
"Where I would start is with some empathy and compassion," said Steinbruegge, "and linking them to some different resources, getting them in to see a mental health practitioner to do an assessment to see what are the needs? Why is this person turning to that behavior?"
Petersburg High School is also working to make more resources available to parents. Kludt-Painter says the school is working with the Petersburg Medical Center to offer education for parents about nicotine as part of a community-wide effort to curb addiction.
This was part two of a two-part story on teen vaping in Petersburg. You can find the first part here. And teenagers can join Alaska's quit vaping text program for teens by texting VAPEFREE to 873-373.