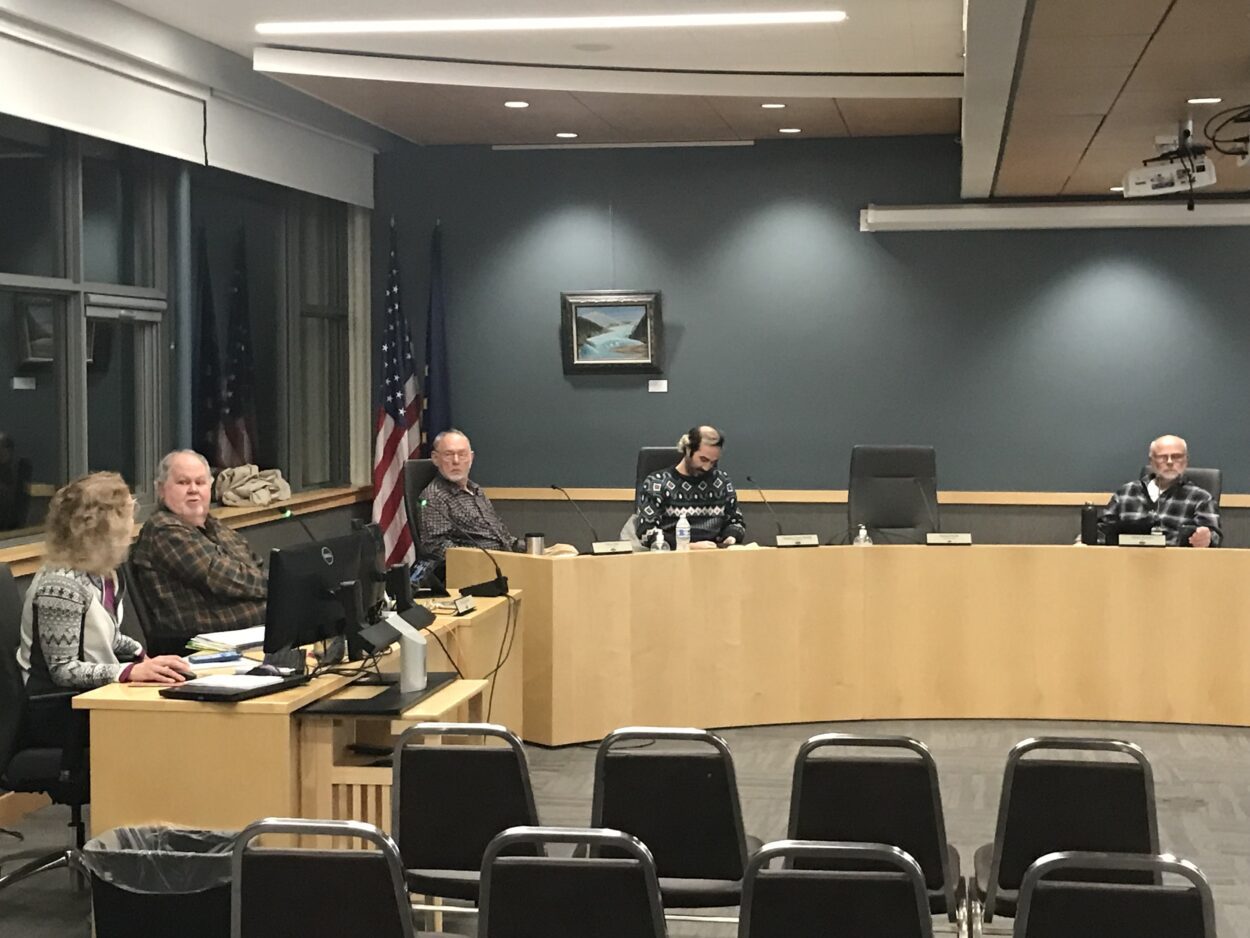 Borough Manager Steve Giesbrecht gave an update to the Assembly last Monday on projects coming up over the next five years. The five-year update was requested by Assembly member Bob Lynn. Most of the projects don't have price tags yet.
One of the projects on the list is year-round public restrooms. Assembly member Tom Fine-Walsh says he's excited to see that proposal on the list for Parks and Recreation projects.
"That's something I've really been pushing for and I'm glad Stephanie Payne at Parks and Rec is working on that along with everything else," said Fine-Walsh. Fine-Walsh was speaking on KFSK's live radio program Borough Business along with Assembly member Bob Lynn.
Lynn says there are many Parks and Rec projects on the Borough's list that focus on maintenance and repair, including a big painting project for the pool.
"So you have to use a specialty type of paint, very, very expensive. And it's really hard to put scaffolding over the pool area to be able to paint on top of that. So that particular project also is very, very expensive," said Lynn.
The pool project doesn't have a specific budget yet.
Another project on the five-year list is moving the Harbor Department office.
Fine-Walsh says he's pleased to see that the Harbor office may move to a new location.
"Which I think would make life a lot easier for the Harbormaster and their employees but also might open up the space the office is currently using for alternative uses, like a park or some kind of public use facility," said Fine-Walsh.  
Currently the Harbormaster's office is near North Harbor and is an old building in disrepair. It was built in the early 1980's before ADA regulations to accommodate people with disabilities.
Fine-Walsh says that there are a lot of public works maintenance projects in the borough's five year plan.
"The biggest list was the Public Works, frankly, just a lot of tubes," said Fine-Walsh. "And we got to keep on top of our tubes here. It's a major problem. So, not quite as exciting, but certainly just as important."
Borough Manager Steve Giesbrecht says that before any of the listed projects begin they will go through several steps.
"They go through a process where we start looking at what's the price tag on it," said Giesbrecht, "and then it comes back to the assembly to look at 'How are we going to pay for it?'"
Lynn requested the five-year projects list be included in the managers report to assembly during their last meeting. He says he wanted the assembly to have a sense of big projects on the horizon.
"Anytime you want to spend money, say for instance on one project," said Lynn, "you've got to keep in mind that there are about 40 or 50 other projects out there that we're going to have to fund in one way or another at some point in time."
Lynn says it's also helpful for new members of the Assembly to have a sense of the magnitude of projects on the Borough's plate. This October, two new Borough Assembly members were elected—Donna Marsh and Scott Newman. 
Anyone can access the full list of five-year Borough projects on the Borough's website. It's part of the Borough Assembly agenda packet for November 21st.