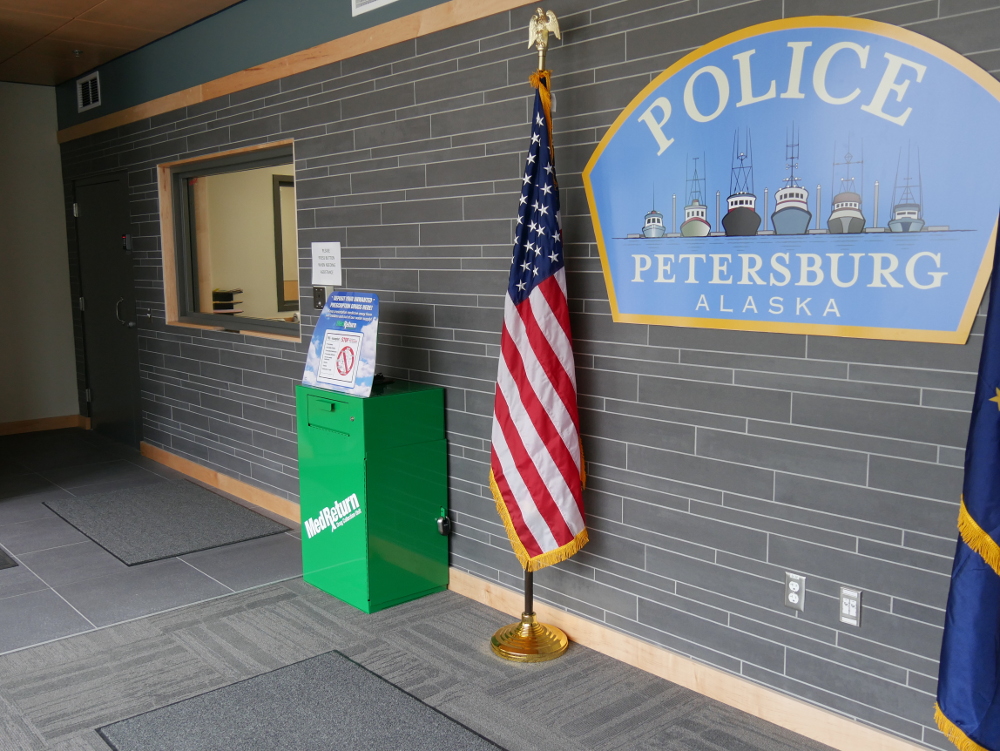 December is chock-full of events that bring small towns together. But this holiday season, a number of groups in Petersburg are also getting excited about a pragmatic gift from the borough. It's a machine about the size of a refrigerator. And, it promises to help with the childcare crisis, the police department, and the labor shortage.
Police Chief James Kerr was opening the first box from a huge pile in a side room at the police station.
"This is the Monitor," said Kerr. "I'll see if this thing's listed."
He was checking parts of his master list of components.
"These are a lot bigger boxes than I was," I said. "I guess I just had no idea how big a fingerprint machine would be."
"That's the printer," said Kerr. "wait till you see the cabinet."
"So what is the printer? What does that print?" I asked.
"When people come in and they want to take cards with them," Kerr said, "it'll print out all the fingerprint cards."
The machine is a Livescan 1000, an electronic fingerprint machine. It cost the Borough $21,911. The borough used ARPA grant money, which is federal funding for COVID relief.
But the Police Department wasn't the first to request the Livescan One Thousand.
Chelsea Tremblay heads the Borough's Early Childhood Education Task Force. She said it's been hard for childcare facilities to hire new people.
"Fingerprinting is part of the hiring process. And the process for getting fingerprints done here in town was slow and frustrating," said Tremblay. "And that was something that seemed solvable.
In the past, applicants would get fingerprinted at the police station the old fashioned way—with ink and paper. Then, applicants had to mail in those fingerprint cards to whatever office is processing their paperwork.
"(2:31, Chelsea) "There are a lot of reasons why people need to get fingerprints done," said Tremblay. "Sometimes it's for a job. Sometimes it's for a different kind of application."
Sharlay Mamoe runs Petersburg's Children's Center. She says fingerprinting is required for hiring people there.
"We are bound by state licensing regulations," said Mamoe, "and regulation says that the person we hire has to be of sound mind and body and criminal history. So obviously these kids are working with children so you want them to be able to pass the background check with flying colors."
The biggest hitch comes when those cards aren't done correctly. And, Mamoe says, it's harder to do than you might think.
"It's not like you can just slap your fingerprints on a card and call it good," said Mamoe. "And when they do come back smudged, we won't know about that until after they've been rejected from the state."
Chief Kerr says that fingerprint cards are rejected "all the time."
"…where it might look good to us, but it didn't meet the quality they needed."
And Mamoe says the Children's Center has actually lost applicants because of how long the process was taking.
"Sometimes they already have better paying jobs," said Mamoe. "And sometimes they're just, like, 'Oh, this is taking forever. I really don't want to- or found something different or whatever it may be—leaving town.'
The machine also has the potential to allow Petersburg residents to get more creative about solving the childcare crisis. Tremblay says the early childhood education task force is trying to do just that.
"We were brainstorming," said Tremblay, "how cool would it be to be able to have a volunteer network of people that could be extra bodies in a room at a childcare center when you need them? But even that idea was running into this roadblock."
Chief Kerr walks me out to the garage to the metal cabinet that will hold the machine.
Kerr says the machine will also be able to compare fingerprints to national electronic records. The FBI keeps updated electronic records on criminal activity available to federal, state, and local law enforcement.
"This will submit criminal stuff electronically," said Kerr. "Or if we have someone who's refusing to tell us who they are, and they get arrested, we enter him in as 'John Doe' or 'Jane Doe.' And we should have results back within an hour or so… So really cool, something that I think the community has needed for a long time. It'll help out all aspects of employment. I can't wait to get this thing installed."
Borough Manager Steve Geisbrecht worked with the chief on the machine's purchase. He says in the future, Petersburg may be able to use the machine to jump through even more Bureaucratic hoops.
Applicants could use it to apply for TSA pre-check or to get their TWIC cards. That stands for Transportation Worker Identity Credential. Those cards are necessary for workers who need higher security clearance for maritime facilities and vessels.
Tremblay says it's especially cool that this single piece of technology will impact so many different groups in Petersburg.
"This is something that really touches a lot of peoples' lives," said Tremblay. "But they don't know it until it's about to impact them. And then it's very frustrating. So it feels really good that this broad group of people were able to collectively identify this as something that was really frustrating. And then we had the funds available. We had staff interested in pursuing it, taking it seriously. And now we have a solution. And that feels pretty great."
The Police Department is waiting for one more part for the machine. Then, HID Global, who makes the machine, will install it. The company will also train officers in the police department on how to take fingerprints.
The police department does not have a firm timeline on how long the postal service, installation, and training will take. Until then, Petersburg will rely on ink and paper.