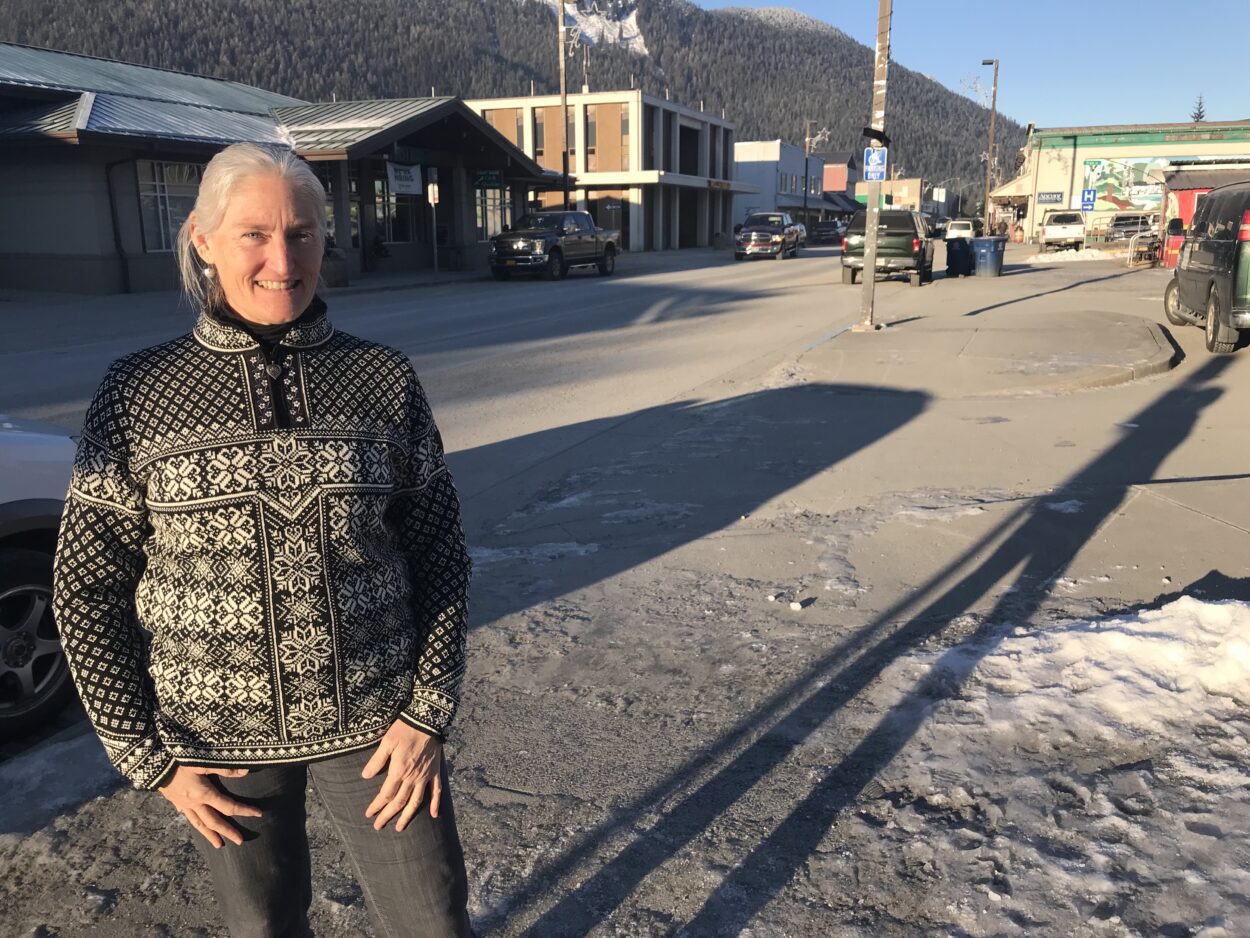 Sitka teacher Rebecca Himschoot will take office as the District 2 House representative in the state legislature in January. District Two includes Petersburg, Sitka, Yakutat, Craig, Hoonah, Kake, and much of Southeast Alaska. Himschoot, who is an independent, will be replacing Representative Jonathan Kreiss-Tomkins, who held the position for ten years. Kreiss-Tomkins is a Democrat.
Himschoot visited Petersburg over the holidays with Kreiss-Tomkins and held office hours to hear from residents. She also attended Petersburg's Borough Assembly meeting and introduced herself.
Himschoot says winning the race felt good after a long campaign.
Rebecca Himschoot: Well, obviously, it's thrilling to work so hard on something, and to put so much effort in and then to have the outcome that you're looking for. My brother says it best. He says, "You're looking a little bit like the dog who chased the car and caught it." And I do kind of feel like that. lt's a lot to figure out what happens next. But, I think the the best part of campaigning was, I have a pretty good sense of what's happening around the district. And I know that I don't know the communities as well as someone who lives there. But I know the people to talk to in the communities, and so I feel prepared in that way. But I still have a lot to learn.

Rachel Cassandra: So meaning, when an issue comes up, you now have the phone numbers that you need to call to find out more?

RH: Correct, yeah. And people have been really gracious in helping me get up to speed. And I haven't been able to absorb every issue. But I have gotten like a 30,000 foot overview of what people are thinking about. And then I've got contacts for tribal leaders and for local elected officials, city administrators, that kind of thing. So when something comes up, or even better, when a community brings something to my attention, I'll know who to call and other communities to get more background. And if something comes up at the state level, I'll know who to reach out to so that legwork I think is going to really pay off. But I'm going to be the first to say I have a lot left to learn.

RC: I know you've been talking with folks in Petersburg, you had offices yesterday and today. So tell me what those conversations were like.

RH: As far as issues that have come up during office hours: It's continuous across the district, and Petersburg is no different. Daycare, housing, ferries. And ferries would be the number one across the district. So it's very clear what people in Southeast are asking for.

RC: And do you have ideas in your head about how you'll start to look and represent about those issues?

RH: No, actually, I'm gonna say I don't have clear ideas in my head. I think this first year especially I need to go and I need to participate, I need to learn. And if someone is sponsoring a bill, and I can co sponsor with them, I'll gladly do it. There are a few things that I think will come from my office that will be fairly minor, but as far as earth shaking things in this first year, I wouldn't plan on that.
And then I have ideas of where to learn more, because there are taskforces here in Petersburg, working on really important issues, and making really good headway. And then in Sitka, we've also begun to dig into some of these issues. And those are the two biggest communities in the district. There's a lot of capacity to figure out local solutions, and then maybe to direct to the state what a statewide solution is. So, I'll be ready to hear what people come up with at the local level.

RC: Great. And so you start January 17. What else do you need to do to prepare before then?

RH: The list feels endless. And it's growing. There's just a lot to learn. You know, the the logistical things like finding staff. And I'm pleased to say that I've hired someone who fishes in the offseason. And so he'll be my staffer during session, and then he'll be back out on the waters of Southeast and he's a Juneau fisherman who's been to a lot of my communities with his boat. I'm really grateful that I have someone who knows the industry well. So, finding staff finding a place to live, there's all that. But then there are stacks and stacks and stacks of things to read, to help me get up to speed. And so I'm going to take a few days over winter break in the holidays, to just maybe sit in the recliner with some hot chocolate and just dig in a little bit. And it'll feel really good to focus on one thing for a little while.

RC: Yeah, I can imagine it's really hard not to get overwhelmed.

RH: I'm just sipping from the fire hose all the time.

RC: You've been to Petersburg several times before. Did you learn anything about the community on this visit that surprised you or shifted your perspective on anything?

RH: I just feel like I'm getting more and more grounded in Petersburg, I know a few people when I see them on the street and that kind of thing. And I think Petersburg exemplifies the Alaskan spirit. You have a lot of 'can-do' people willing to work hard. And I just deeply admire that. So I really, really enjoy this community and want to continue to build a bridge and get to know the community and the people in it even more.